HUMAN RIGHT ABUSES REPORTED IN NIGERIA IN JUNE, 2021.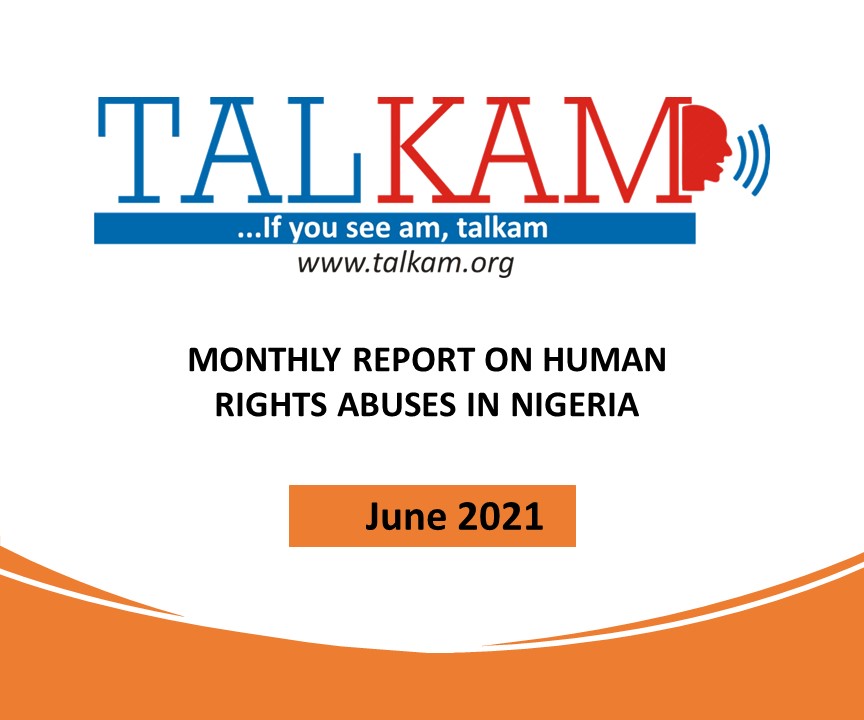 Any form of human right violation is usually painful, dehumanizing, unfair and agonizing to the victim. Apart from corruption, most people agree that Sexual assault and gender-based violence is one of the most predominant human right abuses in Nigeria. The covid-19 pandemic has shockingly further revealed the need to strengthen the fight against sexualized violence and gender-based violence. This is due to the rise of such case which is almost forming another shadow pandemic during the covid-19 lockdown and post lockdown periods. According to Pauline Tallen, the minister of women affairs and social development" Over 3,600 rape cases were recorded across Nigeria during the lockdown".
June 2021 like previous month in the year in Nigeria experienced sad incidences of Gender-based violence, sexual assaults, rape, murder, child abuse and even incest. Unfortunately, most cases are not recorded due to the culture of silence that makes statistics difficult in Nigeria. However, the few cases reported opens a window to these sad vices eating the very fiber of the society.
The sad news of the brutal rape and murder of Olajide Omowumi Blessing, a 300-level student of the University of Ilorin, at her residence in Tanke area of Ilorin revealed to the populace that the issue of gender based violence and rape is one that needs more efforts from everyone to fight. This is because rape and murder cases are becoming recurrent in the country.

A shocking case of incest and rape was also recorded in Nigeria in June 2021. A 64-year-old man, Durodola Kayode, was repremanded in the correctional centre in Ado-Ekiti for allegedly raping his step-mother.
In similar vein, a 29-year-old man, Owajulu Tobi, was ordered to be remanded in the correctional centre in Ado-Ekiti over the alleged rape of a 17-year-old girl.
Gender based violence is often directed towards females as victims of such act. An exemption was however recorded in the month of June 2021 with the controversial murder of the chief executive Officer of Super TV, and a director in Super Network Limited, a telecoms firm, Michael Usifo Ataga by alleged 'his sugar girl" Chidinma Ojukwu, a 300-Level Mass Communication student of the University of Lagos, UNILAG. Even though the news is controversial, and conclusions cannot be made as to the murderer or the motivation of the murder, this occurrence reveals that however rare, males can be victims of gender-based violence.
Organizations like Devatop Center for Africa Development, the National Agency for the Prohibition of Trafficking in Persons (NAPTIP), Immigration, Nigerian Police Force and other government and non-governmental agencies are putting their heads together in a fight to combat such vices. Innovations like the TALKAM App, (www.talkam.org), an innovative project that focuses on utilizing information and communication technology tools to speak out about human trafficking, human rights abuses & irregular migration has also been operated in a bid to change this narrative. However, there is need for more supports, funding, and cooperation from everyone to end these vices in our societies.
---