NAPTIP, POLICE, NIS AND NACTAL TRAINED ON TIPSOM MoU Processes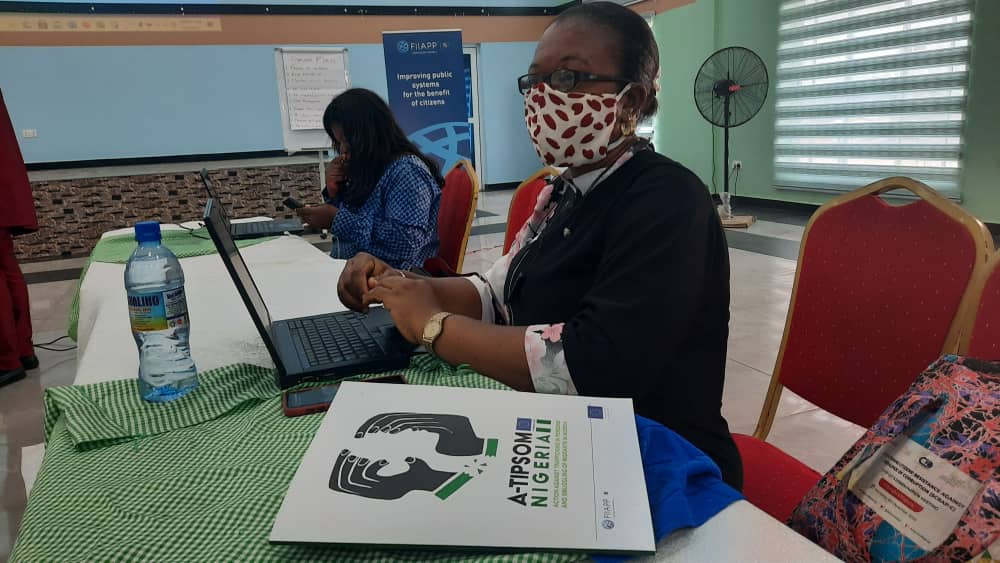 Tackling human trafficking and smuggling of migrants requires effective collaboration between nations, agencies and organizations. Most seamless collaborations and partnership is hinged on flawless Memorandum of Understanding (MoU)/Agreements.
Hence, there is need for our agencies and organizations to understand the workings of an MOU and its processes from inception to signing especially as it relates to collaboration/partnership at the National, Regional and International levels.
Inter-agency and international collaboration are among the objectives of the Action Against Trafficking in Persons and Smuggling of Migrants in Nigeria (A-TIPSOM), a project funded by the European Union and implemented by the International Ibero-America Foundation for Administration and Public Policies (FIIAPP).
On 14th and 15th April, 2021, FIIAPP organized a 2 Day Workshop to build the capacity of key beneficiaries on drafting, signing and review of MoUs on human trafficking and smuggling of migrants.
The participants include officers from National Agency or Prohibition of Trafficking in Persons (NAPTIP), Nigeria Immigration Service, Nigeria Police Force and Network of CSOs Against Trafficking, Abuse and Labour (NACTAL).
While declaring the Workshop open, the Director-General of NAPTIP, Mrs Imaan Sulaiman – Ibrahim who was represented by the Director of Research Department, Mr. Olubiyi Olusayo said, "my profound gratitude goes to the FIIAP and the European Union for organizing this workshop which is not only timely and apt but in line with the renewed vision of the Agency especially in the area of partnership".
According to her, it is well known that Human Trafficking and Smuggling of Migrants are transnational in nature and fighting the crime has to cut across borders whereby Law Enforcements and other stakeholders work together to fight the Crime.
In an opening remark, the Team Leader of A-TIPSOM Nigeria, Mr. Rafael Rios Molina who was represented by the Technical Advisor on Governance, Mr. Omotosho Bello said that through the A-TIPSOM Project, there has been a stronger inter-agency collaboration and this will continue as no agency can successfully tackle human trafficking and smuggling of migrants alone.
The A-TIPSOM Project's Technical Advisor on Partnership, Mrs. Ugo Loreal OGBUNUDE in her introductory remark highlighted that the objectives of the workshop is to increase the knowledge of participants on the process of entering an MoU and improve synergy, collaboration and partnership amongst agencies, state actors, non-state actors and their counterparts at the National, Regional and International levels in the fight against TIP and SOM.
---