ALERT: Traffickers now use unregistered orphanage homes and unnamed hospitals to carry out their act, says NAPTIP DG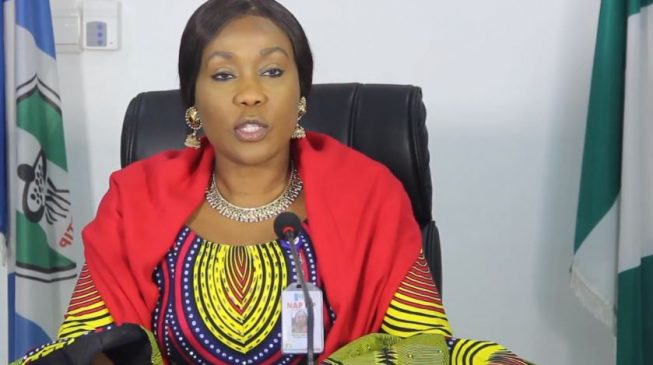 Julie Okah-Donli, NAPTIP Director General,  painted a gory picture of how unregistered orphanage homes make fortune out of innocent Nigerians. 
Aside kidnapping and drug related businesses many Nigerians believe that human trafficking and modern day slavery have become the next lucrative businesses that could instantly change the financial and social status of anyone.
It has remained a global threat to human existence. It recently assumed different dimensions in Abuja, in spite of responses from several agencies of the FCT administration.
The network of human traffickers is always in continuous search for loopholes that could be used to beat government forces and perhaps, make more fortunes out of human trafficking. Having faced firepower by NAPTIP, the traffickers recently took advantage of weak legislation in the operation of orphanage homes in Abuja, to perhaps, feather their nest.
That could be responsible for the upsurge of unregistered orphanage homes and foundations in Nigeria. It could also be responsible for high cases of missing children and even teenagers in schools, as well as sudden disappearance of babies in hospitals, churches, markets and several other cases like that.
She said the orphanage homes in different localities in Abuja do assemble children for the purpose of taking care of them. Within a short while, they are sold off to clients.
She drew the attention of the Social Development Secretariat of FCT administration to the upsurge in the nefarious activities of the fake orphanages and baby care homes that specialized in outright sale of children:
"On daily basis, kind and generous Nigerians visit orphanage homes with large quantity of food and non food items, as well as cash to either celebrate their birthdays, wedding anniversary or any other breakthrough.
"But these items disappear shortly after the visitors left. They are perhaps, sold off by the operators of these orphanage homes for whatever reason, thereby deny the children the opportunity of good food and care.
"The worst case could be found in the unregistered orphanage homes. Preliminary investigation confirmed that the network of human traffickers work in synergy with some hospital officials and some other undercover agents to get these babies.
"It is sad to imagine that children that are brought to life with much joy and hope, are deceitfully trafficked from remote villages under the pretence of giving them good life in the city, only to be displayed as wares inside some unregistered structures called orphanage homes and baby care centers and later sold for various purposes." She suggested formal adoption of babies, instead of buying off baby from human traffickers.
An orphanage home operator in Abuja, MaryJane (surname withheld), confirmed that such orphanage homes are known for such illegal business in Abuja. She, however, denied any specific experience in that regard.
She alleged that some doctors and nurses in some unnamed hospitals have mastered the art of selling babies. She asked NAPTIP to beam its searchlight in such areas so they could fish out such people and punish them accordingly:
"As a genuine and reputable orphanage home, we have rules that are clearly spelt out, that must be followed by any interested person to adopt a child. Record of every child in our custody is domiciled with the Police and FCT Social Development Secretariat."
She agreed that there are always bad eggs in any business: "But that does not rule out the fact that we are doing amazing things in the service of humanity within the limited resources available to us.
"Howbeit, government does not offer any kind of help, financially or otherwise, to the operators of orphanage homes. And they expect babies in these orphanage homes to look well fed and live in a clean environment.
"We have monthly running cost of N1.6 million. We do that to maintain minimum standard. We, undoubtedly, operate in a environment full of challenges. But we have committed ourselves to the service of humanity despite the frustrating operational environ- ment we have found ourselves.
"Orphanage homes do not sell out food and non food items brought by visitors. But engage in exchange of items (barter) to meet its immediate needs.
"Some visitors that could access us call to know our needs and get it before coming. But some others without access to us get whatever they could. And some of them are not our immediate need. So we exchange such items with the ones we need."
She commended NAPTIP for the success in the fight against human trafficking. She challenged the agency to dispatch its undercover agents to the suspected orphanage homes so they could get the true picture of the activities at the homes.
Another operator of an orphanage in Lugbe, Abuja, Mrs. Gift Nwosu, rejected the position of NAPTIP: "In every business, there would always be bad eggs, and orphanage home operation is not an exception. But our umbrella association and FCT administration are working assiduously to punish those caught in the act."
This piece was first published by The SUN Newspaper
---