US honours Nigerian trafficking victims' advocate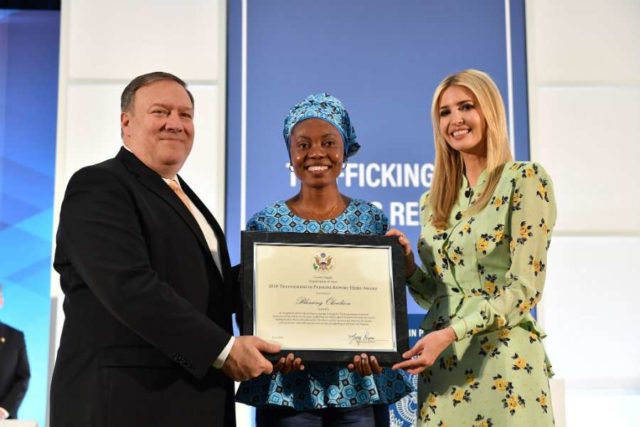 A young Nigerian woman who escaped from forced prostitution in Italy was honoured by the U.S. State Department last week as a 2018 Trafficking in Persons Hero.
Blessing Okoedion "is an example that through perseverance and support, trafficking victims can overcome, thrive, and help others to do so as well," said U.S. Ambassador to the Holy See Callista Gingrich in a June 30 statement.
"She is a survivor, an activist, an author, and a fierce protector of victims suffering under the evil of human trafficking. She has helped a multitude of women escape horror. Her advocacy on their behalf has quite literally saved lives."
Every year, alongside the release of its report on global human trafficking, the U.S. State Department honors individuals who work to fight trafficking, though raising awareness, working with victims, or pushing for tougher laws against perpetrators.
Okoedion, originally from Nigeria, was one of 10 Trafficking in Persons Heroes honored this year. She was recognized at a June 28 ceremony with U.S. Secretary of State Mike Pompeo and presidential advisor Ivanka Trump.
Shortly after graduating from college with a degree in computer science, Okoedion was contacted by a recruiter through her local church in Nigeria. She was offered a job in a tech store in Spain.
She accepted the offer, but when she arrived in Spain, she discovered it was a fraudulent promise by traffickers, who forced her into prostitution in Naples, Italy. She eventually escaped to a shelter run by Ursuline nuns, who cared for her and offered her help.
Today, Okoedion works to fight modern slavery. According to the U.S. State Department, "Okoedion plays an integral role in pushing Italian authorities to ensure that survivors, especially Nigerian women and girls, receive the services they deserve during their healing process and that law enforcement and service providers engage with survivors in an increasingly culturally informed, victim-centered manner."
She also works with a local shelter run by Ursuline sisters, where she acts as cultural mediator for trafficking victims, and travels throughout Nigeria to educate women and girls about how to detect trafficking schemes.
In a book published last year – entitled Il Coraggio della Libertà or The Courage of Freedom – she tells her story and calls for greater awareness surrounding the modern plague of trafficking.
In her statement, Ambassador Gingrich stressed that "human trafficking is a global crisis," with more than 25 million victims worldwide, "often lured with false promises by people they trust…and forced into prostitution, domestic servitude, or other forms of modern slavery."
"The path to ending human trafficking demands action, but also cooperation. No single government or individual can do it alone," she said. "Governments, faith-based organizations, civil society, and survivors must work together."
---