DEVATOP COLLABORATES WITH NAPTIP TO RESCUE TWO VICTIMS OF RAPE IN FCT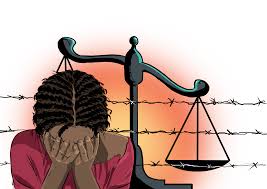 Devatop Centre for Africa Development (DEVATOP), a leading youth-led anti-human trafficking and human rights organization in Nigeria, with focus on combating human trafficking, gender-based violence, irregular migration, and supporting survivors of human rights abuses, collaborated with the National Agency for the Prohibition of Trafficking in Person (NAPTIP) to rescue 2 victims of rape and engaged the law enforcement to apprehend the suspected rapist on Tuesday, 22nd of March 2022.
Alerted to the incidence of the rape of two girls (names withheld) who were both 2 years old by an adult male, DEVATOP team moved swiftly to the scene.
On getting to the scene, DEVATOP team engaged officers of National Agency for Prohibition of Trafficking in Persons (NAPTIP) to apprehend the suspect, and convey him to NAPTIP office in Abuja for investigation, documentation, and prosecution.
While the rapid response unit and investigation department of NAPTIP were carrying out their duty of investigations and documentation, the victims were conveyed to Police Hospital in Abuja by DEVATOP team for medical examination, counselling, and administration of antibiotics to forestall the manifestation of STDs that might be contracted from the abuser.
The parents of the victims who were assured that children will get justice, and followed through to ensure that the perpetrator be made to face the due penal injunction for his actions after investigations.
Indeed, the sexual exploitation of others in whatever form is a vile offence that needs the collaboration of both civil societies, government agencies and citizens. DEVATOP has led many campaigns, especially under the TALKAM Human Rights Project, encouraging people to report cases of rape, human trafficking, and other forms of gender-based violence. Their various social media platforms and TALKAM App (www.talkam.org) which was developed to aid reporting of human rights abuses has contributed to the fight against human rights abuses in Nigeria.
---