Devatop Inaugurates a Pioneer Team of Journalists Against Human Trafficking and Organizes a Training Program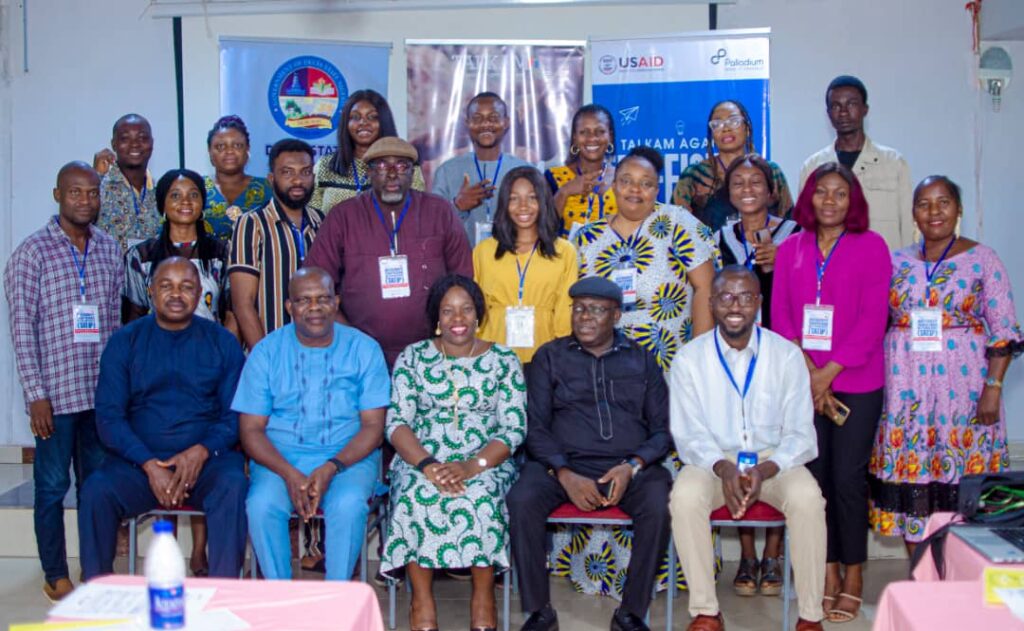 Devatop Centre for African Development, a human rights organisation, inaugurated the Asaba branch of journalists on Friday, April 6 and Saturday, April 7. This inaugurated journalist team was a part of Devatop's TALKAM radio programme to further wage war against human trafficking. With that aim in mind, the 18-man journalist team was trained and sensitised on what would be expected of them during the project. They were informed on how to use their talents and various platforms to fight the menace of trafficking in persons.
At the training and inauguration ceremony, other personalities were Mr Nduka Nwanwenne, the Zonal Commander for NAPTIP in Edo State, and Mr Vincent Adekoye, press officer NAPTIP HQ. Also in attendance were Mr Felix Ofou of the Delta Broadcasting Service, Mrs Ijeoma Nwanze, the Secretary of the Delta State task force on human trafficking and Mr Yekeen Akinwale, The Cable(virtual). The participants expressed great joy and excitement in all the training exercise sessions, where three (3) journalists were elected as Chairman, Deputy Chairman and Secretary, respectively.
The output of this event was the formation of a volunteer platform called Journalists Against Trafficking in Person (JTIP), whose primary functions will include efforts to increase the publication of stories centred on crucial issues around trafficking and also reporting and following up on the prosecution of human trafficking offenders in their community for six months. Each member of the JTIP team was trained to carry out and publish evidence-based and ethical investigative stories in their affiliated media, such as print, TV, radio and internet platforms. These publications will aim to increase the awareness and understanding of the populace on TIP. The JTIP team were also trained on how to foster the commitment of law enforcement agencies to the effective discharging of their duties concerning cases of TIP. The training also focused on equipping the journalists to help publicise the use of the TALKAM reporting channels for reporting cases of trafficking in persons and writing investigative stories that could lead to prosecuting traffickers.
TALKAM Against Trafficking in Persons is supported by U.S. Agency for International Development (USAID) and Palladium through the Strengthening Civic Advocacy and Local Engagement (SCALE) Project. The TALKAM Against Trafficking in Persons (TATIP) uses technology and traditional methods to counter trafficking in persons, focusing on prevention, protection, partnership and prosecution.
TALKAM is also a colloquial English term that translates to Speak Out. It is designed to stimulate citizens to monitor, identify and report TIP while pushing for NAPTIP to improve their responses and investigations. The overall goal of the TATIP project is to accelerate TIP identification, reportage, responses, research, and improve victim support services by stimulating community action against the menace and also to foster sustainable relationships with the private sector, government agencies, and CSOs at the national level in Delta, Enugu and Sokoto State and the national level.
---