HUMAN RIGHT ABUSES ACROSS NIGERIA IN MARCH 2021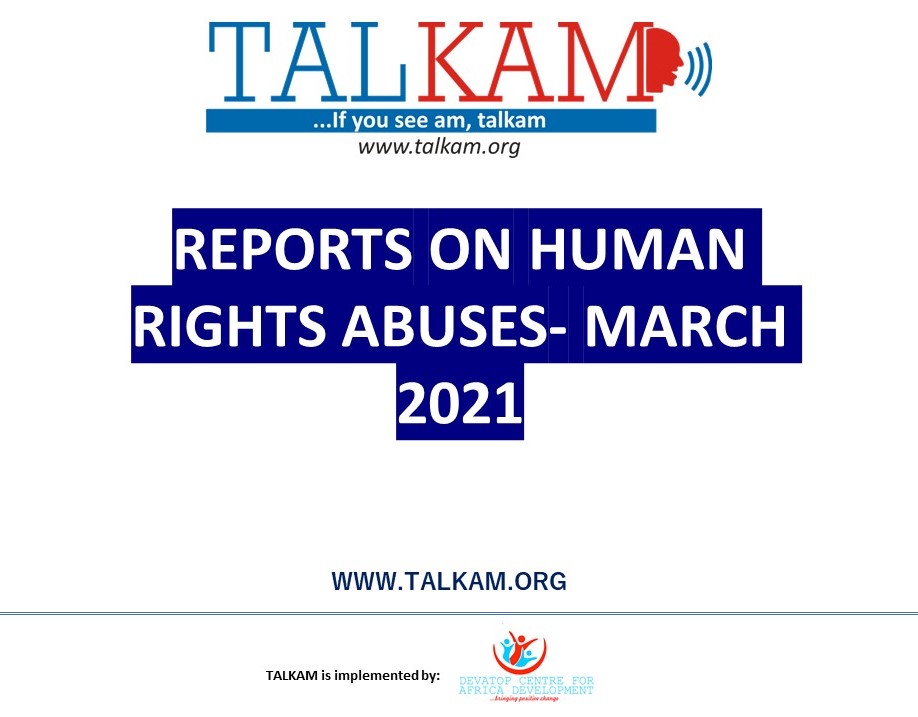 March 2021 recorded a huge number of human right abuses across Nigeria. The UN issued an alert on organ trafficking. The alert warned that the demand for parts of the human body is on the increase. According to the UN, a kidney now costs 262,000 dollars, the heart costs 119,000 dollars and the liver costs 157,000 dollars. It is important to be wary of foreign job offers with unrealistic benefits, as there are a lot of fake offers which end up leading victims to a death trap. This report will be outlining the human right abuses that took place in Nigeria in the month of March, ranging from human trafficking to gender-based violence, child abuse and rape.
HUMAN TRAFFICKING
On 11th March, the police declared a social welfare worker, Sabina Izuorah, wanted for alleged child trafficking. Luckily, some of the children were recovered and taken into protective custody of the Anambra State Ministry of Social Welfare. The children were found locked up after being severely beaten by three women suspected to be ritualists. According to the police, investigations are still ongoing and efforts are being intensified to apprehend the culprits.
22nd March, a Nigerian man was caught smuggling 25 Venezuelan women into Trinidad. A Trinidadian, who was his accomplice, was also arrested for aiding and abetting in suspected human trafficking. The detained persons were taken to the Santa Flora and Erin Police Stations and the Immigrations Department was contacted. According to the police, investigations are ongoing.
GENDER BASED VIOLENCE
1st March, the Police confirmed that a hunter identified as Chidube Onyema, shot his girlfriend to death in Okuku community, Owerri. This was following a disagreement between the lovers which turned deadly. The suspect was arrested and transferred to the State Criminal Investigation and Intelligence Department in Owerri.
16th March, Punch reported that a housewife in Delta State killed her husband with a matchet on arrival from sleeping outside. This is just one of several similar situations, where partners kill or brutalize their spouses/lovers. In fact, injury and death resulting from intimate partner violence has been on the increase in recent times.
3rd March, there was a report by Punch of domestic abuse by a stepmother who was alleged to have burnt her 4 year old step daughter's private part.
16th March, a 12 year old girl was raped while fleeing from Lagos aunt's torture. This situation features both rape and child abuse; the sad situation of a lot of minors in Nigeria.
RAPE
March 11th, NSCDC arrested two pedophiles for raping two minors. The two suspects were arraigned before the Magistrate Court in Oyo State. The state commandant urged parents to take care of their children, after the Magistrate had remanded the two suspects at Abolongo Correctional Service.
11th March, a father of five faced trial for raping an 11 year old. The suspect, upon being arraigned, pleaded guilty to the crime, according to Punch.
16th March, a 21 year old man was jailed for raping his neighbor's 5 year old daughter to death in Bayelsa State. The most unfortunate part of the judgement is that he was jailed for 10 years, whereas the deceased died as a result of the rape. The convict was said to have been 16 at the time he committed the offence (a minor), which saved him from the ultimate sentence.
31st March, a 25 year old man reportedly defiled his neighbor's four year old daughter in Ogun State. Violation of minors, especially babies, is becoming regular lately.
There are several other abuses that took place which were unreported. Human right NGOs and law enforcement officers have been working tirelessly to bring culprits to book and give victims justice. Victims have to be encouraged to report these violations, communities need to do more to support and not shame them, and the government should prioritize human rights. With more support and engagement, we can all win the fight against human right violations.
Through TALKAM Human Rights Project, we are gathering and disseminating information on human rights abuses in Nigeria, and stimulating citizens to monitor and report incidences.
---