HUMAN RIGHTS ABUSES REPORTED IN NIGERIA IN SEPTEMBER, 2021.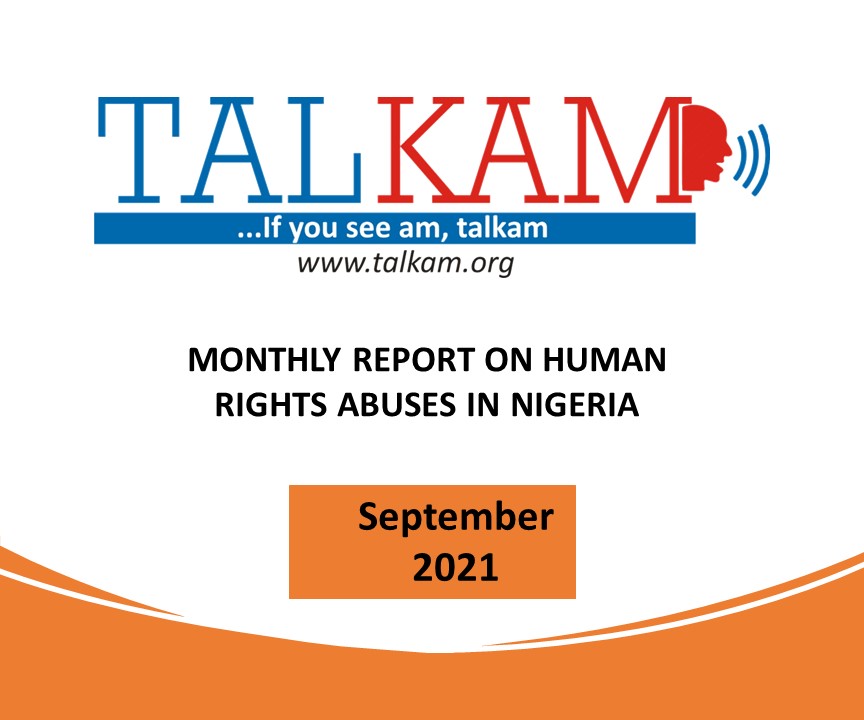 Human Rights Abuses is the violation of the basic rights of people by treating them wrongly. The abuse of human right is not just perpetrated by individuals but also institutions and even government. In Nigeria, human rights abuses like rape, gender/sexual based violence, child abuse and physical assaults are sadly still a vast problem. The year 2021 exposed such issues and the month of September is not an exemption.
Some of such violation includes the case of a 33-year-old Mrs. Adeola Moshood has been placed in a critical condition by her husband's mistress Precious Ahanonu, who poured hot water on her while she was sleeping. The husband of the victim, Aremu Moshood was said to have started a fish pond business and employed Precious to manage the business. Along the line, he allegedly started having an affair with her and rented an apartment for her without the knowledge of his wife. This led to financial mismanagement that resulted in the business going bankrupt and eventually Mr Moshood moved his family to live with his mistress and his affair became known to the wife. This resulted in a constant fight between the two women. Until that faithful day, Precious boiled hot water and poured it on Mrs. Adeola while she was sleeping at about 1.00 am.
A resident of Uburu-Ekwe Street in Ugwuagor, Abakpa Nike, Enugu State, Eke Nweofia, has been arrested by the police for beating his eight-month-old pregnant wife to death during an altercation over dinner on Wednesday. The suspect said to be a dealer in scrap metal at Nkpor Street in Abakpa, was supposedly under the influence of alcohol when he committed the crime.
The Governing Council of the Obafemi Awolowo University (OAU), Ile-Ife, has dismissed another Lecturer, who was found guilty of sexual demeanour against a female student. The Public Relations Officer of the University, Mr Abiodun Olarewaju, announced this in a statement he issued to the News Agency of Nigeria (NAN) on Tuesday, in Ile-Ife. He said the action was in line with the institution's avowed determination to rid the university of any form of sexual intimidation, harassment and or coercion.
The police in Adamawa have arrested a 19-year-old teenage bride who allegedly stabbed her husband to death, over the husband's refusal to grant her request for separation into the forced marriage three weeks after it was consummated by her parents.The late husband Muhammad Adamu was 35 years old. Police said an investigation revealed that the 19-year-old lady was forcefully married to the deceased by her parent against her will.
An Ekiti state Magistrates' Court, in Ado Ekiti, has ordered Emmanuel Bejide, 40, to be remanded in the correctional centre for allegedly defiling his daughter. Mr Bejide was reasonably suspected to have repeatedly raped his 17- year- old biological daughter, a Senior Secondary School three (SSS3) student, between September 2020 and July 2021 at Ikere Ekiti.
In September 2021, during an event themed: 'Institutionalizing Our Reforms' Lagos State Government, said it recorded a total of 10,007 reported cases of domestic violence, including sexual abuse, perpetrated against adults and children between May 2019 and August 26, 2021. The Attorney-General and Commissioner for Justice, Mr. Moyosore Onigbanjo, said this at a media briefing on the highlight of activities to commemorate the Domestic and Sexual Violence Awareness Month, September 2021, organized by Lagos State Domestic and Sexual Violence Response Team, DSVRT, in Alausa, Ikeja. Onigbanjo, who is also the chairman of DSVRT, lamented that despite the team's various initiatives, it has continued to see a steady increase of formal reportage of domestic violence cases of over 150 cases daily.
As unfortunate as these reports are, the increase of reportage is however a positive step towards the tackling of such abuses and with positive steps, such human right abuses will be prosecuted, and justice will be earned. Organizations like Devatop Center for African Development has made reportage easier by creating a platform, the TALKAM App (www.talkam.org), which makes reportage not just possible but stimulates timely action against reported human rights abuse.
---