HUMAN RIGHTS ABUSES IN NIGERIA IN OCTOBER 2021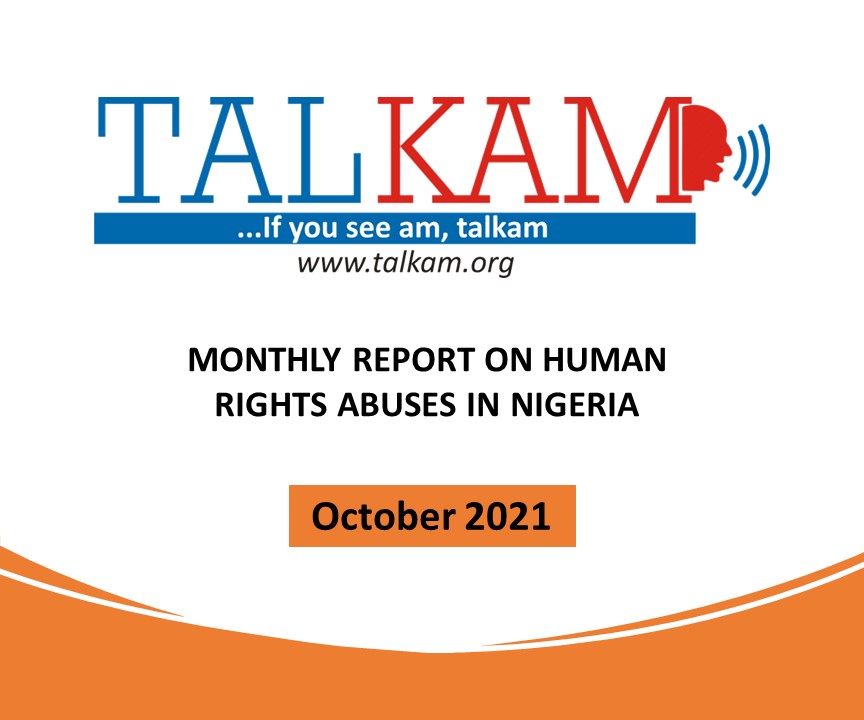 Nigeria is one of the most populous countries in Africa and sadly has an alarming crime rate. News of human rights abuses floods the media despite the poor culture of reportage. These human rights abuses include rape, gender-based violence, child abuse, domestic violence, forceful abduction/kidnap, human trafficking, child trafficking amongst others. In October 2021, a number of these abuses were reported across the country.
Perpetrators of these abuses sometimes rely on the innocence or/and the ignorance of their victims to prey on them. For example, A 27-year-old suspected homosexual identified only as Ekpeye has been arrested for allegedly fondling the private parts of two boys on Ekwulobia Street, Mile 3, Diobu, Port Harcourt, Rivers State.The boys were said to be aged nine and 12.
In same vein, a man named Yusuf Yahaya has been charged to the FCT High Court, Kubwa on a nine-counts bordering on rape and sending naked pictures and pornographic videos to his 16 years old niece. Mr Yahaya's wife had earlier reported her husband for sleeping with his 16-year-old niece and sexually abusing their eight and six-year-old daughters.
Children are indeed increasingly a target of violence and exploitation. In same month, October 2021, in Nigeria, Abia State Police Command operatives have arrested three persons for allegedly kidnapping a four year old boy, Master Okechukwu Okoroafor with the intention of selling him. It was gathered that the suspects, Onyekachi Ugwunwoke, (m) 43, Chinasa Onyekachukwu, (f) 40, and Chidinma Asomugha, (f) 48, were arrested while at the bargaining point on how to sell the 4-year-old boy near Abia Line Transport Company park in Umuahia.
A 42-year-old man, Mohammed Sale, has been arrested by the police for allegedly killing his 16-year-old daughter, Aisha in Adamawa State.
The father of nine was arrested after his daughter's corpse was discovered in the bush in Mayo Belwa Local Government Area of the state.
It was gathered that all began when the suspect was informed by his first wife, Zulei Mohammed, that the deceased was not his biological daughter as she was pregnant for another man when they got married. Mohammed and his friend mercilessly descended on the girl with sticks and beat her to death. Afterward, they stripped her naked and abandoned her dead body in the bush.
Perhaps the most despicable exploitation of underage children in embedded in many Nigerian cultures. These negative cultures which are harmful to the development of the young Nigerians is the sad practice of underaged marriage. To mark 2021 International Day of the Girl Child, minors in Adamawa State sought the protection of underage girls from early marriages through the enactment of child rights protection bill that will stop parents from giving them out for marriage until they complete secondary school. The representative of the underage girls, Amira Abdullahi, a 13-year-old JSS 3 student at the Government Day Junior Secondary School, Luggere, in Yola North LGA, made the call at the assembly.
Amira pleaded with the assembly to give the 'Child Protection Bill' a speedy passage since it has scaled through first reading at the hallowed chamber, adding that an enactment of 'Early Marriage Prohibition Bill' will help to stop parents in the state from giving their underage daughters out for early marriage.
She further appealed to the assembly to ensure that girls are protected from cases of rape and other forms of gender-based violence and child abuse.
These unhealthy cultures that allows females to be seen and treated as an object of sexual gratification even against her will might perhaps be the reason why the country is experiencing an increased rate of sexualized violence and assault.
A Nigerian man simply identified as Arinze, who claims to be a pastor in training, has been nabbed after he allegedly defiled a little girl and attempted to use blood from her vagina for spiritual activitiesv geared towards making his church grow exponentially.
These sexual violence are not targeted at just underaged persons. A South African woman has been left traumatised after she was kidnapped and raped for four days by two men she claimed to be Nigerians. The 35-year-old mom of three from Gugulethu, Cape Town, said she received a call inviting her for a job interview in Tyger Valley Mall last Monday October 11. She was picked up and taken to a house where she was repeatedly raped by the Nigerian men.
The exploitative and patriarchal nature of the society which seeks to keeps women under the control of men, even if such control is exploitative should be addressed if these cases of human right violations of especially girls and women will be stopped. Such oppressive culture leads to marginalization or subjugation of the girl child and sometimes even death. Such extreme repercussion is seen in the death of a woman who was allegedly set ablaze by her husband because she insisted on travelling for her mother's burial preparation.
---