Job Vacancy: Programs and Grant Coordinator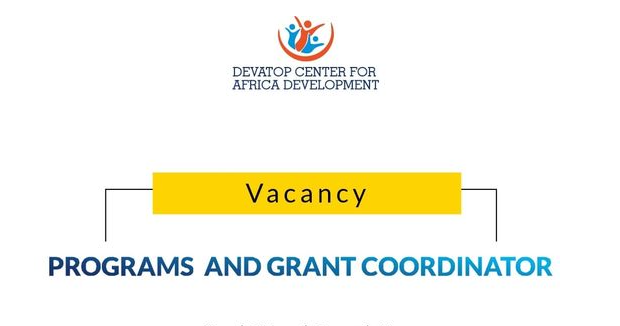 We are looking for an experienced, innovative, organized and dependable Programs and Grant Coordinator to join our team and contribute to our work on combat human trafficking, gender-based violence, and related human rights abuses.
You must be detail-oriented and a master collaborator, ready to prepare, plan and implement program initiatives and monitor their progress to completion.
The Programs and Grant Coordinator will be responsible for the following:
Initiating project and program ideas
Writing innovative grant/proposals and budgeting
Planning and implementing project.
Performing evaluations, monitor performance and suggest improvements.
Developing and implementing multiple programs
Regularly monitor and review project activities to ensure quality, compliance and timely reporting
Provide direction, guidance, and assistance to project team.
Seeking out new and creative program ideas to implement
Help secure and manage program funding.
Leading project implementation team
Provide strategic vision and strong leadership while directing our programs.
The Programs and Grant Coordinator must have the following:
Prerequisite Experience (at least 4 years experiences):
Project initiation, design and management within an NGO sector
Grant proposal writing
Team management
Leadership
Requirement:
Track record of work experience as a program officer/manager within a nonprofit organization
Track record of experience in grant (proposal)writing
Track record on program design and project implementation
Track record in leading project implementation team
Relevant Skills:
Networking skill
Report Writing skill.
Social media skill
Team management skill
Reporting writing skill
Relevant ICT skills (including Microsoft)
Multi-tasking
Time management
Emotional management
Effective oral communication skills
Academic Qualification: Minimum of Bachelor Degree/Higher National Diploma in social sciences or related courses/fields of study.
Years Experience: At least 4 years' experience in programs and grant writing within a non-profit organization.
Benefits (apart from Salary):
Group Life and Social Insurance
Health Insurance
Transport Subsidy 
Pension
Others
Knowledge on human trafficking and gender-based violence is an added advantage.
Interested applicants should click here to fill the application form and upload their CVs
Deadline for application: rolling basis
Possible employment date: September 2023
About Us: Devatop Centre for Africa Development is a Nigerian youth-led human rights organization focused on combating human trafficking, gender-based violence and other related human rights abuses. We are a group of young people who are leveraging ICT, volunteerism, advocacy, and media to tackle human rights abuses.  DEVATOP operates TALKAM Human Rights Reporting App (www.talkam.app) which gives citizens access to tech tools to report human rights abuses.  
For inquiry, send Whatsapp message to: 08067251727
---