Joseph Osuigwe speaks on Illegal Orphanage Homes in Nigeria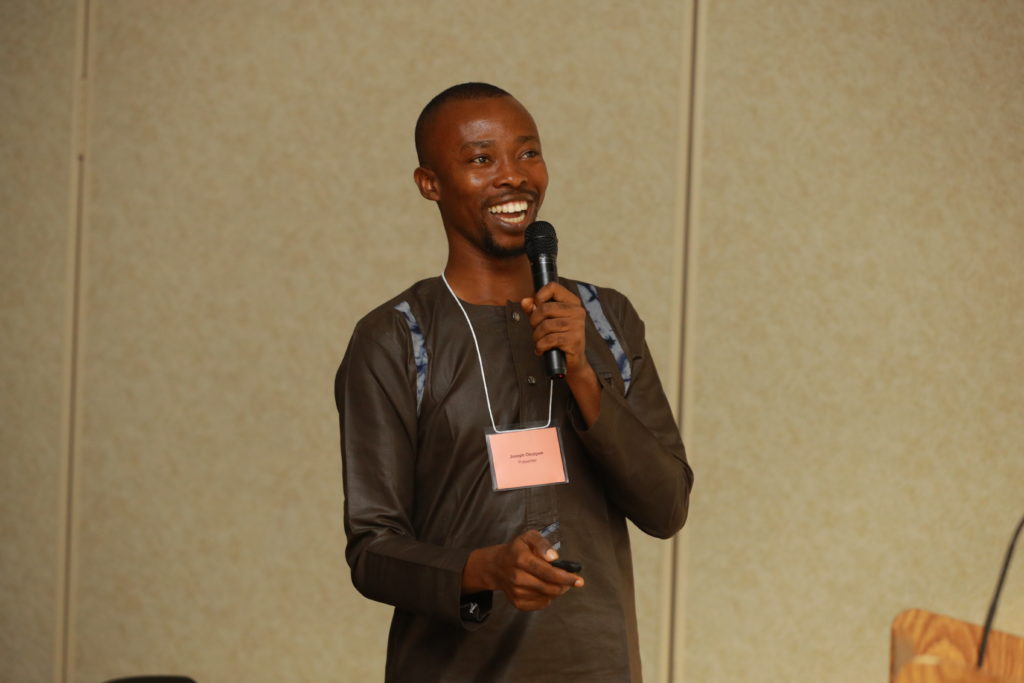 Joseph Osuigwe, an international anti-human trafficking advocate and Executive Director of Devatop Centre for Africa Development has charged participants from over 25 countries at 15th International Human Trafficking Conference to beware of illegal orphanage homes, and to report suspected acts of selling children in their countries.
While presenting a paper co-written with Mr. Lewis Olatunji, Joseph Osuigwe stated that with increased vulnerabilities of children, many dubious individuals put children at risk; and more and more gaps are being overlooked in African orphanages and this had continuously endanger the lives of innocent African Children.
He noted that illegal orphanage homes, child vulnerability and Child trafficking remain a major challenge in developing countries, particularly in sub Saharan Africa, and Nigeria is among the top three country in the world with most "orphans" and vulnerable children, with 11.5 million orphans (as at 2012). Thousands of such children live in many documented and undocumented orphanages spreading over in communities in Nigeria.
Mr. Osuigwe explained that paper orphans are the children removed or kidnapped from their biological parents (or guardian) using force, coercion, deception, or other deceptive means. Some orphanage homes are not what people think they are, they are business firms focused on selling children or using them to attract donations for personal aggrandizement.
He further revealed that traffickers hide under orphanage homes to operate in Nigeria and other African countries, and commended National Agency for Prohibition of Trafficking in Persons (NAPTIP) for her efforts in rescuing some paper orphans, teenage girls, and arresting perpetrators.
Joseph cited an incidence that happened in 2013, in which 17 pregnant teenagers and 11 babies were rescued from a house in south-eastern Imo state. The girls said they had been raped by one man. Also, more than 160 children have been rescued from a "baby factory" and two unregistered orphanages in Nigeria's main city, Lagos, (as reported by BBC)
While responding to questions from participants, Joseph Osuigwe stated that:
a. Paper orphans are recruited through baby factory which involves the use of teenage girls or adult to produce children; offering to help parents with many children, kidnapping, habouring pregnant teenagers, and sheltering street children.
b. Illegal orphanage homes are operated by individuals or groups; and maybe known by citizens as home delivery centre or motherless babies home.
c. Illegal orphanage homes can operate as new wave of NGOs focusing on supporting children within their family structures.
d. Paper orphans are sold to desperate couples or individuals at a very high cost without considering the welfare of the child. After the illegal adoption, the children (depending on their age) may be used for anything, including housemaid, rituals, or adopted children.
e. In 2012, a UK judge raised concerns about "desperate childless parents" being caught up in baby-selling scams in Nigeria. There was evidence that women were going to Nigeria seeking fertility treatment, then being sold unwanted babies, the judge said
f. Paper orphans and even orphans are used for Orphanage Tourism, which involves regular visitations from philanthropists, religious groups, and celebrants who often donate cash and materials.
Joseph Osuigwe noted that some of the factors that have made illegal orphanage homes to thrive include: State government inability to monitor the activities of orphanages, Stigmatization and victimization of teenagers who are pregnant, Stigmatization and victimization of teenagers who are pregnant, high rate of street and missing children, Demand for children by individuals and couples without genuine reason.
To address and curtail illegal orphanage homes, Mr. Lewis Olatunji and Joseph Osuigwe recommended:
· Strong legislation in the operation of orphanage homes
Improved Services in legal orphanages
More trainings for social workers interacting with orphans
Monitoring activities of orphanage homes
Introducing whistle blowing policy
· Monitoring and tracking of adoptive individuals
---