Joseph Osuigwe presents his research paper at International Human Trafficking Conference in USA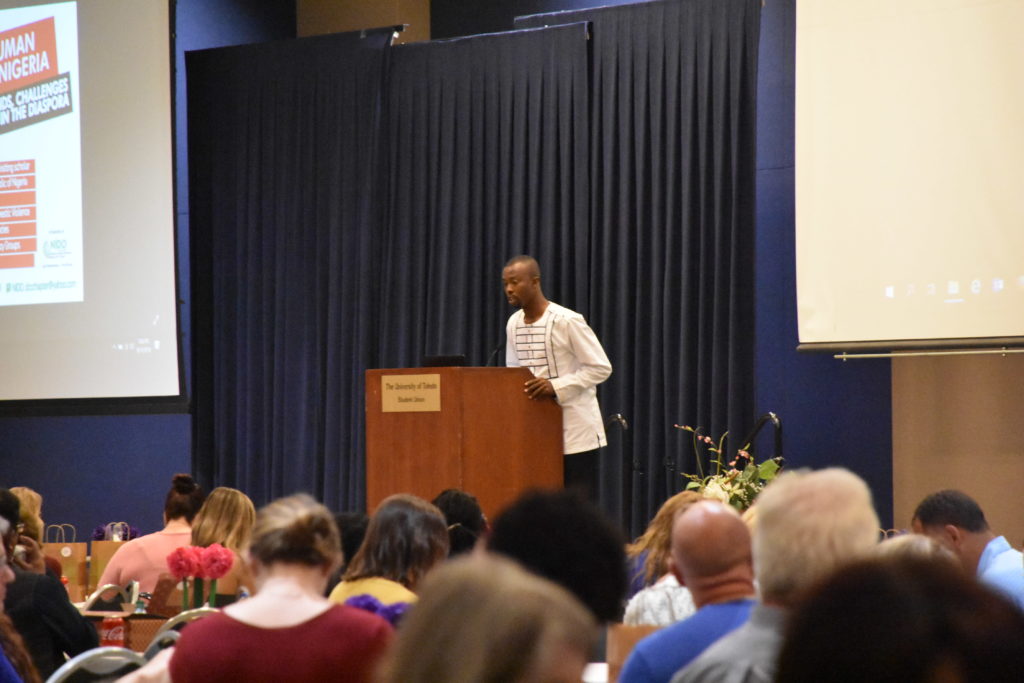 Joseph Osuigwe, a Nigerian anti-human trafficking and human rights advocate was one of the over 40 international research presenters at 2018 International Human Trafficking and Social Justice Conference at University of Toledo, Ohio, USA.
While at the conference, he presented one of his papers titled "Engaging Private Sectors in Combating Human Trafficking in Nigeria and Africa: Results, Challenges, and Recommendation"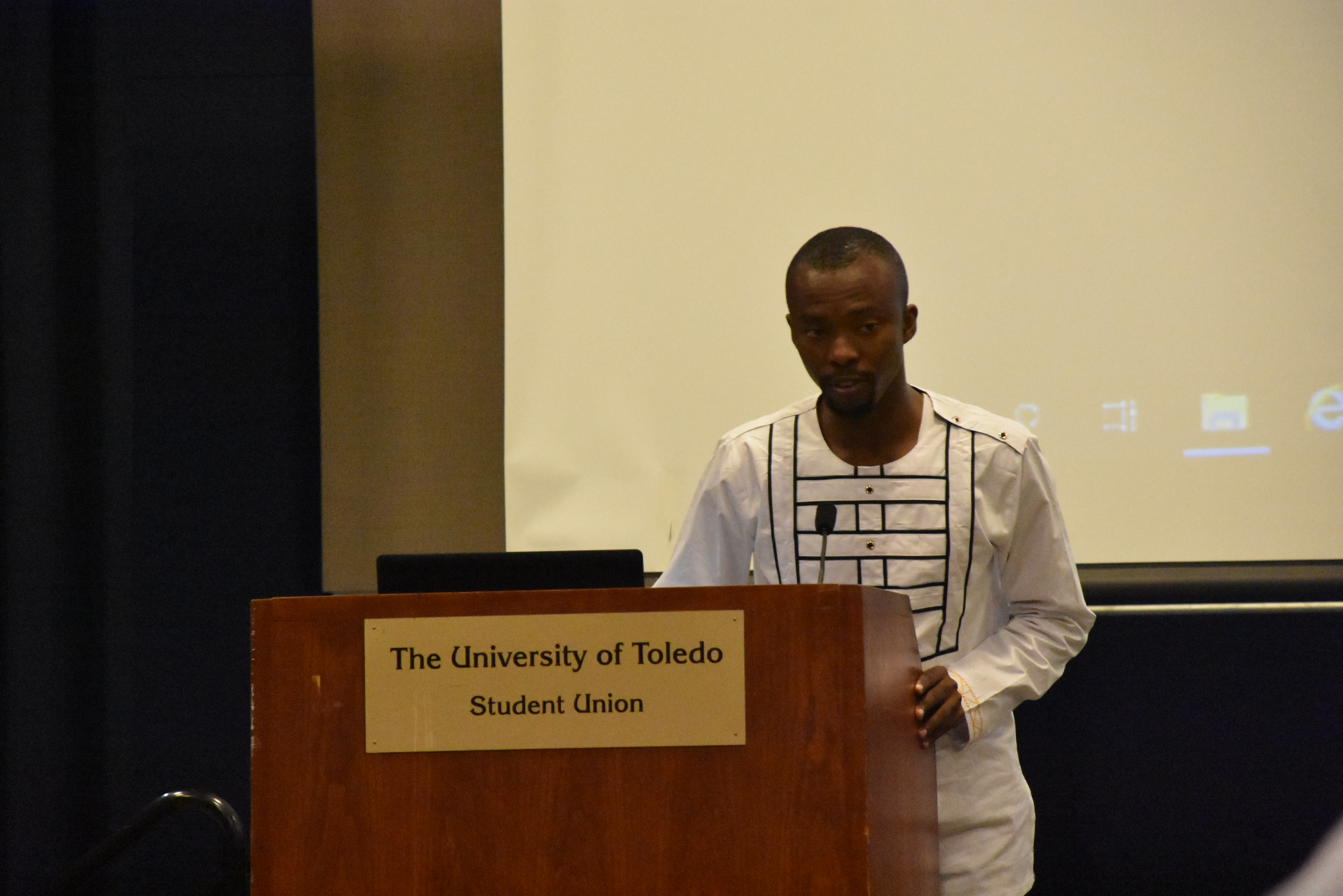 In his paper, he stated, "Trafficking in Persons is now the fastest-growing business of organized crime, that involves the exploitation of men, women and children within their own countries and across international borders.  Human traffickers or perpetrators often see young people, especially women, girls and children as commodities that can generate 100 times of the amount spent on recruiting them.  Human trafficking remains a great threat to our economic development, advancement, and human capital. It saps the very potential of our nation by frustrating the aspiration of our young people".
Mr. Osuigwe pointed out that human trafficking is a big illegal business that has directly or indirectly benefited many firms, companies or corporations, and over 150 billion dollars are generated annually from the exploitation of 45 million victims globally, leading to 30, 000 deaths annually.
He narrated how him and Kristi Koci(DEVATOP intern from Italy) conducted a survey among 50 companies  which showed that private sectors in Nigeria have not been involved in combating trafficking, even though some demonstrated interest to get involved if the Federal government makes a demand from them. According to him, little or nothing has been demanded from private sectors in tackling human trafficking in Nigeria, Kenya, Ghana, and many Africa countries. .
During his presentation, he highlighted the high rate of child labour in West and Eastern Africa countries (such as Nigeria, Ghana, Kenya, Tanzania, Uganda etc). He noted so many private sectors, especially in Agricultural sector and Waste Management have gained cheap labour by engaging under-aged children in the fields. He also observed that child labour laws in these countries have gap and lack implementation strategies, and companies are not held accountable for labour exploitation of children
While human trafficking benefits some businesses, it also affects many, because it remains a great threat to our economic development and human capital. It is both a labor issue and a human rights issue.
There is very low participation of private sector in combating human trafficking, and a majority of them do not understand their roles in addressing these issues, Joseph noted.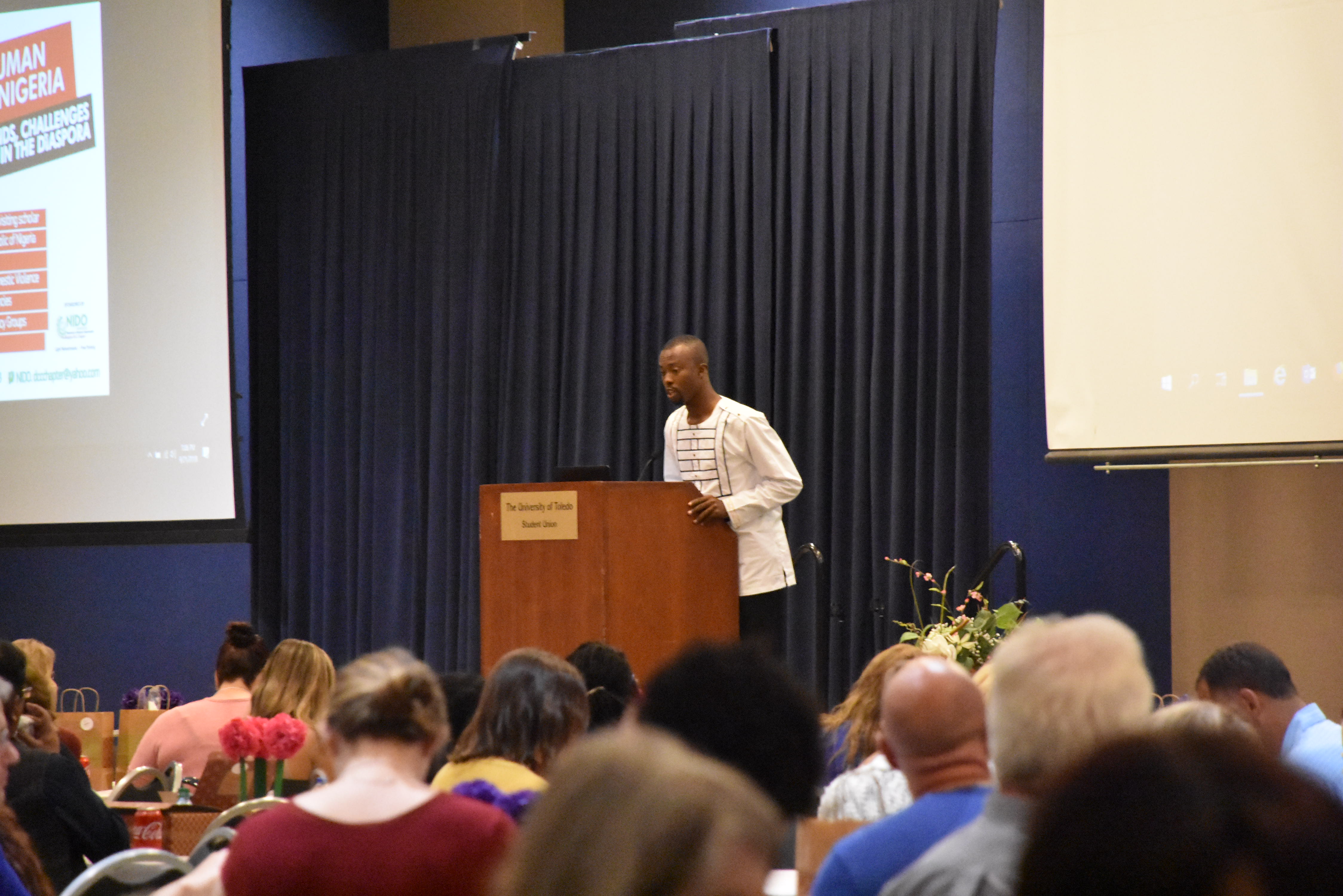 He further revealed another form of modern slavery in South Eastern part of Nigeria, which involves exploitation through apprenticeship.  He explains, "though, apprenticeship is not exploitation, but there are instances where businessmen/traders (known as Oga) can use it to deceive and exploit young boys. This happens when a boy's family agreed with the master that he will serve and learn trade from a businessman (the master or Oga) for either 8, 10, 12 or more years, and at the end of the service, the master will empower him with resources to establish his own business. In addition to learning trade the boy cooks, wash Master's and madam's, including children clothes, sleep on the floor when everyone has slept, eat only when everyone has eaten. However, when the boy (young man) is rounding-up his 10 or 12 years of service, the master will allege that he was stubborn, stealing, and irresponsible, and therefore he cannot establish him, and then finally pushes him out of the business. At this point, they young man is left with nothing".
Responding to questions and comments by participants, Joseph Osuigwe said that government of Kenya, Nigeria, and Uganda are to achieve expected results on eliminating child labour. Millions of children are victims of child labour, and there is no significant reduction in the number. He also responded that lack of political will is among the causes why private sectors in Nigeria and other African nations have not been fully organized and engaged in tackling human trafficking. He further stated that private sectors can participate in promoting the fight against human trafficking by adopting it as their corporate social responsibilities.
He advised that African  government  should as a matter of urgency, make anti-human trafficking a national priority and stimulate private sectors to take action to end human trafficking.
Joseph told the participants that, on June, 2019, his organization will launch TALKAM, an initiative that will focus on utilizing ICT tools, research and data to stimulate action against modern slavery, child labour and other human rights abuses. He noted that through TALKAM, his organization will  provide a variety of information and data on abuse of children and women to international and national development organizations.
He recommended that federal governments in African countries should start demanding yearly anti-human trafficking and labour  report from private sectors. Through these reports, the private sectors will state how they are involved in preventing child labour and trafficking within their supply and production chain.  He advised that private sectors in Africa should have child protection policies and be made to be accountable on implementation of such policies.
He also recommended that private sectors who have shown commitment to tackling child labour and human trafficking through their CSRs should be appreciated through tax deduction or national award.
…………………………………………………………………………………………………………………………………………………………….
International Human Trafficking and Social Justice Conference has been bringing together researchers, practitioners, and individuals with lived experience in an effort to lay the groundwork for future collaborative research, advocacy, and program development against human trafficking. To date, the trafficking conference has welcomed presenters from 34 states and 25 countries to educate social service, health care, and criminal justice professionals on human trafficking and the needs and risk of victims, as well as their customers, and traffickers.
Joseph Osuigwe is an international anti-human trafficking advocate, and has spoken in different international forum, motivating thousands of people from over 20 countries to take action against human trafficking.  He is the Executive Director of Devatop Centre for Africa Development, a Nigerian nonprofit organization that focuses on combating human trafficking and other human rights abuses. He resides in Abuja, Nigeria.
You can reach him via [email protected] or [email protected]
---