Call for Consultant: Mapping of Existing Legal & Regulatory Frameworks for CDW-Related Issues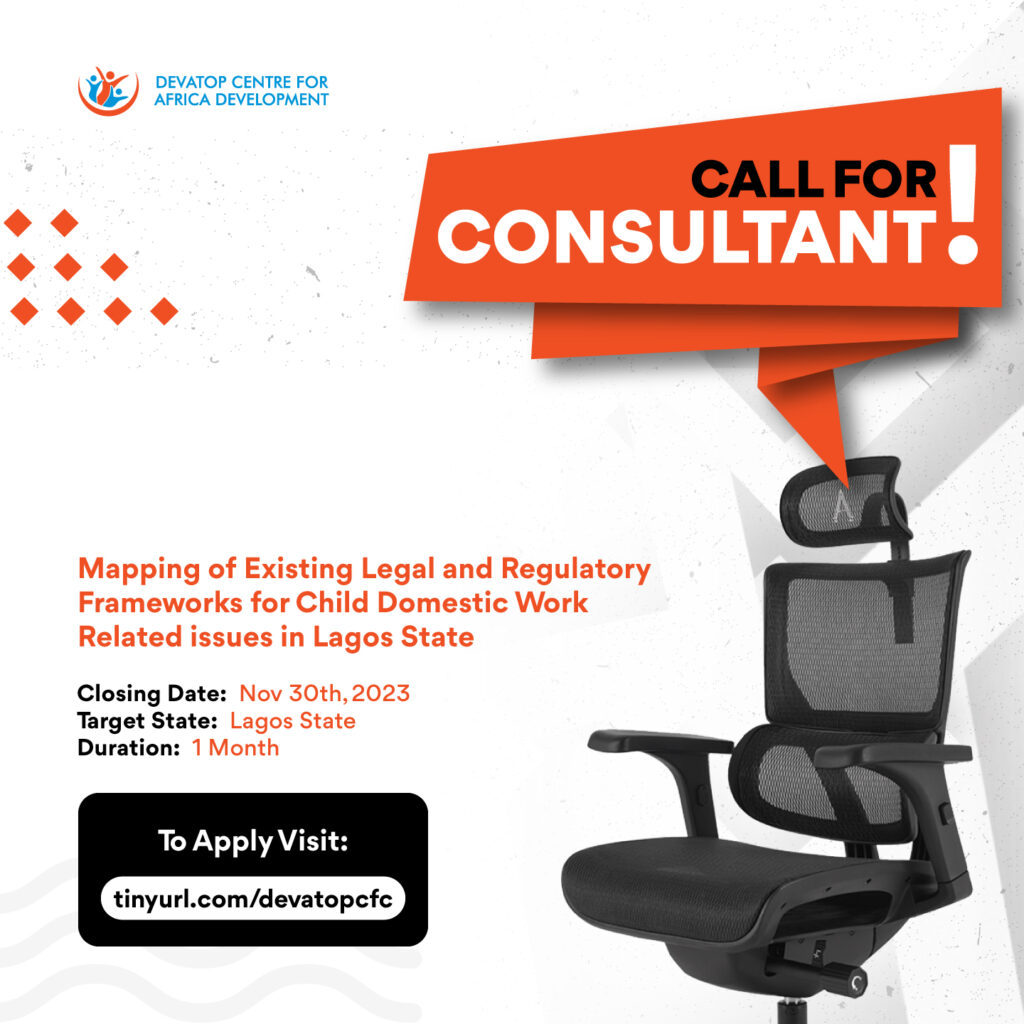 Type of Contract: Short-term
Open Date: NOV 07, 2023                          Questions Deadline: NOV 27, 2023                            Closing Date: NOV 30, 2023
Target States: Lagos State
Duration of assignment: 1 Month
Background
Devatop Centre for Africa Development (DEVATOP) is a human rights organization whose aim is to work with local, national, and global partners to address human rights abuses through technology, capacity building, advocacy, research, and sustainable interventions.
Through its tech-driven initiative known as TALKAM, DEVATOP is accelerating citizen-led reportage and actions against human rights abuses in Africa.
The project is designed to achieve the objectives paraphrased as follows:
Enhance awareness on the dangers of CDW through engaging champions to carry out strategic actions, as well as sensitizing citizens through radio and social media.

Increase identification, reportage, responses, and investigation to Child Domestic Work cases.

Enhance provision of psychosocial, professional counseling and skill support for identified survivors and vulnerable individuals.

Foster collaboration and synergy between private sector, government and CSOs on tackling Child Domestic Work.
This solicitation Request a call for Mapping of Existing Legal and Regulatory Frameworks, Policies and Guidelines, and Finance for Child Domestic Work-Related issues in Lagos State.
Purpose of the Mapping:
The primary purpose of this mapping activity is to systematically evaluate and analyze the existing legal and regulatory frameworks, policies, guidelines, and financial mechanisms relevant to CDW in Lagos. It seeks to provide a comprehensive analysis of the legal and regulatory landscape related to CDW in Lagos, with a focus on identifying areas for improvement and presenting actionable recommendations. It is intended to facilitate informed decision-making, policy reform, and advocacy efforts that will ultimately enhance the lives of Child Domestic Workers in Lagos.
For more information about the purpose of mapping, scope of work/deliverable and the requirement for selection – DOWNLOAD HERE
Method of Application:
Interested and qualified candidates should send their application with the title "Call for Mapping of Existing Legal and Regulatory Frameworks" as the email subject to [email protected] Cc: [email protected]
The application should highlight among other things:
The consultant's relevant experience,

Profile of the research team (with each of the team member's CV sent as annex to the application),

Proposed Mapping Plan and methodology 

Work plan and quote

How data will be transmitted and stored and used solely to guarantee protection and privacy.

Reference letters from 1 individual/organization you have a working relationship with, and can speak on your capacity (sent as annex to the application)

The application should be a maximum of 6 A4-sized pages, excluding annexes.
N/B: At the core of our work and culture is the promotion of the rights of marginalized groups, as well as embracing diversity, equity, and inclusion. It is on this note that we encourage applications from individuals and organizations who share this principle, and/or have a personal story that reflects why this principle should be promoted.
---