Call for Application: Monitoring and Evaluation Officer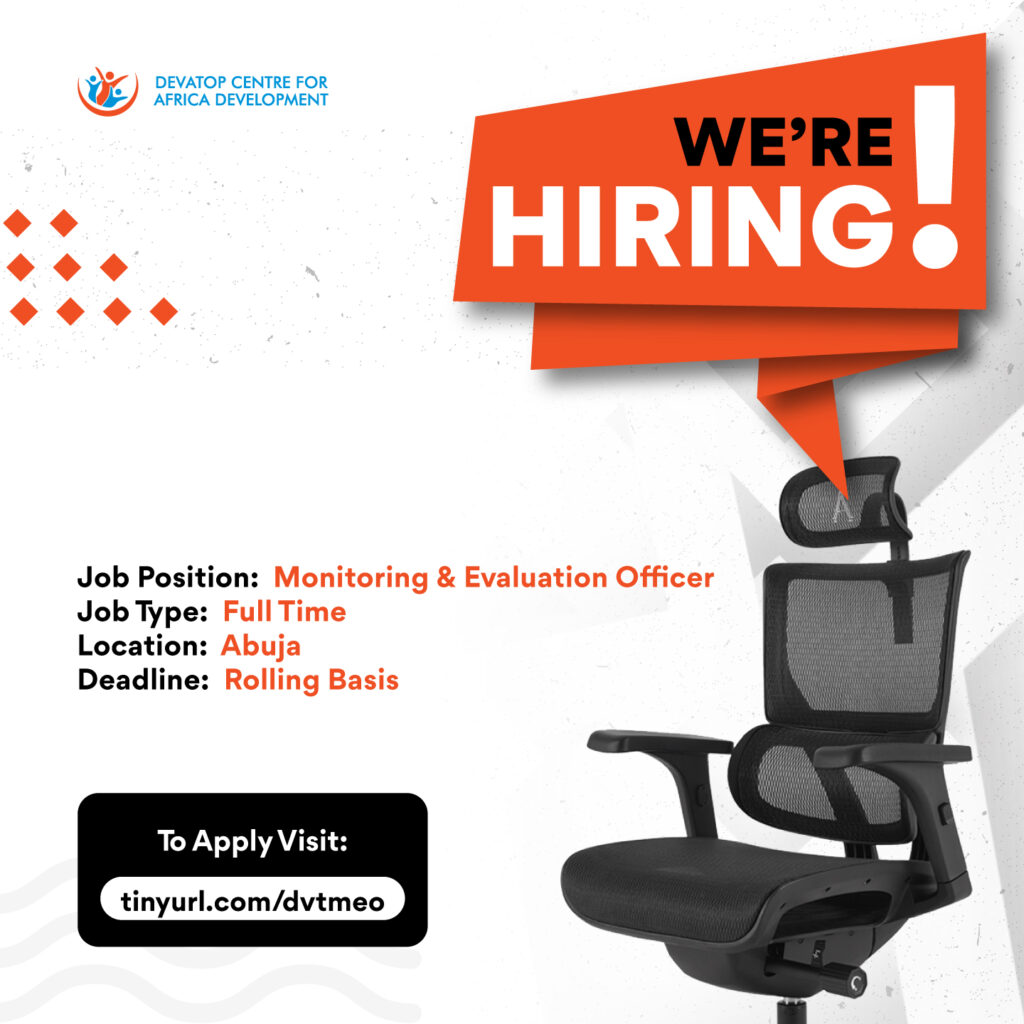 POSITION: Monitoring and Evaluation Officer
NUMBER OF OPENINGS: One (1)
LOCATION: Abuja
Job Type: Full-Time
GENERAL FUNCTIONS
The M&E Officer will be responsible for the monitoring and ensuring of high quality and timely inputs, and that each project maintains its strategic vision and that its activities result in the achievement of its intended outputs in a cost effective and timely manner. The M&E officer will be responsible for designing and implementing the M&E activities of the Project; assisting the Project Manager in preparing Quarterly/Annual reports on project progress and will monitor the project activities on a regular basis, developing and maintaining the MIS of the Project and will be responsible for the collection & analysis of different data in relation to the project activities. The Monitoring and Evaluation Officer works in close collaboration with project team and Government officials, private sector, non-government and civil society organizations.
Responsibilities: 
Develop and strengthen monitoring, inspection and evaluation procedures.

Monitor all project activities, expenditures and progress towards achieving the project output.

Report monthly, quarterly, half-yearly and annual progress on all project activities.

Plan for all measurable Outputs and Performance Indicators.

Monitor and evaluate overall progress on achievement of results.

Monitor the sustainability of the project's results.

Conduct organizational capacity assessment on existing monitoring and evaluation systems.

Develop indicators and a monitoring strategy for projects.

Develop monitoring and impact indicators for  project success.

Monitor and evaluate case management on different human rights cases by DEVATOP and partners. 

Provide inputs, information and statistics for quarterly, annual and other reports to the Project Management Team.

Participate in annual project reviews and planning workshops and assist the Project Manager in preparing relevant reports.

Perform other duties as required by the employer.
 Qualifications for M&E Officer
Prior experience working as a monitoring and evaluation officer in a relevant field.

Proficient with computer technology and Microsoft Office applications.

Expertise in analyzing data using statistical software.

Experience in designing tools and strategies for data collection, analysis and production of reports.

In-depth knowledge on MIS, M&E and development issues.

Strong training & facilitation skills

Excellent problem-solving skills.

Professional and pleasant demeanor to meet with stakeholders.

Exceptional time management and organizational skills.

Excellent written and oral communication skills

Sharp attention to detail with an extraordinary ability to multitask.

A reliable and diligent worker.
Educational Qualification:
– University Degree preferably in Business Administration, Computer Science, Economics or related field,
– Minimum of 2 years work experience in the design and implementation of M&E/MIS in development projects implemented by an NGO.
To Apply: CLICK HERE
 Application Deadline: Ongoing until positions are filled up.
---