Call for Application: Finance Officer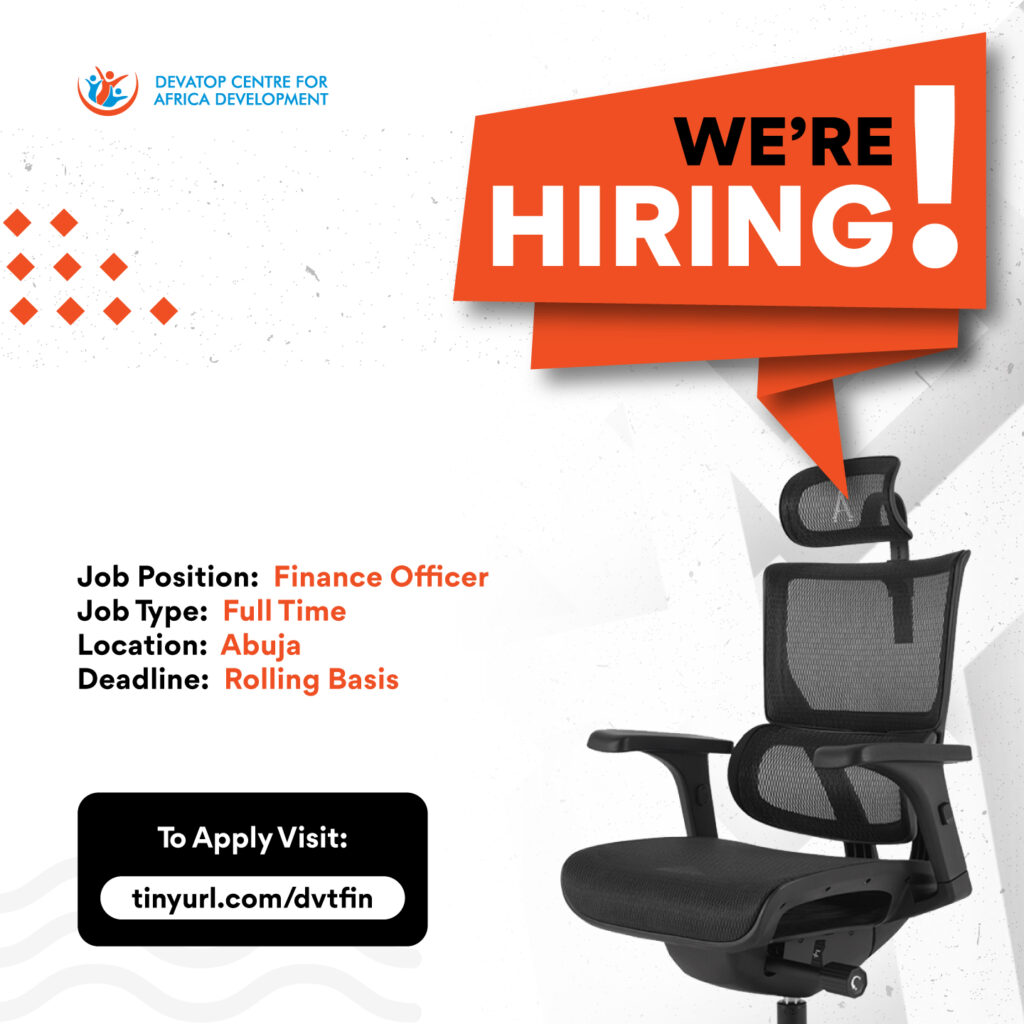 POSITION: Finance Officer
NUMBER OF OPENINGS: One (1)
Qualification: BA/BSc/HND with ICAN
LOCATION: Abuja
Job Type: Full-Time
GENERAL FUNCTIONS
The Finance Officer will ensure maintenance of adequate financial integrity in supporting quality and timely data input for the generation of financial reports, review and analyze accounting ledgers. S/he will be responsible for providing technical finance expertise and advice to the organization to ensure the complete accuracy of all finance transactions. S/he will also contribute to strengthening the internal control and accounting systems of Devatop Centre for Africa Development and partner organizations.
Responsibilities: 
Preparation of monthly financial reports with supporting documents.

Preparation of monthly bank reconciliation reports.

Prepare cash advance liquidations for review and submission to the donor.

Post, maintain, and reconcile financials in QuickBooks Accounting software.

Managing of project accounts.

 Electronic labeling and filing of financial documents in both cloud and hard drive.   

Support successful external audit of DEVATOP corporate finances yearly

Facilitate effective, efficient, and timely financial transaction recordings.

Prepare program and project budgets and expenditures.

Support proper budget monitoring/management in a manner that will aid good management decisions on project expenditures. 

Prepare a yearly budget.

Ensure compliance with relevant financial laws on statutory deductions and remittances.

Prepare other periodic financial reports as may be requested. 

Perform other duties as required by the employer.
 Qualifications for Finance Officer
Experience in preparing and analyzing financial reports and plans and drawing insight for use by management and different donors.

Strong financial expertise and familiarity with management and accounting practices at a senior management level. 

Sound practical knowledge of accounting systems and the use of spreadsheets.

Expertise in Payroll processing and management.

Proven experience in producing budgets and financial reports for management and donors.

Auditing awareness (ISAs)

Excellent problem-solving skills.

Asset inventory management

Exceptional time management and organizational skills.

Excellent written and oral communication skills

Sharp attention to detail and extraordinary multitasking ability.

A reliable and diligent worker.
Educational Qualification:
– Bachelor's degree in finance and accounting management is required.  
– Master's degree in professional Accounting or Financial Management would be an added advantage.
– Minimum of 3 years of work experience in a finance officer or accountant position, preferably in the NGO sector.
– Membership of a reputable Professional Accountancy body such as ACCA, CIMA, or CPA.
To Apply: CLICK HERE
 Application Deadline: Ongoing until position is filled up.
---