CALL FOR A CONSULTANCY SERVICE ON ORGANIZATIONAL ASSESSMENT, STRATEGIC PLAN DEVELOPMENT, AND ORGANIZATIONAL STRENGTHENING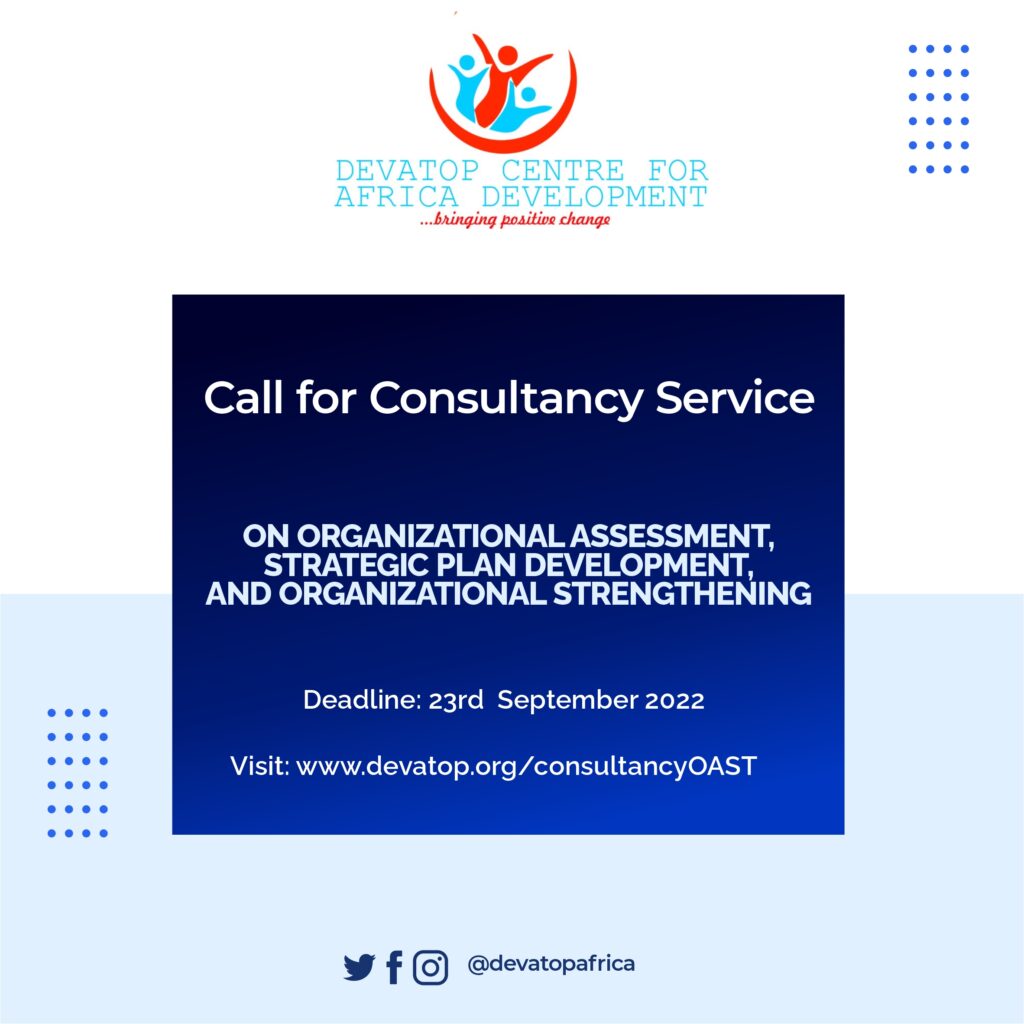 Devatop Centre for Africa Development is a leading youth-led anti-human trafficking and human rights organization in Nigeria, with focus on combating human trafficking, gender-based violence, irregular migration, and supporting survivors and at-risk youth.
DEVATOP is registered with Corporate Affairs Commission Nigeria and has impacted over a million people through training, advocacy, community projects, sensitization, and assistance.
DEVATOP seeks to engage the services of a reputable and technically qualified individual or firm with extensive expertise in organizational development and management of people to undertake the following tasks:
Organizational Assessment
Strategic Plan Development and Implementation Plan
Organizational Capacity Strengthening
Objectives:
Drawing a roadmap from where the organization is now, and where it wants to go;
Assessing the gap between the current reality and the future vision;
Identifying where the organization is doing well and some of the good practices that facilitate organizational success;
Identifying the challenges or obstacles that are constraining the progress of the organization; and
Developing an action plan for bridging the gap and achieving enhanced organizational capacity.
Sensitize and work with the staff and management of the organisation on
Strategy development process.
Develop a five (5) year strategic plan for the organization.
Conduct strategy implantation for the officers of the organisation.
To enhance the capacity of staff
Strengthen the capacity of the organization
The approach to be taken in this process must at a minimum include in-depth questions and analysis considering the: existence of, systems or documentation of, the knowledge of, the spread of and the use of the following areas of capacity:
Governance & Structure
Staff Roles, Performance and Appraisal
Culture & Inclusion
Management, HR & Staff
Finance & Grants
Monitoring and Evaluation
Internal and External Communication
And other relevant areas.
Timeline: 21 days from the day of inception.
Qualification
The consultant should have at minimum a master's degree in Management Studies,
Organisational Development or a related field, with:
At least 10 years demonstrated knowledge and experience in conducting and
facilitating organisational restructuring, including feasibility studies and sustainability
modelling, for NGOs in the African context;
Ability to conduct strategic reviews, develop job descriptions and organisational
structures to align to the strategy of organisations (national, regional and international);
Experience with Change Management processes in an organisation working with
remote staff;
Knowledge and experience in using participatory approaches and innovative
techniques, with organisational leadership;
Well-versed in Human Rights, and GBV/TIP programming and
operations;
Fluent in English
Excellent writing and presentation skills (all required reports shall be written in English).
Excellent analytical and reporting and writing skills;
Excellent safeguarding reputation
Application Process:
How to submit proposal:
You are requested to submit your expression of interest (EoI), CV and price offer by 23rd   September 2022
---