DEVATOP CENTRE FOR AFRICA DEVELOPMENT LAUNCHES ANTI-HUMAN TRAFFICKING CAMPAIGN IN SOUTH EAST REGION OF NIGERIA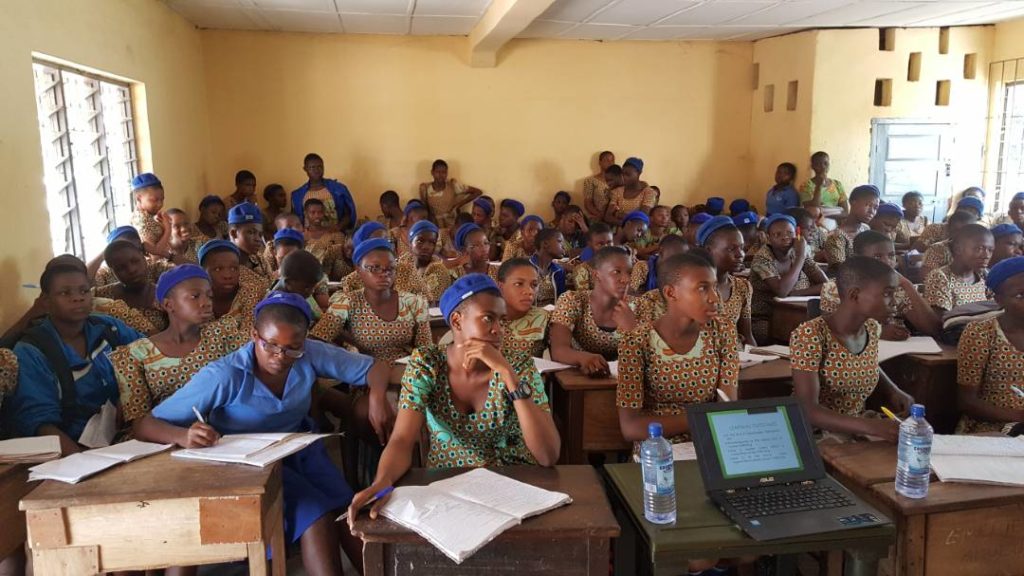 History was made in October as Devatop launched her sensitization campaign against the menace of Human Trafficking in the South East region of Nigeria. This is coming at the time Devatop trained over 40 Volunteers at the Federal Capital Territory Abuja Nigeria. Usually, after the training exercise organised in partnership with the Government Agency in charge of the Anti-Human Trafficking Campaign, The National Agency for the Prohibition of Trafficking In Persons (NAPTIP), Volunteers are empowered to embark on a field exercise known as ''TAKE ACTION'' to further sensitize the citizens through enlightenment campaign on Radio, in Churches, Schools, motor parks, Market Places, Social Media or any other media capable of reaching out to millions of people to enlighten them on the dangers of human trafficking, how to prevent it, how to identify Victims and traffickers and other useful tips concerning human trafficking.
Devatop launched her take action project at the South East Region starting from Nnewi North Local Government Area of Anambra where she engaged Secondary Schools in a sensitization programme by way of training and enlightenment campaign. During the exercise, Devatop trained and sensitized over 400 students of the Girls Secondary Schools, Nnewi at the senior level. During the Take Action exercise as organised by Mr Arinze Egemonye, the Program and Training Manager, assisted by IzuGodson Udemezue, Devatop Volunteer at Nnewi, the students were educated on the dangers of human trafficking, the need to report any incidences of trafficking in person, signs and evidences of traffickers and victims, preventive measures against trafficking in persons and other useful tips on human trafficking. As vibrant youth group, the students were encouraged to collaborate with Devatop in stamping out the human trafficking problem in Nigeria especially around them. They were further encouraged to report any incidences of trafficking within their environment to Devatop, NAPTIP, the Police or any organised Law Enforcement Agency.
During the acceptance speech, the School Principal Mrs Ify Okonkwo appreciated Devatop for considering her school as one of the pioneer schools in the south east and appealed to devatop to organize more of such sensitization campaigns to enlighten the youth on the dangers of such crime in the society. She further promised that she will continuously support with her Staff members to ensure that reported cases of such crime will always be handled with high level of care and integrity it deserves.
Highlight of the event was presentation of gift items in form of Reading materials, books, writing materials and other show of appreciation to deserving and performing students of Girls Secondary School, Nnewi. Furthermore, Mr IzuGodson Udemezue, a Medical Lab Scientist and Devatop Volunteer also used the avenue to enlighten the students on different contagious diseases and risks associated with such kind of lifestyle as engaging in trafficking in sex and slavery such as HIV, Hepatitis and other communicable diseases. Different questions as asked by the students were further clarified by the Program Manager Arinze Egemonye.
The School Principal, Mrs Ify Okonkwo received a certificate of participation from Devatop on behalf of the school and the Teachers of Girls Secondary School Nnewi. She further expressed optimism and support to devatop and promises to spread the message with her staff team.
As a youth-based organisation, Devatop was set up by Mr Joseph Chidebere Osuigwe because of the need to engage young people in combating human trafficking. As youth, we are optimistic that adding our voices through campaign in the social media, advocacy, sensitisation and other forms of communication, this world can be free of human trafficking. The need to blow the whistle is now and the youth, are at the forefront as they are most vulnerable of this crime.
Devatop targets to build a world without human trafficking and hopes to achieve this using the youth population who can take advantage of their strength to combat this ugly menace.
---