BENUE STATE FLOOD VICTIMS AT THE RISK OF HUMAN TRAFFICKING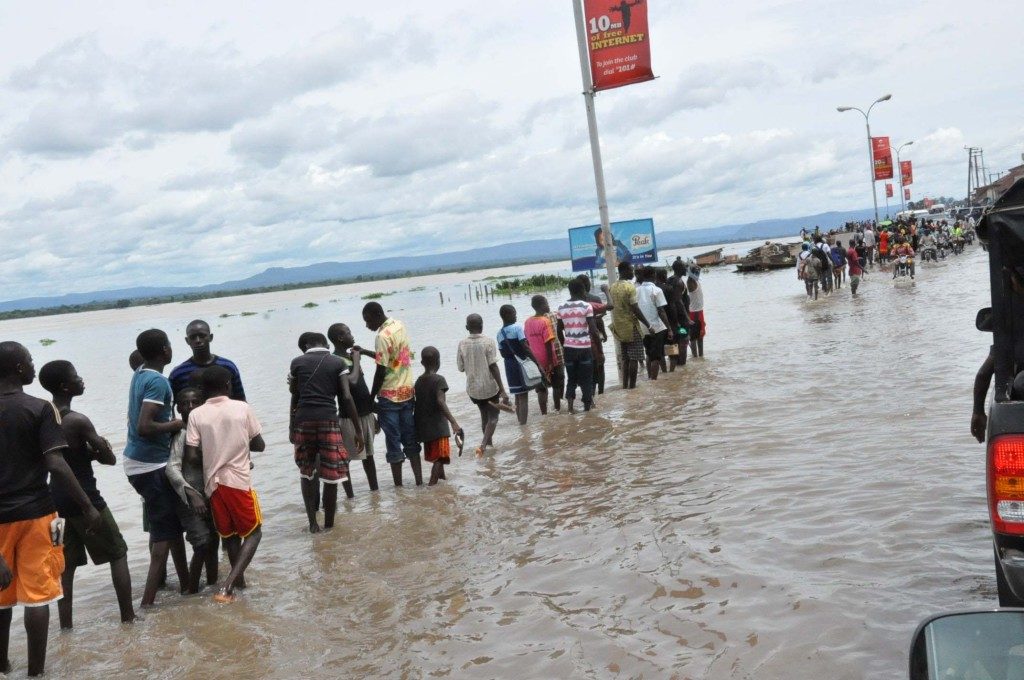 Based on report, human trafficking is the 2nd largest crime industry with a net worth of over 32 billion dollars generated from the exploitation of over 27 million victims worldwide.
There are estimated over 700,000 human trafficking victims in Nigeria overtime. More than 45,000 women, girls and children in Nigeria are trafficked annually within and outside borders. 80% of the victims being young people, 50% are children and over 70% are women and girls. At least 50 million people in Nigeria are vulnerable to human trafficking.
According to The Trafficking Protocol, Human Trafficking is the recruitment, transportation, transfer, harbouring or receipt of persons, by means of threat or use of force or other forms of coercion, of abduction, of fraud, of deception, of the abuse of power or of a position of vulnerability or of the giving or receiving of payments or benefits to achieve the consent of a person having control over another person, for the purpose of exploitation.
People are trafficked for sexual exploitation or forced prostitution, pornographic production, labour exploitation, organ removal, rituals, forced marriage, suicide bombing or terrorism, and other related servitude. Such as afflictions with all forms of diseases, starvation, discomforts and all forms of inconveniences. Most of the times, following the cruel nature of the living environment, people are forced to engage in all forms of trafficking in persons, child labour, child soldiering, domestic violence and many other unwholesome acts which takes place during this period of sojourn away from normal lifestyle.
Usually, IDPs are exposed to all forms of sexual harassment, either by the perceived security personnel assumed to be protecting them, the operators of the isolated camps or other people who take advantage of the challenges faced by these vulnerable persons to intimidate and harass the victims against their wish. Often times, traffickers find it as an opportunity to reach the vulnerable persons by making inroads into the camps where there is usually little or no access to organised security watch. Usually, they are smuggled away from the camps and deceived into believing in much more conducive lifestyle outside their current location occasioned by the circumstances of their stay. The current camp in Benue State is a typical example.
Benue State stands a high threat chance of going through this menace as a result of the recent devastation of communities ravaged by flood. It has been reported that about 24 communities have been affected/displaced due to the current 'hurricane' if one may call it. This has led to the displacement of over 110,000 persons within a period of one week. This emergency flood case has been reported to have happened as a result of human activities such as blockage of drainage pathways with irregular refuse disposal, construction and building of houses on drainage paths and the inability of the local planning authorities to adequately monitor building approvals and construction works in the state. This has however, become a regular occurrence within this location.
The most reported issues of Trafficking in Persons peculiar to Benue State is incidences of Child Labour and child abuses of all sorts. This can be prevented by giving adequate orientation and awareness on the dangers of human trafficking by consistent engagement with Stakeholders in that sector such as Devatop Centre for Africa Development ''Devatop'' and NAPTIP-National Agency for the Prohibition of Trafficking in Persons.
It is however pertinent to note that if this regular ugly incidence is not checked and proper policies put in place and enforced, it will continue to be a menace not just in the affected state but also to the neighbouring states. This, if not checked will increase the risk of human trafficking in Nigeria as people will be exposed to traffickers who tend to deceive them into alternative locations in search of risky greener pastures.
It is also recommended that flood victims should be assisted in order to secure them comfortably enough to live above the dangers of starvation, diseases and sicknesses, and above all, against the consideration to go into human trafficking such as sex slavery, child labour, child soldiering and other forms of trafficking in persons.
Some of the things that contribute to human trafficking include: poverty, illiteracy, unemployment, ignorance, greediness/lack of contentment among young people and parents, devaluation of women and children's human rights, increased demand for sex & cheap labour. Another major danger that leads people into being victims of human trafficking which is born out of circumstance is such incidences of War, natural disaster and other human afflicted dangers.
Recall, the National Emergency Management Agency, ''NEMA'' is the government body saddled with the responsibility of regular survey of environmental hazards, evaluation of the needs of victims and subsequently plan for rehabilitation of victims in such circumstances in Nigeria. Overtime, they have consistently warned against the dangers of flood menace in some parts of the country. This has consistently threatened the lives of residents of Benue State of Nigeria. The time for the State Urban Development Board to wake up to their responsibility is NOW.
This danger associated with internally displacing residents from their original enclave to make-shift locations commonly regarded as Camps (Internally Displaced Persons Camps)-IDP Camps is so numerous and usually comes with its attendant challenges.
Arinze Egemonye ([email protected] or [email protected] -08036745949) is the project Manager and writes from;  Devatop Centre for Africa Development
Contact Devatop on :
Website: www.devatop.org
Twitter: @devatopafrica
Telephone:  08141849616
---