DEVATOP: Nigeria's leading anti-human trafficking organisation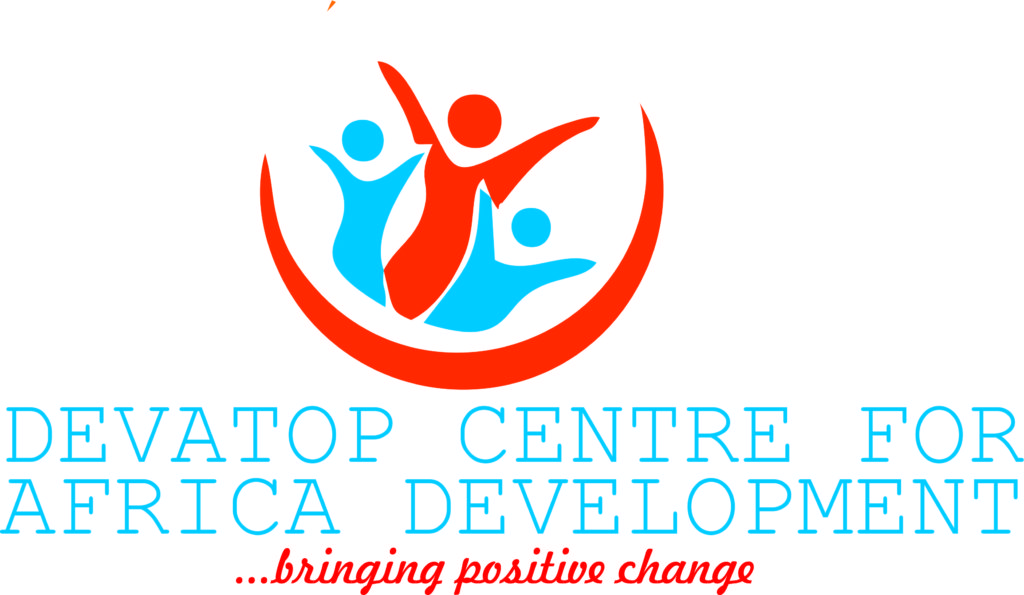 Devatop Centre for Africa Development is a leading youth-led anti-human trafficking and human rights organization in Nigeria, with focus on combating human trafficking, gender-based violence, irregular migration, and supporting survivors and at-risk youth.
DEVATOP is registered with Cooperate Affairs Commission Nigeria and has impacted over a million people through training, advocacy, community projects, sensitization, and assistance.
DEVATOP is leading a sustainable movement of young people against human trafficking and irregular migration across Nigeria, and stimulating leaders, policymakers, private sectors to tackle human trafficking.
Devatop envisages having a nation without human trafficking where young people are empowered for national development through combatting and prevention of human trafficking, gender-based violence and violence against children.
Devatop Centre for African Development seeks to increase the level of participation of young people in combating human-trafficking, irregular migration and gender-based violence. It also seeks to foster community action against human trafficking, irregular migration and gender-based violence. The centre also aims to provide educational support to children and girls who are at risk of human trafficking.
Joseph Osuigwe Chidebere, the founder and Executive Director of the centre, in 2013, was posted to observe his one-year mandatory national youth service in Lugbe, a rural community in Federal Capital Territory, Nigeria. While teaching at the women rehabilitation centre operated by Society Against Prostitution and Child Labour, he was contemplating of doing a project on preventing human trafficking due to his interest in promoting human rights but wasn't really sure if it will impact his host community. However, when he interacted with some of his students who were survivors of sexual exploitation, he was aggrieved by the rate at which young people fall victims to exploitation. This propelled him to initiate a personal community development project on the eradication of human trafficking and other related matters.
He approached United Nations Office on Drugs and Crime (UNODC), National Agency for Prohibition of Trafficking in Persons (NAPTIP) and other non-government organizations who joined his to train over 2000 teenagers, women and educators in 5 communities on how to eradicate human trafficking. He also counselled some of the teenagers who have experienced different forms of exploitation. He often used 80 per cent of his monthly allowance for his projects. Recognizing the role of education in preventing human trafficking, Mr Osuigwe provided educational supports to 90 schools in 85 communities in Nigeria.
Inspired by the testimonies of beneficiaries and compelled by the urgent need to equip and engage young people to combat human trafficking, Joseph formed a team of young people to continue the anti-human trafficking project in 2014. They were faced with obstacles and challenges but at the same time were convinced that it is possible to have a nation without human trafficking and where young people are equipped for national development.
Their impact grew over time, and more young people began volunteering to build a nation without human trafficking, and subsequently, Devatop Centre for Africa Development (DCAD)was officially incorporated with Nigerian Corporate Affairs Commission.
Devatop Centre for African Development has over the year, device various approaches and mechanisms, which has made it possible to record some achievements in stride to promoting a free, equal and just environment for the girl-child, women, and victims of human trafficking among others.
Some of which are, advocacy, training, research, support for victims and empowering them, volunteerism, policy-making and using civic technology to carry out its projects.
The centre partners with other organisations because it understands that collaboration brings about a strong team, while competition weakens the cause.
Devatop recognises that to combat and prevents human trafficking, we must work closely and effectively together with social, private and public sectors. We are committed to informing others about the situation in our arena; our successes and challenges; and the lessons we learn about what works.
---