NAPTIP HONORS DEVATOP FOR OUTSTANDING ANTI-HUMAN TRAFFICKING WORK AND SUPPORT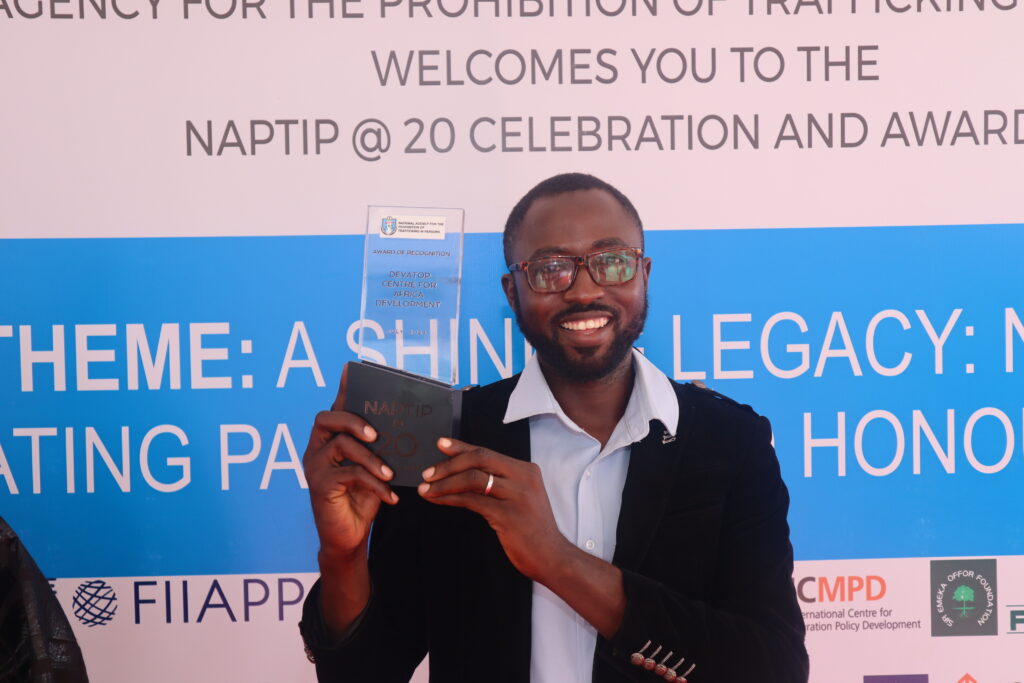 NAPTIP, the leading agency combating human trafficking in Nigeria, has bestowed a prestigious award upon DEVATOP in recognition of their remarkable efforts in the fight against human trafficking and unwavering support to NAPTIP's mission. The commendation award was presented to DEVATOP on the 27th of July, 2023, celebrating the successful implementation of their TALKAM Human Rights Project, which has been instrumental in aiding NAPTIP's initiatives.
The Director General of NAPTIP, Prof. Fatima Waziri-Azi, commended DEVATOP for their unwavering commitment to combating human trafficking and gender-based violence. Through innovative TALKAM, a tech-driven initiative, DEVATOP has displayed exceptional dedication and effectiveness in addressing human trafficking, gender-based violence, child abuse and sextortion.
The TALKAM Human Rights Project has been a game-changer in providing critical support to NAPTIP's efforts. By leveraging technology and human rights advocacy, DEVATOP has created a powerful platform enabling reporting, prevention, and intervention against human trafficking activities. The impact of this initiative has been profound, empowering countless individuals to speak out and seek help while enhancing NAPTIP's capacity to apprehend perpetrators and rescue victims.
The award ceremony was a moment of pride and celebration as NAPTIP recognised DEVATOP's exemplary contributions to the cause. This award reinforces DEVATOP's commitment to the eradication of human trafficking and gender-based violence. DEVATOP will continue to leverage innovative approaches like the TALKAM Human Rights Project to bring about lasting change and protect the vulnerable."
DEVATOP remains dedicated to working hand in hand with NAPTIP and other stakeholders to create a safer and more just society for all. Together, they will continue their relentless pursuit of ending the menace of human trafficking, advocating for human rights, and supporting survivors on their journey to healing and rehabilitation.
About NAPTIP:
NAPTIP is Nigeria's apex agency responsible for the prevention, prosecution, and protection activities against human trafficking and related offences. Their mission is to combat all forms of human trafficking by investigating and prosecuting offenders while providing support and rehabilitation to victims.
About DEVATOP:
DEVATOP Centre for Africa Development is a non-governmental organisation committed to ending all forms of human trafficking, gender-based violence, and promoting human rights. Through innovative projects and partnerships, they strive to create awareness, prevent trafficking, and empower survivors with the necessary support and resources.
---