Devatop Centre for Africa Development Presents Two Short Films Screening Event to Raise Awareness about Sextortion and Online Safety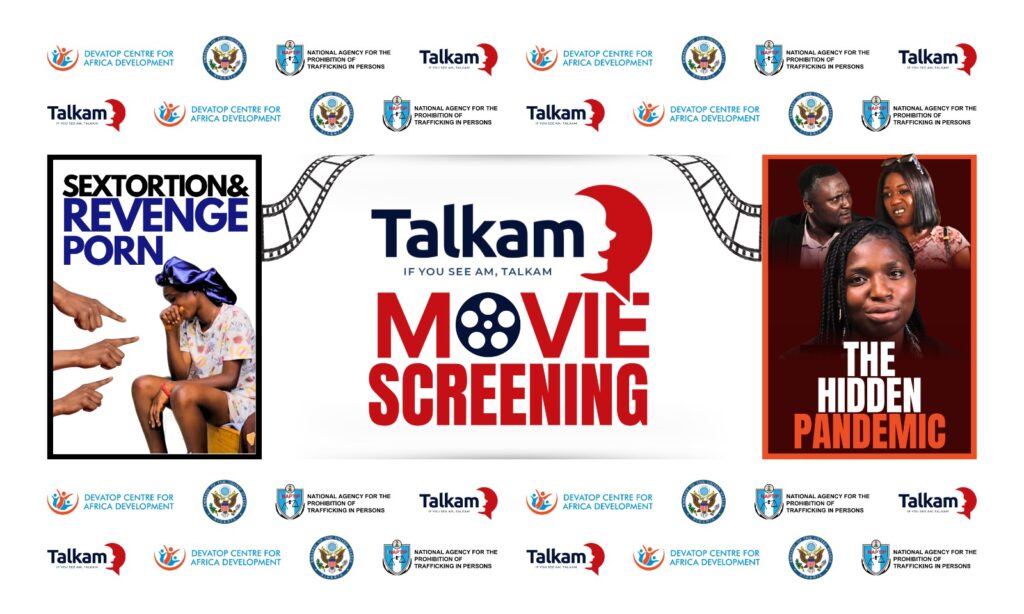 Devatop Centre for Africa Development is thrilled to announce an impactful Movie Screening event in partnership with the National Agency for Prohibition of Trafficking in Persons(NAPTIP) and with the generous support of the U.S. Embassy in Nigeria. This event aims to shed light on the growing concern of sextortion while fostering discussions about online how to counter the crime.
Sextortion, a distressing act that coerces individuals into providing explicit images or videos under the threat of releasing compromising material, has become a prevalent online crime affecting individuals of all ages and backgrounds. To address this critical issue, Devatop Centre for Africa Development is hosting a special movie screening event that promises to engage, educate, and inspire action.
Event Details:
Date: 15th August 2023
Time: 11:00 AM
Venue: Raw Materials Research & Development Council (RMRDC), Abuja
Movies: "Sextortion & Revenge Porn" and "The Hidden Pandemic"
The event will feature two thought-provoking films:
Sextortion & Revenge Porn: This gripping thriller follows the distressing journey of Imade, an undergraduate student, whose life takes a dark turn when she becomes a victim of sextortion and revenge porn orchestrated by her boyfriend. The film explores the complex boundary between privacy and exploitation.
The Hidden Pandemic: In this captivating narrative, Jennifer, a determined student, finds herself trapped in the clutches of a dehumanizing act of sextortion perpetrated by her own lecturer. Her fight for justice and her friend's determination to expose the wrongdoing form the crux of the story.
We believe that through meaningful conversations and awareness, we can combat the alarming rise of sextortion and promote a safer online environment for everyone.
 The event offers attendees a unique opportunity to:
     

Gain a deeper understanding of sextortion and its impact on victims.

     

Strengthen their knowledge about online safety, digital privacy, and cyber education.

     

Discuss proactive measures to prevent sextortion and support victims.

     

Network with like-minded individuals, organizations, and experts dedicated to combating cybercrimes.

     

Whether attending in person or virtually, participants will be treated to an exclusive screening of the movies and engage in impactful conversations around this critical issue.
About Devatop Centre for Africa Development:
Devatop Centre for Africa Development is a leading youth-led anti-human trafficking and human rights organization in Nigeria. With a focus on combating human rights abuses like human trafficking, gender-based violence, and irregular migration, the organization is dedicated to supporting survivors and at-risk youth.
For more information about Devatop Centre for Africa Development and its initiatives, visit www.devatop.org
---