DEVATOP Calls for Board of Trustees Nominations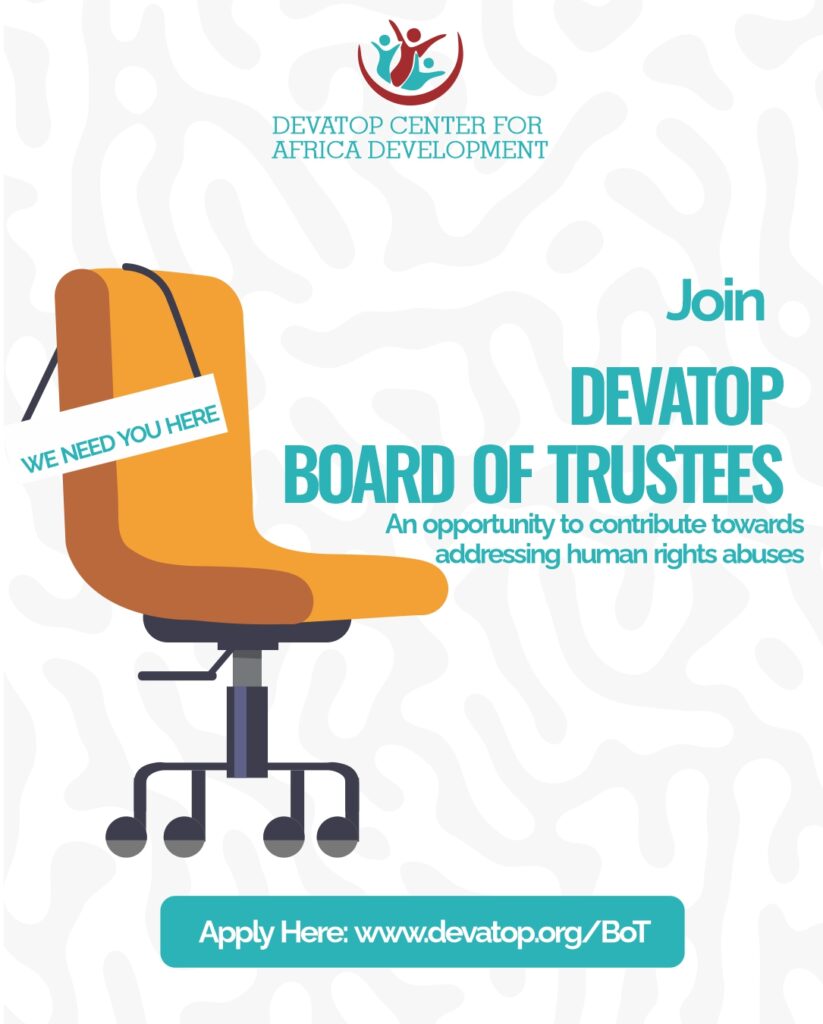 Devatop Centre for Africa Development (DCAD), a human rights nonprofit organization dedicated to promoting human rights, and sustainable development in Africa, is excited to announce a call for nominations to its prestigious Board of Trustees. This call presents an exceptional opportunity for passionate individuals to contribute to the strategic direction and impactful work of the organization.
As an integral part of our organization's governance structure, the Board of Trustees plays a crucial role in providing strategic direction, ensuring transparency, ensuring funding, and upholding the mission and values of our organization.
We are seeking highly motivated individuals who are passionate about our cause (human rights, education, and justice) and are committed to making a positive impact in our community. Serving on the Board of Trustees is a prestigious position that offers an opportunity to shape the future of our organization, contribute to its growth and sustainability, foster meaningful change, and tackle human trafficking and other related human rights abuses.
Responsibilities of the Board of Trustees include, but are not limited to:
Strategic Planning: Participate in the development and review of the organization's strategic goals and objectives, ensuring alignment with its mission and vision.
Governance and Oversight: Provide oversight to ensure compliance with legal and ethical standards, financial accountability, and effective risk management.
 Fundraising and Resource Development: Support the organization's fundraising efforts by leveraging personal and professional networks, identifying potential donors, and actively participating in fundraising activities. Engaging private sector (companies/business firms) to adopt anti-human trafficking or any of the human rights projects as their corporate social responsibility (CSR).
Advocacy and Public Relations: Act as ambassadors for the organization, promoting its mission, programs, and impact to stakeholders, partners, and the public.
Collaboration and Partnerships: Engage in collaborative decision-making, foster partnerships, and build relationships with companies, other organizations, community leaders, and stakeholders to advance the organization's goals.
To be eligible for consideration, prospective Board members should possess the following qualifications:
Demonstrated commitment to the organization's mission and values, and towards promoting and protecting human rights.
Expertise in a relevant field, such as finance/accounting, law, marketing, resource mobilization, or nonprofit management.
Previous experience serving on a board or in a leadership position, preferably in the nonprofit sector.
Strong communication, interpersonal, and problem-solving skills.
Willingness to commit time, energy, and resources to fulfill board responsibilities.
Must be between 18 years and 65 years.
To nominate an individual or submit a self-nomination, please provide the following information:
Full name, contact details, and a brief biography of the nominee.
A statement of interest outlining the nominee's motivation, relevant skills, and areas of expertise.
Submission can be made using this APPLICATION FORM on or before 6th September 2023
The Board position is a voluntary/non-remunerated position. However, costs associated with participation at physical board meetings will be covered.
For further information or inquiries regarding the call for nominations, please contact: +2348067251727 or [email protected].
Devatop Centre for Africa Development is deeply committed to diversity, equity, and inclusion. We encourage nominations from individuals with diverse backgrounds, experiences, and perspectives to help enrich our board's collective expertise.
WANT TO KNOW MORE:
Devatop Centre for Africa Development (DCAD) is a nonprofit organization dedicated to promoting education, human rights, and sustainable development in Africa. Through innovative programs and initiatives, DCAD works towards empowering vulnerable populations, advocating for justice, and fostering action against human rights abuses.
DCAD accelerates local, national, and global action against human rights abuses through technology, advocacy, capacity strengthening, research, and community engagement, and in partnership with public and private sectors.
3. OUR IMPACTS REPORT (CLICK TO READ)
4. TALKAM HUMAN RIGHTS REPORTING APP
---