Tackling Human Trafficking in Nigeria- A Bold Step by Kristi Koci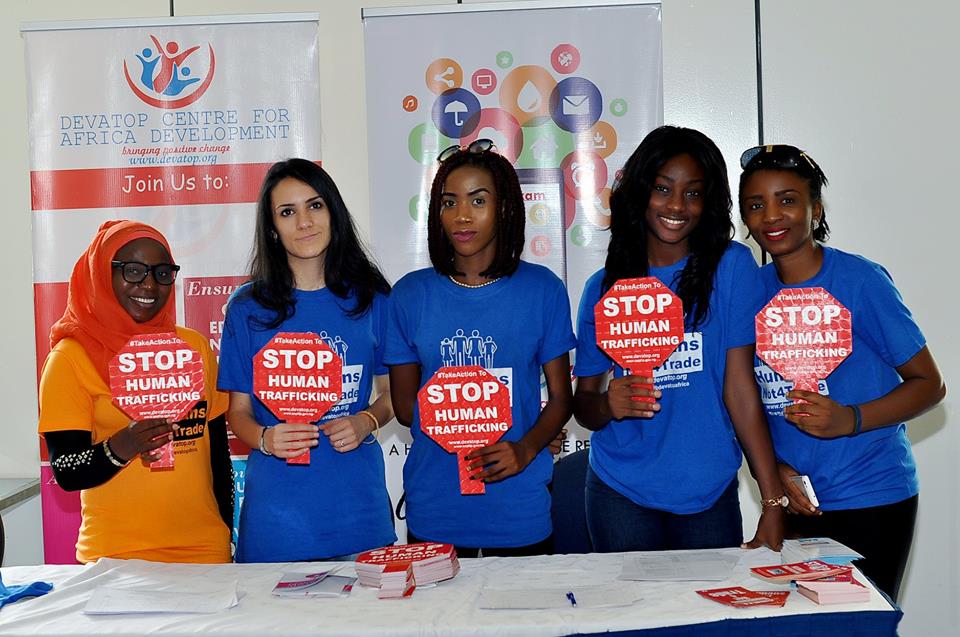 Human trafficking exist in Nigeria, and some victims are trafficked to Italy and other part of Europe. Though government agency and organizations have initiatives to tackle human trafficking, there is need for more action.
Devatop Centre for Africa Development believes that young people have a role to play in combating human trafficking, and hence has a volunteer platform for youth to be part of activities targeted at creating awareness, and discouraging irregular migration.
Kristi Koci, a student of University of Pisa, Italy was dissatisfied with rate of human trafficking in Italy, and has noticed that Nigerians have been major victims; this prompted her to contact Devatop Centre for Africa Development (a leading youth-based anti-human trafficking organization in Nigeria) to do a three months internship, and contribute her quota in combating human trafficking.
She heard a lot of bad news about Nigeria, which would have discouraged her, but she made-up her mind to come to the Federal Capital Territory, Nigeria  to join other Devatop volunteers in tackling human trafficking and irregular migration. According Kristi Koci, her stay in Nigeria made her change her perception and believe that Nigerians are good people. She is now changing the narratives about what people talk about Nigeria in Diaspora, letting them know that contrary to their thoughts, there are lots of good things in Nigeria.
She is also advising Nigerians in Italy to believe in their country (Nigeria).
While in Nigeria, she spoke about her Passion in creating positive change in combating Human Trafficking as she has seen lots of Nigerians over there in the streets of Italy being used for sexual exploitative purposes.
As part of her role, she visited many private sectors and diplomatic missions to engage them in the anti-human trafficking projects of Devatop Centre for Africa Development.
Also, she was directly involved organizing:
#HumansNot4Trade campaign at Internally Displaced Camps at Durumi Abuja
Interestingly, her University was very supportive of her internship in Nigeria, and her performance was excellent.
According to the Executive Director of Devatop Centre for Africa Development, "Kristi is a lady with great passion to tackle human trafficking, and help humanity. She created an indelible mark among Devatop staff and volunteers, and has set a pace for other local and foreign interns who will be coming to our organization to serve"
---