Talkam Sextortion Essay Competition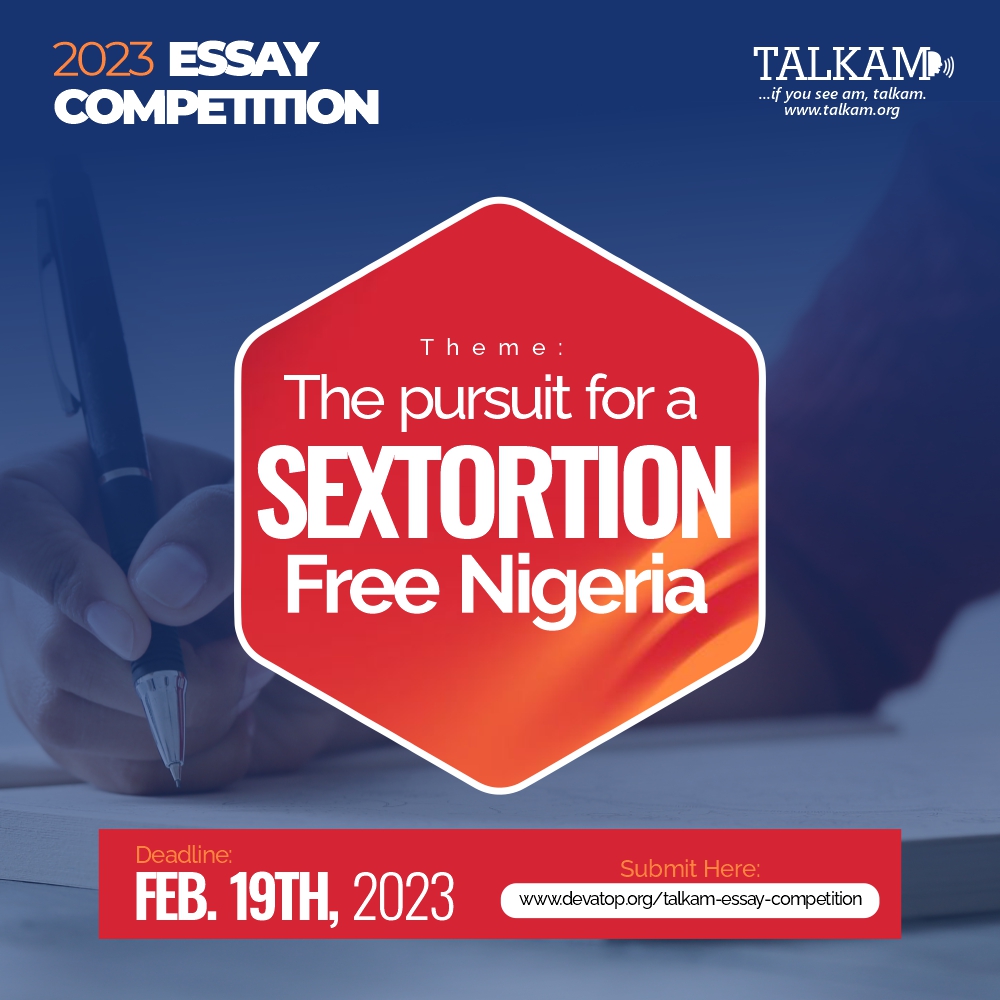 Sextortion is a form of online sexual abuse that involves coercion and extortion. It is a serious crime that can have devastating effects on victims, making them feel violated, humiliated and scared.
The pursuit of a sextortion-free world is an important goal to strive for. This requires awareness and education about the dangers of sextortion, as well as the implementation of laws and policies to protect victims from this type of sexual exploitation. We must also ensure that perpetrators are held accountable for their actions so that victims can find justice and healing.
It is in this light that Devatop Centre for Africa Development with support from US Embassy, through its TALKAM project, invites interested participants to send in their entries for her essay competition on the theme: THE PURSUIT OF A SEXTORTION FREE NIGERIA
Your essay should capture original and creative solutions to combating sextortion. As you share your creative solutions, you may address the current methods of handling this challenge and why they have failed.
STEPS TO PARTICIPATE:
Submit your article focusing your writing around the theme.

The top five (5) articles will be selected and a summary of each of them will be posted on Facebook, and the authors will invite people to vote.

The article with the highest votes (likes and comments) wins the competition.
RULES:
Words – Not more than 650 words
Font size – 12 points
Format – MS Word
Must have a title
Deadline – 19th February 2023
BENEFITS:
1. Winners will receive TALKAM Customized gift
2. Articles will be published on DEVATOP website, TALKAM Website and other platforms
3. Profile of winners will be featured on TALKAM social media platforms
4. Winners will get an opportunity to talk on TALKAM Radio Program
Exclusivity: Plagiarism will disqualify your entry. Kindly ensure your work is original.
For questions and inquiries, please send an email to [email protected] or call +234 9030002362
---