Wicked mother sells daughter's day-old baby for 250k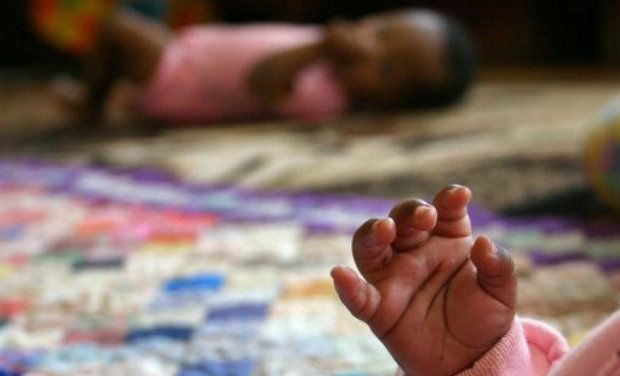 The police in Lagos have arrested a grandmother, Patience, in Jakande Estate, Isolo, who reportedly sold her daughter's day-old baby for a sum of N250,000.
Punch News gathered that the transaction was done with the consent of the mother, Blessing Emmanuel, who had earlier revealed that the child died following a failed battle with convulsion and epilepsy.
"I assisted her family to secure accommodation in an uncompleted building beside my house on the estate. Sometime in October, Blessing's brother announced that her sister had been delivered of a baby boy and I rejoiced with him.
"In the evening, I saw her mother and congratulated her. But she gave me a stare and left. I wondered if I said anything wrong.
"The next Sunday, I saw the daughter in church and apologised for not coming to greet the baby in the house. She said there was no baby.
"I asked if the baby died, but she said her mother took the baby from her. She said he was with her aunt who fed him with milk and water. I was suspicious.
"A week later, her mother called me and apologised for her reaction when I congratulated her. She said after Blessing was delivered of the baby, she (Blessing) was sick and even the baby was as small as a rat.
"She said the baby was so ill that he had to be taken to a herbal centre where they said he had epilepsy and convulsion. She said the baby had died from the illness," says a lawyer, Comfort Ogwuebu.
The lawyer made the confession to Ogwuebu, a church member based on trust already established between them.
According to reports, Ijeoma Okechukwu, the buyer of the baby made her sign a document agreeing to handover the newborn permanently.
Okechukwu reportedly met her at an eatery in company of two policemen to ensure the smooth running of the deal.
"I gave birth in the morning. She (Okechukwu) came at night and asked if my mother had discussed with me and I said yes. She said she would give me some money to start a business. She paid for the hospital bill.
"When we reached home, we called her and she said she had taken the baby to her sister's house at Ejigbo.
"I went there twice to see my baby. The third time I wanted to go, I learnt that she had relocated to a new place, which I didn't know. From that time, we only talked on the telephone.
"After about a week, she invited me to an eatery around the estate. There were two policemen with her. I asked where my baby was, but she said he was fine.
"She gave me N250,000 and asked me to sign a paper that I won't disturb her in the future,"narrated Blessing who has been apprehended alongside other accomplices.
Cases of human trafficking have become quite rampant in Nigeria, where parents are willing to sell off their children for meagre amount, often motivated by the economic hardship known to the citizens but it has also the agenda of those who engage in ritual murder.
Another mom sells newborn baby to raise older kids
Rosemary Okafor, a 30-year-old mom has been arrested for selling her newborn baby for the sum of N350,000. She had planned to use the money acquired to raise three other kids.
She was apprehended by reps from the National Agency for the Prohibition of Trafficking in Persons (NAPTIP). Okafor, it was gathered, was lined up among a group of human traffickers engaged in the abduction and sale of children.
The mother is part of a crop of 8 men and 3 women, nabbed on suspicion of abuse related to the sale of human persons in Lagos, Abuja and the south-eastern part of Nigeria.
According to reports, she admitted selling the baby in order to raise funds needed for the tuition fees of other children.
Post by Ayodele Johnson
---