Advocacy visit to Dr George Uboh by Devatop Centre for Africa Development (Devatop).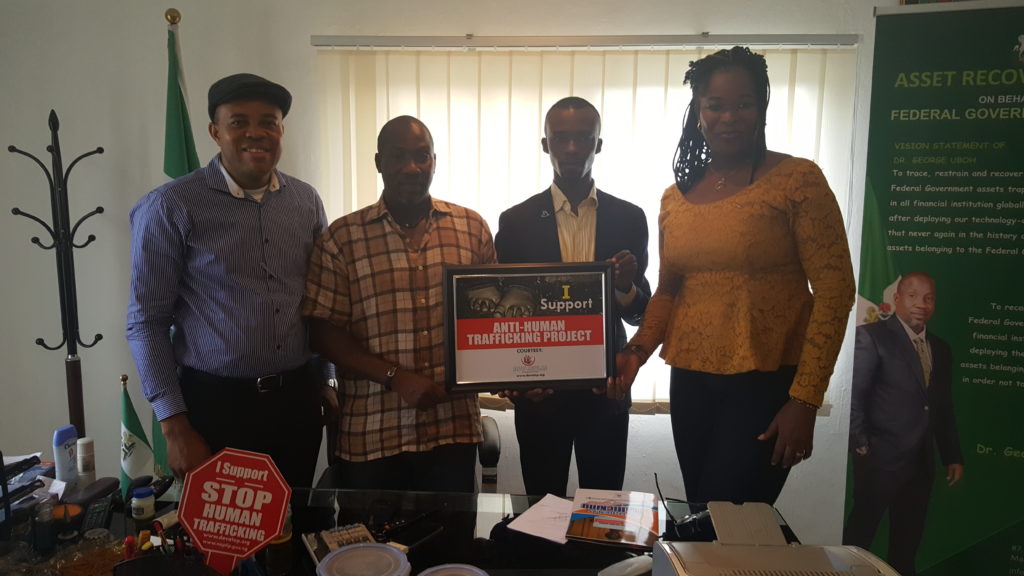 Devatop Centre for Africa Development, a youth-led anti-human trafficking organization recently paid a courtesy visit to Dr George Uboh, the renowned Human Right Activist, Anti-Corruption Crusader and foremost whistle-blower in Nigeria at his office in Abuja. The visit was led by the Executive Director of Devatop, Joseph Osuigwe Chidiebere
During the visit, Dr George Uboh, the Chief Executive Officer of Panic Alert Security Systems (PASS), Chairman of George Uboh Whistle-blowers Network (GUWN), Lawyer and 21st century Security expert, commended the efforts of Devatop in combating trafficking in persons. In his words, ''human trafficking has so far been known worldwide as a serious crime against humanity which also thrives under corruption. This must be fought with all the required legislation and collaboration''. He enjoined Devatop to continue in the fight as he is willing to support her anti-human trafficking project, known as The Academy for Prevention of Human Trafficking and Other Related Matters (TAPHOM).
In his speech during the visit, the Executive Director, Joseph Osuigwe who was accompanied by Arinze Egemonye-the Project Manager and Vivian Amalu- the Head of Logistics thanked the Anti- Corruption Advocate and Crusader, Dr George Uboh for his vocal style in supporting prosecution of enemies of our Dear Country who have stolen the common wealth of the masses-country, and leaving the youth at no option than to resort to trafficking, child labour and all sorts of sex trade in order to make a living for themselves. Mr. Joseph Osuigwe and Mr. Arinze Egemonye however appealed to Dr Uboh to use his good office and his security expertise to support Devatop's anti-human trafficking project which includes developing a mobile App (TALKAM) which will be used to quickly track and report suspected cases of human trafficking.
In his response, Dr Uboh promised his unalloyed support to Devatop in his capacity to ensure that this goal is achieved. He admired the passion in Devatop team towards the several laudable projects, especially The Academy for Prevention of Human Trafficking and Other Related Matters (TAPHOM), which includes training of Anti-Human Trafficking Advocates in 775 local Governments Areas of 36 states in Nigeria, empowering survivors, publication of awareness materials, and setting up a Human Rights ICT Hub.
Highlight of the visit was the presentation of Anti-Human Trafficking Supporters Award frame to Dr Uboh as he endorsed the fight against Trafficking in Persons. This award usually goes to major supporters of Devatop as they endorse and pledge their support for the project. By supporting, their names will be on the Hall of Fame of the Academy.
Recall that Dr George Uboh is a security expert. He is Nigeria's foremost anti-corruption crusader, whistle-blower and an alumnus of the prestigious National Institute for Policy Strategic Studies (NIPSS), Kuru, Jos Nigeria.  He is a strong promoter of the fight against corruption with a blueprint that stands to tackle and eradicate high level corruption and loopholes that assist insecurity in Nigeria. He drafted the Whistle blowers protection bill recently passed into law by the National Assembly. Within 27 days of his appointment by the Federal Government of Nigeria, he traced over 324 Billion Naira which is an unprecedented achievement in the history of the fight against corruption.
The Advocacy visit was part of the commemoration of 2017 World Day against Trafficking in Persons. Prior the visit, on July 20, 2017 Devatop Centre for Africa Development organized a commemoration event for World Day against Human Trafficking with the theme, ''Anti-Human Trafficking, a Corporate Social Responsibility''. The event was attended by Deputy Senate President, Sen. Ike Ekweremadu, Chief (Mrs) Amina Titi Atiku-Abubakar and many other dignitaries, aimed at raising over Fifty Million Naira (N50, 000 000) to establish The Academy for Prevention of Human Trafficking and Other Related Matters.
Devatop Centre for Africa Development is a leading youth-driven anti-human trafficking organization in Nigeria, which has trained over 5500 young people on how to combat human trafficking and educated 300, 000 citizens since its inception in 2013.  Devatop targets to build a nation without human trafficking and hopes to achieve this using the youth population who can take advantage of their strength and creativity to combat this ugly menace.
You can contact Devatop on 08141849616 or through email: [email protected] or on Twitter: @devatopafrica.
This is as reported by Arinze Egemonye: Project Manager, Research and Training Consultant at Devatop. ([email protected])
---