Mohammed Sanni  Dantoro Joins Devatop Centre for Africa Development to Combat Human Trafficking.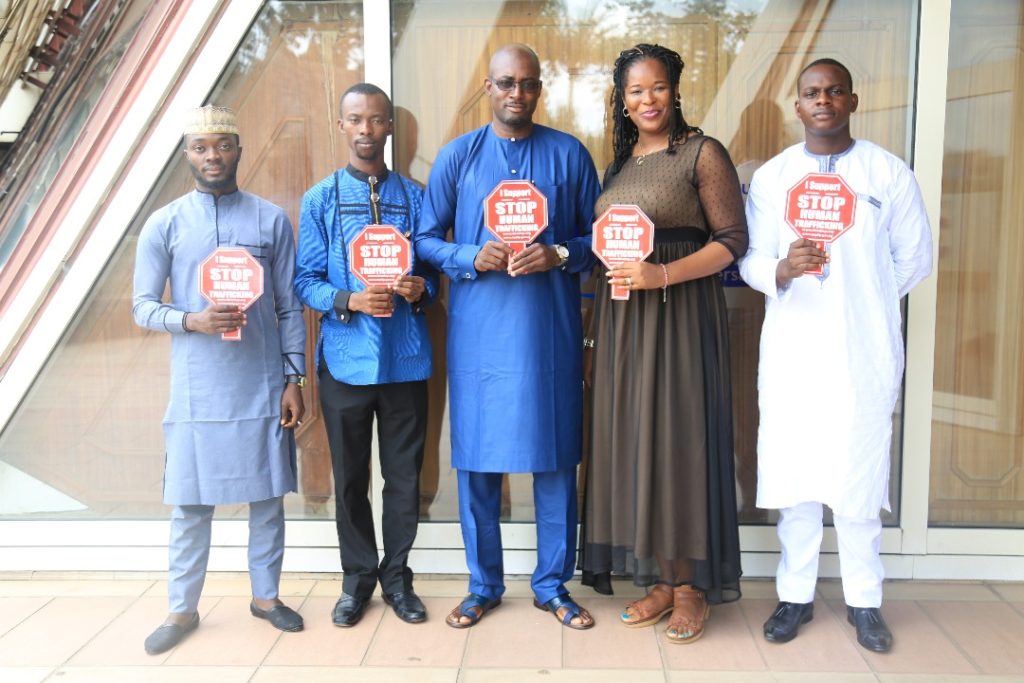 The fight against human trafficking is gaining a stronger momentum, as well meaning Nigerians take part in ending it.  On Friday, 11th August, 2017;  Devatop Centre for Africa Development, a leading youth-based anti-human trafficking organization,  paid an advocacy visit to Prince Mohammed Sanni Dantoro, a businessman philanthropist, reformist, and son to late HRH Haliru Dantoro Kitoro III (Emir of Borgu, Niger State) in Abuja. The visit was led by the Executive Director of Devatop, Joseph Osuigwe Chidiebere, with his team: Ibrahim Hayatudeen the Media/Program Officer, Vivian Amalu the Project Officer, Omorogieva Eghianruwa  a volunteer, and Hilary Anegbe a media personnel.
While speaking during the visit, the Executive Director, Joseph Osuigwe Chidiebere commended the efforts of Prince Dantoro his job creation and infrastructural initiatives. He appealed to Prince Mohammed Sanni Dantoro to use his network and company to support Devatop's project on The Academy for Prevention of Human Trafficking and Other Related Matters (TAPHOM) which includes training of 775 Anti-Human Trafficking Advocates from 775 local Governments Areas of 36 states in Nigeria, empowering survivors, publication of awareness materials, and setting up a Human Rights ICT Hub with Mobile Application. He narrated how Devatop carried out a pilot project by training 120 young people from six states, and empowering them to reach out to 6000 people within nine months, and report incidences of human trafficking in their communities. Mrs. Vivian Amalu also briefed the prince on Devatop's plan to empower vulnerable youth and women, as a way of preventing human trafficking.
In his response, Prince Mohammed Sanni Dantoro, the Chief Executive Officer of DMD Silverline, commended Devatop Cenre for Africa Development for her creative efforts to eradicating human trafficking. According to him, "It is expedient to start creating ways of preventing this Modern day slavery. Even if it is too difficult to rescue victims, we can prevent vulnerable young people from falling victims. Prevention is better. I have spent over 28 years outside Nigeria, and have seen young people wandering in the streets of Europe and Asia, which often made me felt sober".
He further hinted Devatop team on his plan to provide jobs to Nigeria youth which will go a long way to reduce the incidence of human trafficking.
While responding to the request of Devatop to execute her project, Prince Dantoro promised to support the development of human trafficking reporting mobile application and provide ICT materials.
Highlight of the visit was the presentation of Anti-Human Trafficking Supporters Award frame to Mohammed Sanni Dantoro as he endorsed the fight against Trafficking in Persons. This award usually goes to major supporters of Devatop as they endorse and pledge their support for the project.  By supporting, their names will be on the Hall of Fame of the Academy.
The Advocacy visit was part of the commemoration of 2017 World Day against Trafficking in Persons. Prior the visit, on July 20, 2017 Devatop Centre for Africa Development organized a commemoration event for World Day Against Human Trafficking with the theme, ''Anti-Human Trafficking, a Corporate Social Responsibility''. The event was attended by Deputy Senate President, Sen. Ike Ekweremadu, Chief (Mrs) Amina Titi Atiku-Abubakar and many other dignitaries, aimed at raising over Fifty Million Naira (N50, 000 000) to establish The Academy for Prevention of Human Trafficking and Other Related Matters.
Devatop Centre for Africa Development has trained over 5500 young people on how to combat human trafficking, rescued three victims, and educated 300, 000 citizens since its inception in 2013.  Devatop targets to build a nation without human trafficking and hopes to achieve this using the youth population who can take advantage of their strength and creativity to combat this ugly menace.
You can contact Devatop on 08141849616 or through email: [email protected] or on Twitter: @devatopafrica.
---