Tafawa Balewa Pledges to Support Devatop Centre for Africa Development in Combating Human Trafficking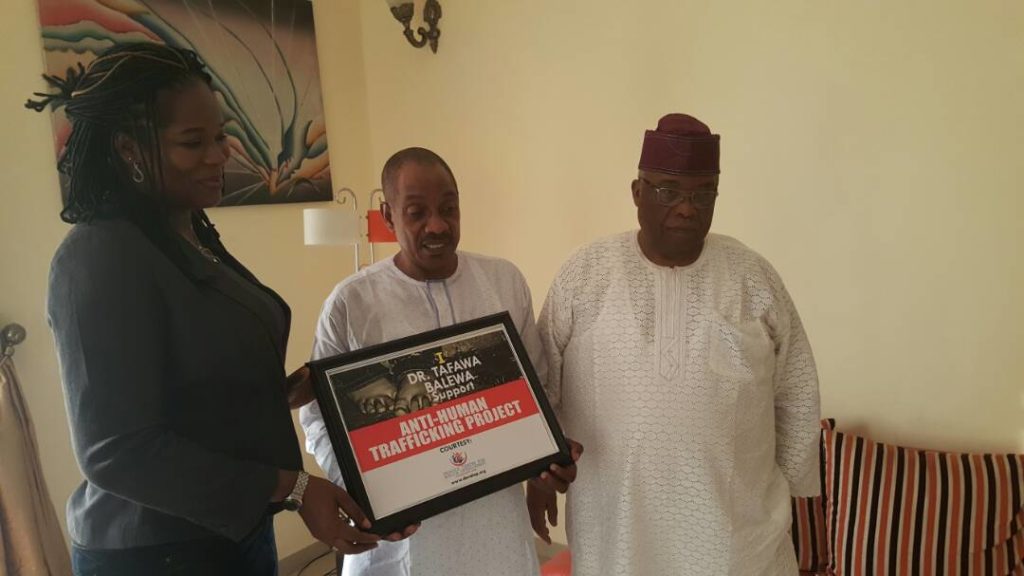 Combating human trafficking is a cause that requires the support and participation of philanthropists, policy makers, politicians, captains of industries, and influential citizens. Interestingly, great individuals are beginning to pay attention to the cry of victims of human trafficking and the predicaments of vulnerable women, girls and youth. To commemorate 2017 World Day Against Trafficking in Persons, Devatop Centre for Africa Development paid an advocacy visit to Dr. Abdul  Tafawa Balewa, son of the first Prime Minister of Nigeria, Alhaji Abubakar Tafawa Balewa, at his residence in Abuja, Nigeria.
The visit was led by the Executive Director of Devatop Centre for Africa Development and his team, Mr. Arinze Egemonye the project manager and Vivian Amalu the Project officer. This was among series of advocacy visits Devatop has had after organizing International Day Against Human Trafficking commemoration and fundraising event on 20th July, 2017 which was attended by dignitaries like: Senator Ike Ekweremadu, Deputy Senate President, Chief (Mrs) Amina Titi Atiku-Abubakar the Wife of former Vice President of Nigeria, Bar. Carol Nduguba, Devatop Board Chair, John Fashanu the football legend, Rachel Bakam a T.V presenter, and Chido Onumah, a Nigerian-Canadian activist.
While speaking during the visit, Joseph Osuigwe Chidiebere commended Dr. Tafawa Balewa on his efforts to rebuild Nigeria and address challenges facing young people. He appealed to him to use his network and influence to support Devatop's project on The Academy for Prevention of Human Trafficking and Other Related Matters (TAPHOM) which includes training of 775 Anti-Human Trafficking Advocates from 775 local Governments Areas of 36 states in Nigeria, empowering survivors, publication of awareness materials, and setting up a Human Rights ICT Hub with Mobile Application (TALKAM). He narrated how Devatop carried out a pilot project by training 120 young people from six states, and empowering them to reach out to 6000 people within nine months, and report incidences of human trafficking in their communities.
Both Arinze Egemonye and Mrs. Vivian Amalu also briefed Dr. Tafawa on what Devatop needs for the anti-human trafficking project.
In his response, the medical doctor, philanthropist and former presidential aspirant, Dr. Balewa expressed his gladness on how Devatop Cenre for Africa Development is using 21st century approaches to eradicating human trafficking.  He promised to provide support to Devatop to enable her start The Academy for Prevention of Human Trafficking and Other Related Matters (TAPHOM). Recall that within the last 10 years, Dr. Tafawa Balewa has presented different conference papers on human trafficking & migration, and therefore has insight on the dangers of human trafficking to young people.
He declared, "I will do my best to combat human trafficking in Nigeria".
Highlight of the visit was the presentation of Anti-Human Trafficking Supporters Award frame to Dr. Tafawa Balewa as he endorsed the fight against Trafficking in Persons. This award usually goes to major supporters of Devatop as they endorse and pledge their support for the project.  By supporting, their names will be on the Hall of Fame of the Academy.
Devatop Centre for Africa Development has trained over 5500 young people on how to combat human trafficking, rescued three victims, and educated 300, 000 citizens since its inception in 2013.  Devatop targets to build a nation without human trafficking and hopes to achieve this using the youth population who can take advantage of their strength and creativity to combat this ugly menace.
You can contact Devatop on 08141849616 or through email: [email protected]  or on Twitter: @devatopafrica.
---