Devatop Trains Volunteers to Combat Sex Trafficking and Tackle the Use of Juju on Victims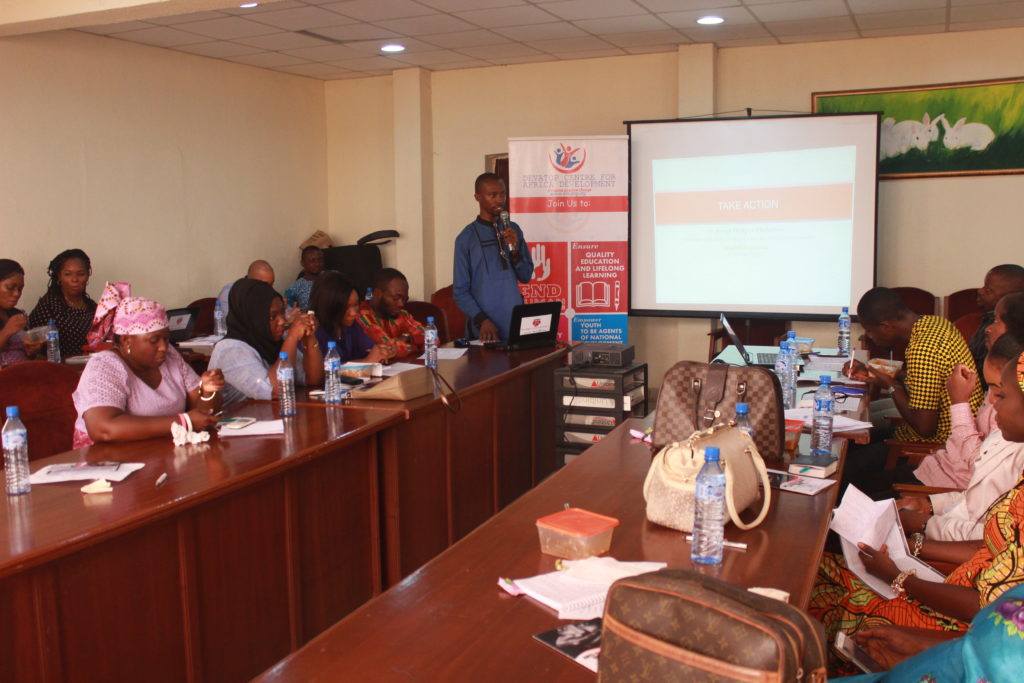 On the 25th August 2017, about 35 volunteers of Devatop Centre for Africa Development were trained as Advocates against Human Trafficking
The essence of the training was to encourage the spirit of volunteerism and also to involve volunteers to take action to stop human Trafficking and to tackle the use of juju on victims of sex trafficking.
Keynote speakers on the various subjects included three anti-human trafficking experts from National Agency for Prohibition of Trafficking in Persons (NAPTIP) and Devatop Centre for Africa Development.
Speaking at the training, Mr Desmond Garba, Assistant Chief Intelligence Officer of NAPTIP, educated the volunteers on the meaning of human trafficking, causes of human trafficking, and its effects on victims and the nation.
Mrs. Olabisi Oluwatoyin, NAPTIP's Principal Intelligence Officer While Olabisi Oluwatoyin taught on the purpose of human trafficking which includes sexual exploitation, organs harvesting, child labor, ritual, baby factory, begging, child soldier, and forced marriage. She further enlightened the Volunteers on how traffickers engage native doctors to use Juju on the victims of sex trafficking, which include coercing the girls/women to oath taking at the shrine. According to her, "the fear of breaking the oath and attracting the punishment of Juju power, often make the victims to be silent, more vulnerable, unable to expose their perpetrators, and more dependent on their pimps". It requires a lot of work and ability for an advocate to gain the confidence of a victim to make her speak out.
Executive Director Devatop Centre for Africa Development, Joseph Osuigwe Chidiebere, educated the volunteers on how to take action against human trafficking. He motivated volunteers to take strategic actions against modern slavery, through community development projects. According to him, human trafficking is a form of weapon against the future of young people. Millions of women, girls, and children have falling victims to trafficking and it is unacceptable for young people to keep silent. There is urgent need for young people to be at the forefront of combating human trafficking. He called on volunteers to adopt communities to sensitize about human trafficking and the use of juju on victims.
Volunteers were also made to make a commitment by completing the Take Action. Each of the volunteers is expected to impact at least 40 vulnerable youth, women and girls in various communities and states within the next three months.
Other members of the Devatop Team who were present and gave remark at the training included Arinze Egemonye, Vivian Amalu, Ibrahim Hayatudeen and Cynthia Ozioma Ifeanyi.
This training is supported by Erika Wulff.
To get in touch with Devatop, contact [email protected] or visit www.devatop.org
Also, to support their anti-human trafficking projects, click here: Support Form
---