Anti-human trafficking: Group takes campaign to Benin markets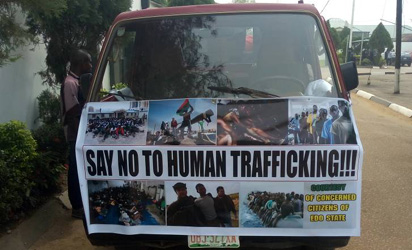 A non-governmental organisation (NGO), Concerned Edo Citizens, has taken the campaign against human trafficking to major markets in Benin metropolis, calling on the people to shun the antics of cartels, who over the years deceived youths and are now selling them into slavery.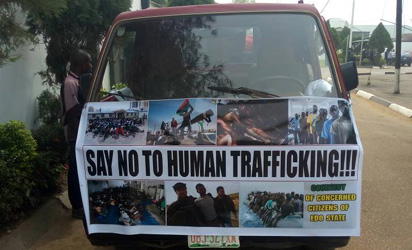 Concerned Edo Citizens, at Oliha Market, in Benin City on the campaign against human trafficking, on Tuesday, 12 December 2017.
The group, whose campaign kicked off on Monday, December 11, have visited Oba, Oliha, Aduwawa, Ikpoba Hill and New Benin Markets in Benin City, the Edo State capital.
The convener of the group, Ogbewi Aghedo, in Oliha Market, said the campaign was pertinent because of the damage that the activities of human traffickers have done to the image of Edo State and its people. According to him, "It is important for you all, especially market women, to know the truth about encouraging your children to take the Libya route. People may have done that and gotten away with it in the past, but the situation in Libya now, is terrible. People are being sold into slavery; girls are being raped. There is organ trafficking in Libya and elsewhere, where they kill and sell off the essential organs of your sons and daughters. "The Edo State Government is transforming the state into an investment hub, and many people are being engaged, while many other opportunities exist for many more young people. In fact, the state government has set up structures to cater for people who are willing to work. There are stipends and training programmes currently ongoing for Edo youths, who returned from Libya." He added that it was time to stand against the activities of human trafficking cartels who have made billions from deceiving people, adding that government agencies are on the lookout for people who still partake in the dastardly act. Recall that the state government intensified campaign against human trafficking with the setting up of the Anti-Human Trafficking Task Force as well as the sending of a bill to the House of Assembly for a law to back the campaign. The campaign some traders in the market said was long overdue and expressed their gratitude to the conveners. "This is coming at a time Edo people have reached a consensus on the risks associated with illegal migration and human trafficking. I thank the campaign organisers for coming to the markets to sensitise and mobilise people towards socially approved professions and vocations," a trader, who identified himself as Mr. Ewere said.
---