Obaseki begs for support to reintegrate victims of human trafficking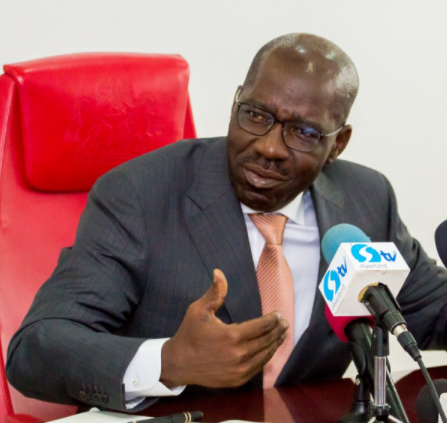 Governor of Edo State, Godwin Obaseki, has called for support to reintegrate victims of human trafficking into the society.
This, he said, would help sustain government's efforts and ensure that youths do not have reasons to embark on perilous journeys in search of greener pastures.
The governor made the calls on Wednesday in Rome, Italy while speaking at the International Conference on Women Empowerment and the Fight Against Trafficking in Persons: Partnership Between Nigeria and Italy, organised by the President of Italian Chamber of Deputies, Ms Laura Boldrini
He said: "We are spending a lot to reintegrate these young people into the society and we anticipate that the expenses would be more in the nearest future.
"We solicit for support from the European Union, the Italian government, as well as other countries affected by this menace to be able to sustain the structures we have set up in the state.
"All parties affected by the menace of human trafficking both the countries of origin and the destination countries stand to benefit from the system we have set up in Edo State to engage these youths, which would give them no reason to contemplate migrating illegally.
"So, we want to strengthen these structures in Edo State to make staying back and working gainfully the preferred choice," he added.
Governor Obaseki, however, said the state government is ready to receive more returnees, having received three batches of over 200 returnees from Libya.
According to him, those who returned recently were subsequently enrolled in capacity development programmes and placed on a stipend for three months.
"We acknowledge the fact that they are victims, and in many instances, they are entangled in human trafficking due to no fault of theirs. We are extending an open hand to them, and assuring them of support when they return," the governor pledged.
He said the state government has built formidable structures and systems to receive and re-integrate victims of human trafficking and illegal migration who are indigenes of the state.
He added that a task-force has been set up to oversee the process of rehabilitating and assimilating returnees, while a bill has been forwarded to the Edo State House of Assembly for the enactment of a law to strengthen the fight against human trafficking in the state.
The event was also attended by Speaker of the House of Representatives, Honourable Yakubu Dogara, as well as Speaker of the Edo State House of Assembly, Honourable Kabiru Adjoto.
Source: http://dailypost.ng/2017/11/22/obaseki-begs-support-reintegrate-victims-human-trafficking/
---