Obaseki Seeks Christian Leaders' Support To Tackle Human Trafficking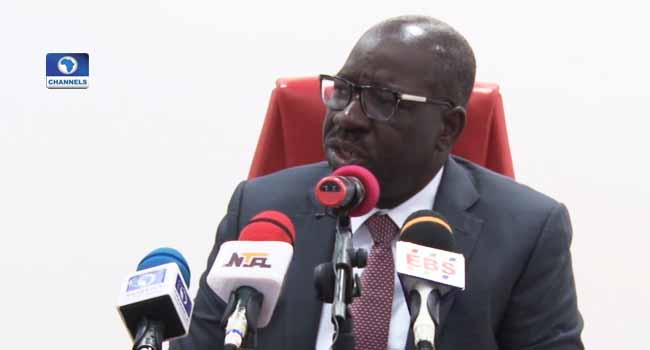 Edo State government has identified the church as a critical stakeholder in the fight against human trafficking which it described the trend as alarming.
This was according to the state governor, Godwin Obaseki, who spoke on Thursday during a meeting with religious leaders at the Government House in Benin City, the state capital.
Governor Obaseki said the fight has to be on all fronts, both physical and spiritual, to ensure that those behind the syndicate of trafficking were fished out and properly dealt with.
"As you know, the government of Edo State has taken the fight against trafficking to the next level by involving senior members of the clergy of the Christian faith in our fight against the cartel," he said.
Some of the religious leaders who briefed reporters after the meeting said the church was prepared to take a lead role in eradicating the scourge of human trafficking in the state.
The Catholic Archbishop of Benin Diocese, Most Reverend Augustine Akubueze, commended the state government for the steps taken so far to tackle the scourge of human trafficking and slavery.
He also assured the governor and the people of the state that the church would play its own part in tackling the scourge.
"We are all gathered here to help the governor tackle the scourge; the church has been doing a lot of work and advocacy in this direction to help the government tackle the scourge to a standstill," he said.
On his part, Chairman of the Christian Association of Nigeria (CAN) in the state, Bishop Oriname Kure, said the entire Christian body was in support of the governor's resolve to fight the ugly trend which he said was threatening human capital development in Edo.
He said: "Human trafficking has become a serious problem in the land and as such, all hands must be on deck to ensure that the evil scourge is defeated.
"The church, as well as the state and federal governments, are against it; even the Bible kicks against it."
The bishop added that the church was already preaching against human trafficking and other forms of crime in the society during church services.
---