Over 160 children rescued from Lagos baby factory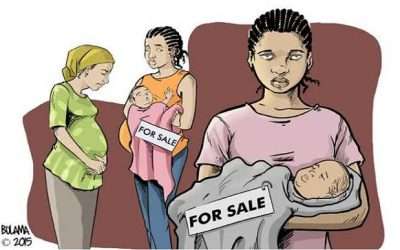 The Lagos State Government has put an end to the activities of some human traffickers.
In Lagos, Nigeria, over 160 children have seen freedom following a raid by government officials.
This was confirmed by Mr. Agboola Dabiri, the Commissioner for Youths and Social Development in Lagos.
He mentioned that 100 girls and 62 boys were rescued following a recent raid, the BBC Newsreports.
They have been relocated to new residents provided by the government.
"The children and teenagers rescued from the 'baby factory' and homes were placed at government-approved homes for care and protection," Dabiri revealed according to the BBC.
Husband doubts wife who took in 2 months after delivering last baby
In Port Harcourt, Rivers State, Rita Nwolu, the wife of a 33-year-old commercial motorcyclist, Uche Duru, has been questioned by her husband after she got pregnant two months after delivering new baby.
In a chat with Punch News, Duru accused partner of selling his child to a person identified as Mrs. Ngozi Egeonu, for a sum of N300,000.
The latter who reportedly runs a baby factory rented his wife an apartment in order to have her within reach.
The husband seemed baffled about a situation that saw his wife take-in in quick succession. This ensured that he remained doubtful about the paternity of the anticipated child.
"I have been looking for my wife since December. I never knew that she had already sold my baby to a woman for N300,000.
"I also learnt that she is two months' pregnant; how can my wife who was delivered of a baby two months ago be pregnant?
"I am not the owner of that pregnancy because I did not sleep with her. I have not seen her for the past two months and it is the police that discovered that she went to sell my baby.
"I will leave her if she fails to tell me where the pregnancy came from," says Duru.
Nwolu, who has been accused of adultery however denied engaging in the practice of grooming her babies so that they can be sold for me. The woman attributed her pregnant state to her husband's high libido.
Occasionally, he assaulted her with a cutlass in a bid to initiate sexual intercourse report says. This is after he has taken a high in-take of Indian Hemp.
"My husband is the owner of the pregnancy. He impregnated me. After I gave birth to the baby, my husband would smoke Indian hemp and forcefully sleep with me.
"It continued to happen like that until I noticed that I was pregnant. Each time I refused to have sex with him, he would use a cutlass to threaten me," the wife alleged to have cheated on husband revealed.
The police in Rivers State is handling the case as a conspiracy which involved an intention to sell a 2-month old baby without the consent of its father, which was only a preamble to the kicker.
Post by Ayodele Johnson
---