Through Support from U.S Embassy Abuja, 35 youth graduates as TALKAM Human Rights Advocates
A nonprofit organization in Abuja, Devatop Centre for Africa Development (DCAD), trained 65 Nigerians across 30 states on different forms of human rights issues as part of its strategies to combat human trafficking, child abuse and gender-based violence.
Speaking at the graduation of the trainees, Executive Director of DCAD and the Initiator of the TALKAM Human Rights Project, Mr. Joseph Osuigwe, said the training is aimed at increasing reportage and responses which will in turn decrease incidences of human rights abuses across the country. He specially appreciated United States Embassy in Nigeria for support the TALKAM Human Rights Project.
He said, "the Project is designed to utilize ICT and traditional communication tools in educating Nigerians about new trends of human trafficking, gender-based violence and child abuse, in order to stimulate them to monitor and report such abuses using TALKAM App."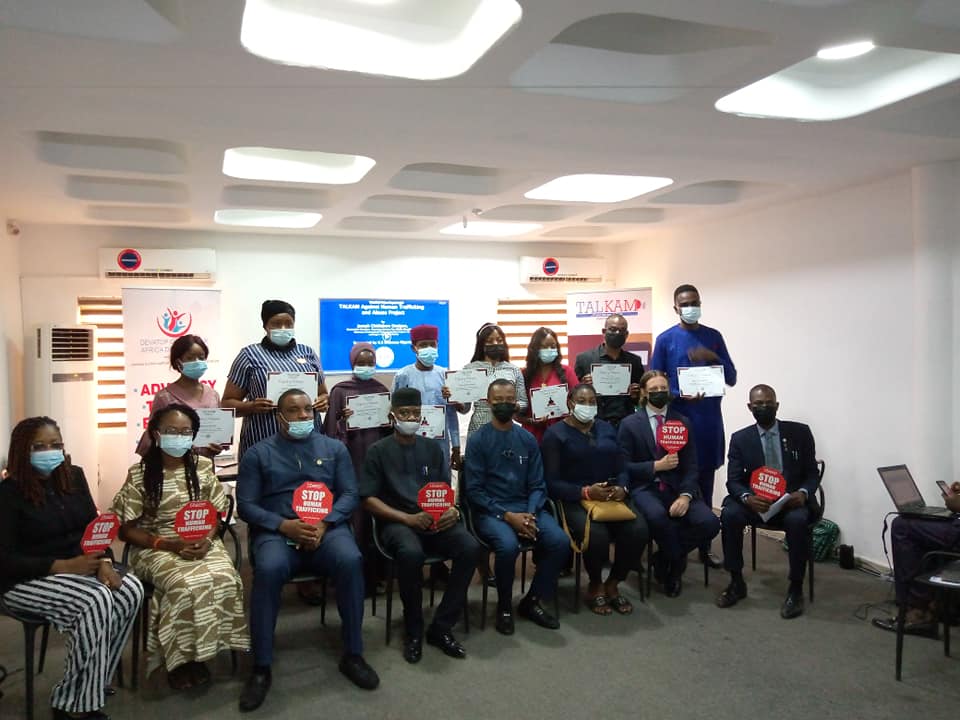 According to him, the TALKAM Human Rights Project which is an initiative of DCAD selected and trained 65 people from 30 states in Nigeria for three months on various intensive human rights advocacy courses.
Osuigwe explained that "out of the 65 participants, 35 advocates from 15 states were able to carry out step-down community awareness in 30 communities and online education of over 2400 community members. "Some of the trained advocates have been monitoring and reporting human right abuses using TALKAM App" he added.
He called on the government at all levels to join the fight against human trafficking and gender-based violence through various forms of grassroots investigation and appealed for support in the rehabilitation of survivors/victims.
"There will be more reports of abuses and hence more work for NAPTIP and other government agencies, we call on them to get ready to respond adequately, we call on the government to provide adequate resources for NAPTIP especially in the area of investigation and rescuing of victims."
The Director-General of the National Agency for the Prohibition of Trafficking in Persons (NAPTIP),Mrs Imaan Sulaiman-Ibrahim represented at the event by Dr Olusoya Olubiyi, said the issue of human rights abuses was multi-faceted and multi-structural.
He stressed Nigerians must work together to fight human rights abuses. He said while no single entity can fight the menace, NAPTIP will ensure on her part that the days of the human traffickers in Nigeria are numbered.
Organisations represented at the events include the Swedish Embassy, International Centre for Investigative Reporting, US International Visitors Leadership Program (IVLP), YALI (US Exchange Program), Dorothy Njemanze Foundation and SOAR Initiative
---