2018 W/Cup : NAPTIP rescues 10 Nigerians being trafficked to Russia, arrests five suspects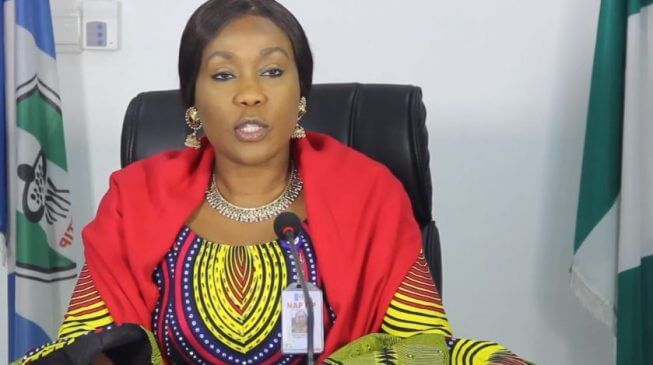 The National Agency for the Prohibition of Trafficking in Persons (NAPTIP) says it has intercepted and rescued 10 Nigerian youths who were being trafficked to Moscow and Russia.
The Head of Press and Public Relations of NAPTIP, Mrs Stella Nezan, disclosed this in a statement in Abuja on Sunday.
Nezan explained that they were intercepted on Saturday night at the Murtala Muhammed International Airport (MMIA) in an operation code named "Operation BLOCK'', while trying to board a Turkish Airline flight to Russia.
She said that the victims used the 2018 World Cup tagged "Russia 2018'' as cover for travelling to Russia.
According to her, the rescued victims comprise of nine young girls and one boy.
She stated that five of the rescued persons were from Edo, three from Delta, one from Imo and the other from Benue.
The spokesperson said that eight of them reside in Benin City while the other two reside in Warri and Osogbo, respectively.
She added that it was from these locations that they were moved simultaneously on Friday to Lagos with FIFA Fan Identity card for the journey to Russia.
Nezan said that five suspects including a Police Sergeant and a Quarantine Officer were also arrested as they were caught coordinating the movement of the victims.
She gave the names of the arrested suspects as Esan Matthew (Policeman), Stephen Fayemiwo (Quarantine Officer), Azeez Olowo, Idowu Fashakin and Eni Godwin.
The Director-General of NAPTIP, Ms Julie Okah-Donli, had two weeks earlier alerted the public on plans by criminal gangs to use the 2018 World Cup to recruit Nigerian youths to Russia for exploitation.
Okah-Donli announced then that operatives of the agency were working on some intelligence gathered and were on the trail of the criminal gangs and their potential victims.
The spokesperson explained that on Friday the potential victims commenced their movement to Lagos from their various locations to meet their recruiters as they had agreed.
"And NAPTIP operatives who have been following their communications followed them up until they were stopped at the point of departure at the Airport and those involved in recruiting them and facilitating their journey were arrested.
"Four of the victims arrived Obalende, Lagos, at various times on Friday from Benin City, Edo State, to a place called Sura Market and kept in a room in a shanty at the Sura area of Lagos.
"Our operatives who followed them kept vigil at that location until Saturday at about 3 p.m when the movement to the Airport commenced.
"The gangs used two Lagos yellow painted taxis. One taxi carried two potential victims with a young man later identified as Azeez Olowo sitting in the front passenger's seat while the second taxi also carried two other victims with a young man later identified as Idowu Fashakin also sitting in the front passenger's seat.
"Upon arrival at the International Airport at about 5.25 p.m, the four potential victims alighted with their luggage and the two suspects that accompanied them.
"The two suspects, Idowu Fashakin and Azeez Olowo, started making phone calls while the four victims were standing by a corner outside the departure hall for over one and half hours awaiting further directives.
"Shortly after, Azeez Olowo met and held discussions with one man who was eventually identified as Eni Godwin. Later on, one Mathew Esan who was later identified as a Police 0fficer went to meet with Eni Godwin who was standing a few metres away from the four victims.
"And had a chat with him for a while. Thereafter, Matthew Esan went to the girls and held discussion with them and the situation was like that of a teacher addressing his students," she explained.
According to her, not too long after the meeting, one Stephen Fayemiwo who was later identified as a Quarantine Personnel came to meet the girls where they were sitting outside the departure hall, addressed them and handed to each of them their travel documents.
She said that the documents included their International Passports, Russian 2010 FIFA ID Card and Turkish Airline tickets.
Nezan explained that after that he led them into the departure hall and facilitated their check-in at the Turkish airline counter where he was eventually arrested.
She said that his arrest was simultaneously done with the other four persons who had NAPTIP operative marking them closely.
"Stephen Fayemiwo (Quarantine Officer) was arrested beside the Turkish Airline Counter, Mathew Esan (Police officer) and Idowu Fashakin were arrested beside the passage queue of Turkish Airline, while Eni Godwin and Azeez Olowo were arrested outside the departure hall by Gate D entrance.''
She disclosed that the team also rescued five other potential victims who were refused boarding by the Airlines because they had only one way ticket to Russia.
Nezan said that the male amongst the victims was stopped because his sponsor in Russia is linked to one of the five female victims rescued.
She added that the operation was supported by officials of the Aviation Security (AVSEC), Department of State Service (DSS) and the Joint Border Task Force (JBTF), which NAPTIP is a member.
According to her, the agency is still on the trail of some other facilitators and the sponsors in Russia while investigation is ongoing.
The spokesperson quoted the director-general of expressing delight over the success of the operation.
"The agency will not give human traffickers any opportunity to use the World Cup to ferry Nigerians out into a life of misery abroad.
"Agency has been vindicated on the alarm it raised she called on all law enforcement agencies working in all the nation's International Airports and other entry points as well Airline officials to be on red alert to pick out criminals and potential victims in order to save Nigerian youths from exploitation.
"I am urging law enforcement agencies to collaborate with NAPTIP in making the 2018 World cup free of trafficking of Nigerians," Okah-Donli said.
---