DEVATOP HOLDS CAPACITY BUILDING WORKSHOP TO ENHANCE THE CAPACITY OF TEACHERS IN TACKLING HUMAN TRAFFICKING AND GENDER-BASED VIOLENCE IN ABUJA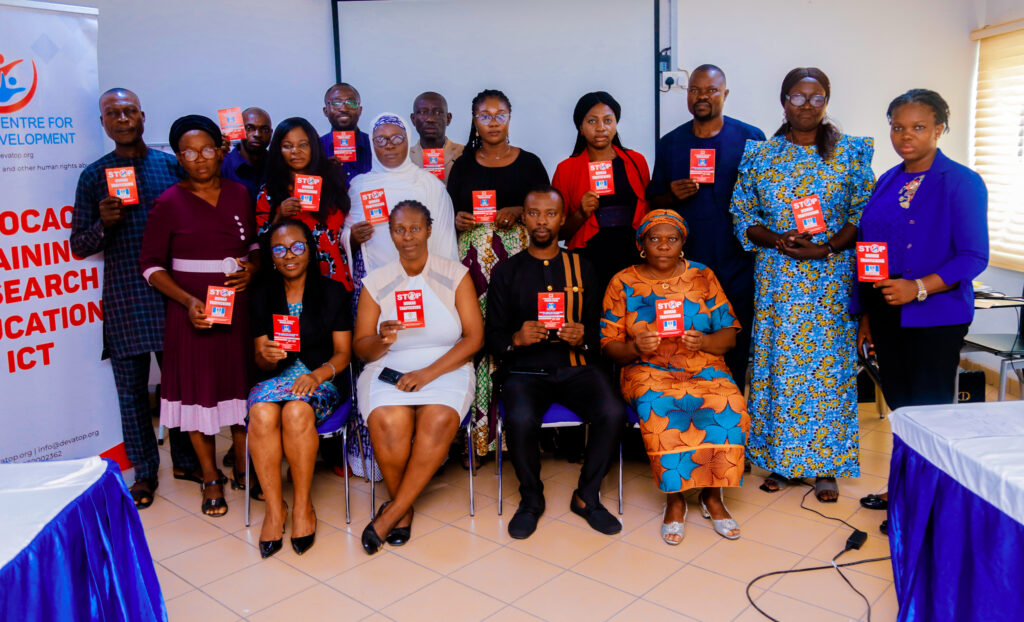 Devatop Centre for Africa Development held a capacity building workshop for teachers themed Enhancing Capacity of Teachers to Tackle Human Trafficking and Violence Against Women on the 25th of October 2022. This training is part of the ongoing TALKAM Against Trafficking and Abuse Project which is sponsored by Pamplona City Spain and Accion Contra La Trata, to tackle different forms of violence (human trafficking, rape and domestic violence) in Enugu state Edo State and the Federal Capital Territory of Nigeria. In attendance were staff of National Agency for the Prohibition of Trafficking in Person (NAPTIP) , Ministry of Education , Teachers , School Counselors etc .To encourage inclusion , teachers of the physically challenged students (deaf) were trained with sign language interpreters.
Mr. James Ikape , the ED of Media Coalition and Awareness to Halt Human Trafficking (MeCAHT) who facilitated the section Combating Gender Based Violence in Schools admonished teachers to be sensitive and curb any form of abuse admis the students and not dismiss it as mere bulling.
Ms. Roseline Abare, NAPTIP chief Intelligence Officer of Public Enlightenment Department, who facilitated the section on Combating Human Trafficking and becoming an Advocate against Human Trafficking and Gender Based Violence in Schools emphasized on the fact that teachers play a major role in teaching these students the dangers of human trafficking and gender-based Violence. Teachers according to her, spend a lot of time with students and have major influence on them.
To rap-up the workshop the Communication Associate of Devatop Centre for Africa Development, Victoria Oladiran, spoke on the importance of everyone been at the forefront of the fight against Human Right Abuses by speaking out and reporting human right abuses. To make reportage easy, she also taught the participants how to use the TALKAM App and other platforms.
The 10 teachers, counsellors, and educationists from different secondary schools in Abuja were mandated to teach their students about human trafficking, gender-based violence and encourage these students to report abuses.
---