Vacancy for ICT Officer in Abuja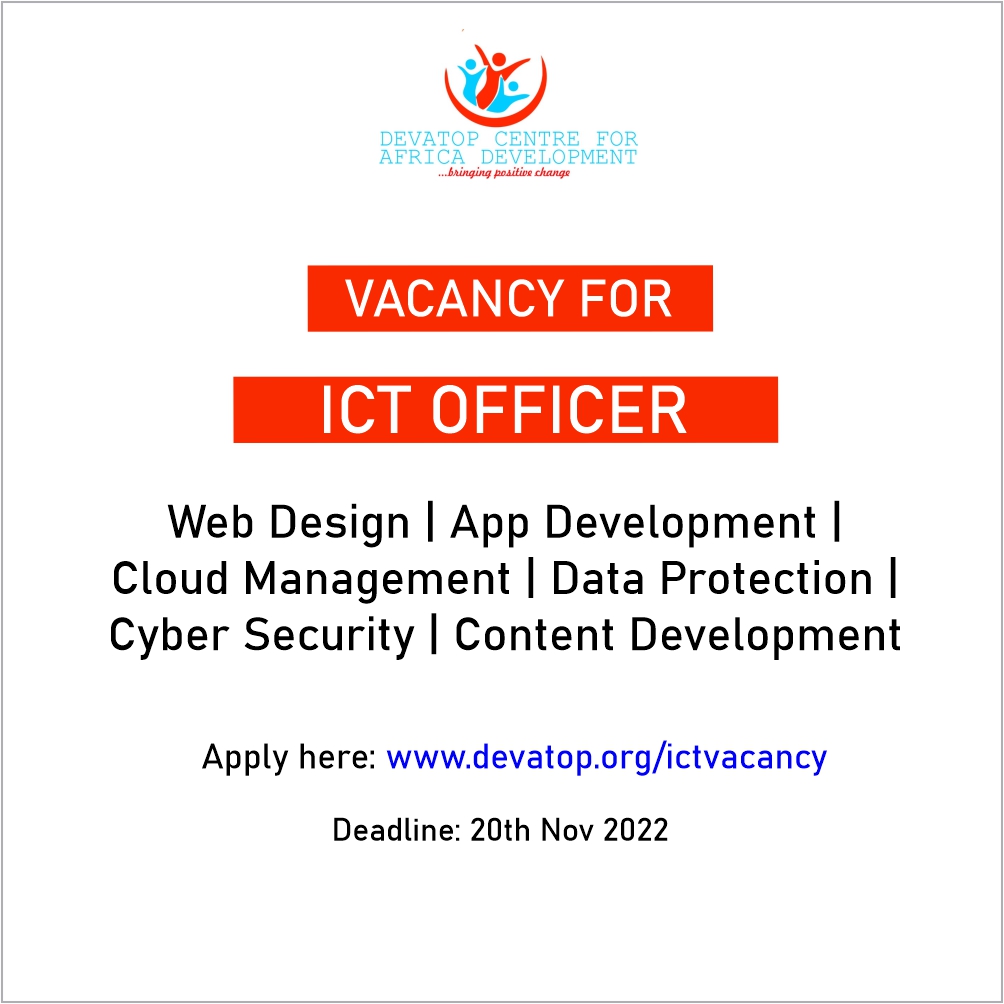 Overview
We are looking for ICT Officer who is passionate about the leveraging ICT in addressing human rights issues, with a proven track record of success in Web design, Mobile App development, Content Creation, Cloud Host maintenance, data protection and cyber security.  An energetic, flexible, collaborative, and proactive person; a team leader who can positively and proactively drive both strategic and tactical initiatives to promote human rights in Nigeria.
Key Responsibilities
Schedule hard disk back up for office computers
Manage LAN, WLAN and internet facilities
System maintenance
Installation and maintenance of software
Update organization's websites
Maintain and Update Mobile App
Facilitate the creation of tech tools on human rights
Develop better ways to manage computer related issues like virus, internet connectivity, synchronization, back up, etc
Carry out Research as assigned
Developing a fantastic tech culture with a good reputation.
Ensuring data protection and cyber security
Create a high performance, innovative, collaborative, continuous learning and improving technology culture in the organization.
Identify competitive advantages and technological trends for the benefit of the organization
Job Skills:
Information technology skill- LAN, WLAN and internet
Web designing
App development
Cloud management
Able to conduct technological research and analysis
Excellent Communication and Presentation skill
Team playing skill
Key Behaviors
Ethical with high level of integrity
Good communicator, listener and a team player
Professional, responsible and accountable
Quality and customer focused, open to ideas and change
Commitment to the Organization's Vision and Values
Location: Abuja, Nigeria.
Job Type: Full Time
Job Category: Information, Communication and Technology (ICT)
Experience Level: Associate
Minimum Year of Experience: 2 year(s)
Minimum Qualification: Bachelor Degree/HND
How to Apply
Interested and qualified candidates should apply through this link:  https://forms.gle/rfoEzbfdhA6gY2sR8
Application Deadline 24th November 2022
Application will be reviewed on a rolling basis.
---