Devatop Receives Grants from The Pollination Project Foundation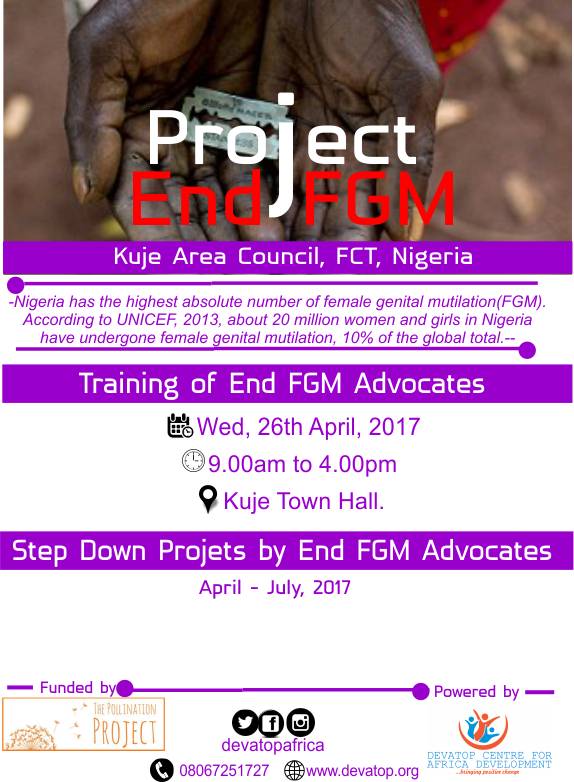 Pollination Project Foundation funds Devatop Centre for Africa Development (DCAD) to execute Project End Female Genital Mutilation in Kuje Area Council, Federal Capital Territory. Project End FGM is an initiative that uses grassroots networks, traditional rulers, women, youth and decision makers to foster community awareness and action. The activity will train 60-100 youth, women and survivors to take strategic action against female genital mutilation, and using locally-led and culturally relevant communications methods to generate discussion and dialogue, inspiring traditionalists, mutilation practitioners, individuals and communities to question and adjust their own beliefs.
Nigeria has the highest absolute number of female genital mutilation. According to UNICEF, 2013, about 20 million women and girls in Nigeria have undergone female genital mutilation, 10% of the global total. If nothing is done to end FGM, more women and girls could be victims of this barbaric practice. No one single person can end FGM and FGM, and there is need to raise advocates who will be actively involved in fostering community actions against this abuse. It is based on this, that DCAD initiated Project End FGM, to reduce with 50% the incidence in Kuje Area Council. The grants from the Pollination Project will be utilized towards mobilizing, training advocates and empowering them to carryout step-down projects in more in 10 communities within Kuje. The project will start on March, 2017 and end on July, 2017. End FGM Advocates will be trained on 26th April, 2017, at Kuje Town Hall, from 9.0am to 4.00am. After the training, participants will carry out their step-down activities and give monthly report to DCAD. Within March and April, there will be series of advocacy visit to traditional rulers, council chairman, ministries, and relevant stakeholders, to engage them towards promoting the abandonment of FGM.
The Pollination Project Foundation has been at the forefront of supporting organizations and passionate individuals to enable them bring positive changes in their communities. The foundation seeks to unleash GOODNESS and expand COMPASSION all over the world. They make daily seed grants to inspiring social change-makers who are committed to a world that works for all.
---