Human trafficking is a 'killer disease', Mrs Mbadiwe says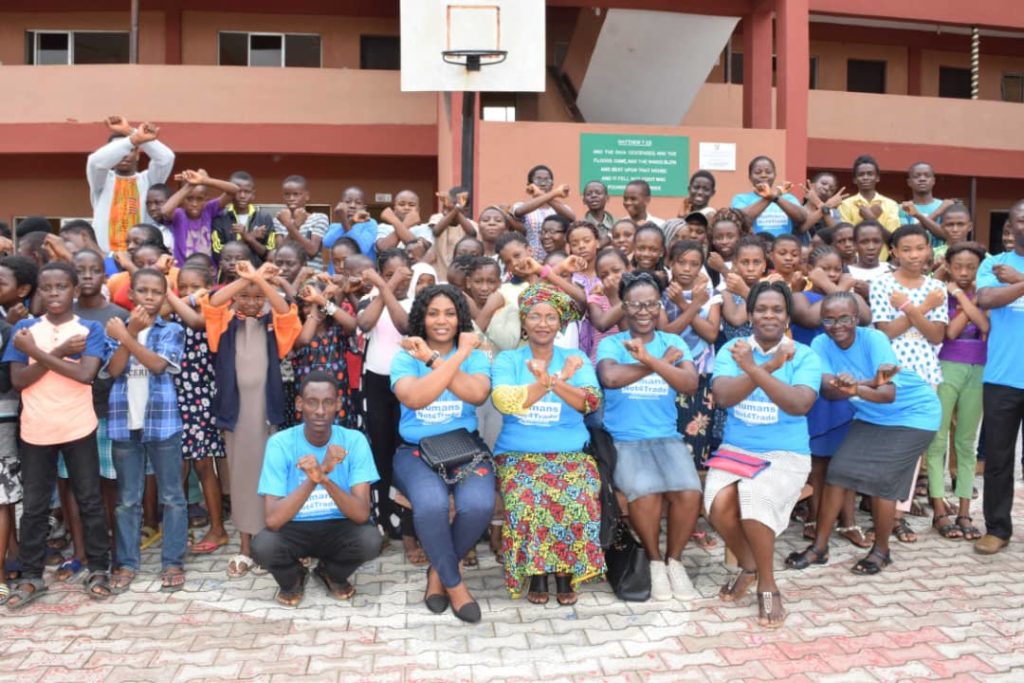 Human trafficking has been termed 'killer disease'  which has crippled Nigeria and turns it into a trade zone for humans.
This was made known at a one-day sensitisation programme on human trafficking for teachers and pupils of ElShaddai School, (Wembly College), Idimu-Ejigbo, Lagos, organised by Mrs Mbadiwe, a volunteer at DEVATOP.
Mbadiwe gave a comprehensive overview of the issues and differing perspectives on trafficking of women, boys and girls.
She also established an inclusive framework essential to understand the contributing conditions and environment and thus the development of appropriate prevention, advocacy and policies for the victims of trafficking.
According to Mrs Mbadiwe, "I have passion for combating human trafficking and protecting young women and girls from exploitation. I organized this workshop to equip children and girls with the right information to stay safe from exploiters and traffickers"
The Keynote speaker at the programme, Precious Daniel who is also a volunteer at DEVATOP explained how in the world today, human trafficking as a social problem has many names such as "white slavery", "human trafficking", "trafficking in persons", among others.
Precious stressed the fact that human trafficking is a major violation of human rights with an adverse effect on teens and small children.
"Trafficking in human beings is a social problem of our time, especially trafficking of teens and small children," Precious said.
Full speech of Precious Daniel below
Human trafficking is a global problem that affects the lives of millions of people in almost every country in the world, and which deprives them of their human dignity. As one of the most disgusting crimes in the world, human trafficking is misleading and makes a sacrifice of women, men and children from all over the world, every day causing them to be exploited. Although the most known form of human trafficking is sexual exploitation, people are also trafficked for forced labour, as arm impotence or donors for illegal transplantation of organs, while some are trafficked into becoming a house help in a home that they don't know, they are forced to do hard labour, some are sent out into the streets to hawk. Their rights have been violated and they have been abused by their guardians.
Human trafficking is a global phenomenon. It greatly affects the country in a state of political and economic transition or post-conflict stress, which basically is the country of origin for criminal proceedings universal human trafficking. This phenomenon also affects both the economically more developed countries of destination and countries of transit. People who live in difficult conditions are attracted by the opportunity to improve their life in richer and more developed countries, at the same time in the destination countries the demand for low-paid workers in irregular employment sectors, as well as legal employment sectors with low wages are increasing.
Traffickers relate to people as commodities, as things that can be exploited, something that can be traded for profit. In Nigeria today, the majority of convicted traffickers  are female, although the proportion of men involved in this criminal activity is also quite large in comparison to their involvement in other crimes, as some criminal gangs consider women more effective weapon to lure victims, who are at the initial stage trust women more. Job recruiters, football agents, teachers, uncles and aunties are also part of this killer disease.
Crime, as a rule, begins with the fact that traffickers offer their future victims attractive employment opportunities abroad. In many cases, the victim becomes aware of the false nature of these agreements only after its introduction in the country of destination, when her passport is taken, physical and mental abuse take place, employers force person to return money spent on paperwork, visas and tickets.
Next, the dependence of the victim has increased by the scheme pre-fabricated debts, which account for the money spent brothel owner on illegal acquisition, accommodation, meals etc. Thus a person is in a planned debt bondage, which is constantly increasing. Added there to flimsy fines and value of each resale to another owner. Traffickers use various methods to intimidate and control his victim – physical violence, imprisonment, as well as the various mechanisms of the psychological and financial control.
Control methods include debt bondage, confiscation of passports insulation, threats of violence against the victims and their family members, death threats, victims of Finance control. Those victims of human trafficking, paying a terrible price, the physical and psychological trauma, disease, loss of relationships with family and loved ones, emotional trauma, drug addiction, AIDS etc.
The term "human trafficking" evolved over the centuries and transformed in light of changing eras, development and humanization of society and the revision of the existing moral canons.
The phenomenon of buying and selling people cannot claim to be a new phenomenon for mankind, but today it is called sometimes like that. The problem of human trafficking has deep historical and ethno-national roots. At different stages of development of mankind attitudes towards human trafficking was quite liberal. Later, the human community realized the impossibility of this existing form of using a person that discriminate and humiliate dignity. There was a perennial struggle with this disgraceful phenomenon that does not stop till this day, until we all stand in one voice and say NO to trafficking, hold our government's, ourselves, and other bodies related to fighting this deadly disease that has crippled into our beloved nation and turns it into a trade zone for humans.
The TALKAM App of DEVATOP was introduced to the school, the students and Managements as also means of reporting trafficking issues to the right bodies.
The sensitisation programme was attended by 40 students, teachers and members of the management of the school.
---