Hundreds of young Nigerians reportedly abandoned by fraudsters in Russia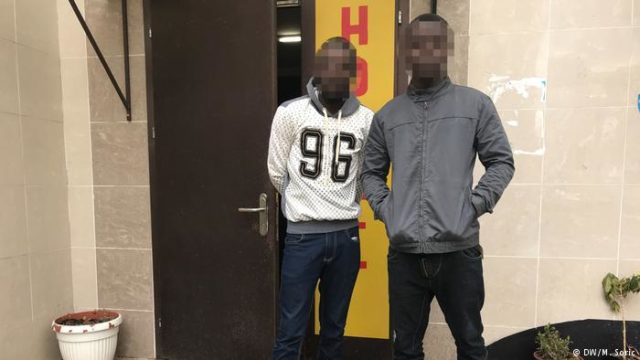 Right before the 2018 World Cup kicked off, the National Agency for the Prohibition of Trafficking in Persons (NAPTIP) warned that human traffickers planned to use the tournament as a ploy to traffic Nigerian youth abroad.
Despite actions taken by the agency to stop this, it seems some of the traffickers succeeded because reports have emerged that hundreds of Nigerian youth are now stranded in Russia.
According to a heartbreaking report by Deutsche Welle, most of these young people were tricked into traveling to Russia with the promise they'd become professional footballers. They're abandoned on arrival and what's even more shocking is that the fraudsters are fellow Nigerians – not the usual foreign fraudsters who pose as football agents.
The victims have only FAN IDs, which the Russian government issued as a visa substitute to foreigners traveling to attend the FIFA World Cup. This means they can't use the document to get a job. With nowhere to go, they're going about Russia looking for help.
You'd expect the Nigerian Embassy to wade in here, but the report has it that some of them were turned away by the embassy and asked to contact the Russian NGO Alternativa, which works with victims of human smuggling and enslavement.
So far, Alternativa has managed to get some of the victims hostels where they're staying temporarily. But with no visa and no money, they have until July 23 before their FAN IDs expire and they're eventually repatriated, if not unjustly jailed.
Meanwhile, check out this interesting thread:
https://twitter.com/firmhigh/status/1015940314710700033?ref_src=twsrc%5Etfw%7Ctwcamp%5Etweetembed%7Ctwterm%5E1015940314710700033&ref_url=http%3A%2F%2Fwww.konbini.com%2Fng%2Flifestyle%2Fhundreds-nigerian-youth-reportedly-abandoned-fraudsters-russia%2F
https://twitter.com/firmhigh/status/1015940327667101696?ref_src=twsrc%5Etfw%7Ctwcamp%5Etweetembed%7Ctwterm%5E1015940327667101696&ref_url=http%3A%2F%2Fwww.konbini.com%2Fng%2Flifestyle%2Fhundreds-nigerian-youth-reportedly-abandoned-fraudsters-russia%2F
4. During this WCup, Russian authorities have detained and deported a lot people with canceled tickets right from the airport, many of them Nigerians. This is because attempting to enter without a return ticket is one of the easiest indicators that you have no plan to return.

— Ola (@firmhigh) July 8, 2018
---