'I sleep with seven men daily' to meet N30 thousand target set by my madam, says 18-year-old human trafficking victim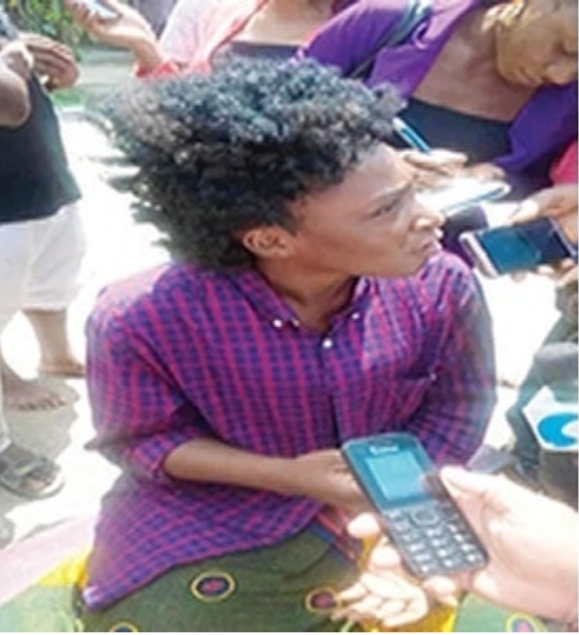 An 18-year-old human trafficking victim, Deborah, allegedly lured into prosititution, has revealed that she used to sleep with more than seven men every day at Wagbas Hotel, located in the Ajah area of the metropolis.
Two people, Mr. Ikechukwu Egbulefu (27) and Vera John (26), who operate the Wagbas Hotel, were alleged to have tricked Deborah, Helen (22) and Chinwendu (18), into prostitution, after promising to help them get decent jobs.
Deborah said that she was lured into the act two months ago. She explained that by the time she realised she had worked into a trap, she couldn't leave.
She had become trapped. When she got sick and tired of the lifestyle, she confronted John and begged her to return her home. John allegedly gave her N2,000 for transport from Lagos State to Akwa- Ibom State.
Deborah said: "I was tired of the whole thing. Men slept with me every day. Each of those men paid N2,500 after having sex with me.
Whenever they pay, I hand the money over to Aunt Vera. When Vera noticed that I was tired of the game, she started threatening me. Vera and Ikechukwu said that I must make N30,000 every day and give to them. Yes, N30,000 was my target."
The state Commissioner of Police, Imohimi Edgal, said that the command received information that Egbulefu and John were involved in human trafficking.
According to him, the suspects used to bring girls from other states such as Imo, Akwa-Ibom and Rivers states to Lagos for prostitution. He said: "On the strength of the information, Federal Special Anti-Robbery Squad (FSARS) operatives were directed to investigate and arrest the suspects involved.
Investigation led to the arrest of Egbulefu and John at Wagbas Hotel, Ajah, Lagos. The victims confessed that the suspects lured them to Lagos with a promise of a job and better living.
They also narrated that they were taken to a shrine in Epe and made to take an oath that they would not abscond from the hotel.
The painful aspect was that after sleeping with various men, they surrendered the proceeds to John." Narrating her own story, Chinwedu said that she came to Lagos with the hope of being a sales girl, but ended up as a sex worker. She said: "I met Vera in our town and later became friends.
Vera told me she would help me to get a good job in Lagos as a salesgirl. A few days later, she came to me that there was a salesgirl job for me in Lagos. I joined her without informing my parents.
When I got to Lagos, she told me that there was no salesgirl job. She said that the available job was prostitution. I told her that I wasn't interested and she said she wouldn't help me with money back to my village.
"I had no option than to stay with them. Vera took us to a herbalist, who asked for our pubic hair. We were also made to take an oath not to run away. If we abscond, we would run mad.
Since then, she had been collecting money from us whenever we had sex with men. Each time we complained to her about pains, she wouldn't listen.
The only thing she does for us is to feed us." Reacting to the girls' allegation, John said: "I took them to the herbalist to know the kind of job they could do that would yield money for them.
I told them before coming here that this was the kind of job they were going to do and they accepted. Other four girls left, but they choose to stay and do the work."
---