In Italy, Dogara Seeks Measures to Address Human Trafficking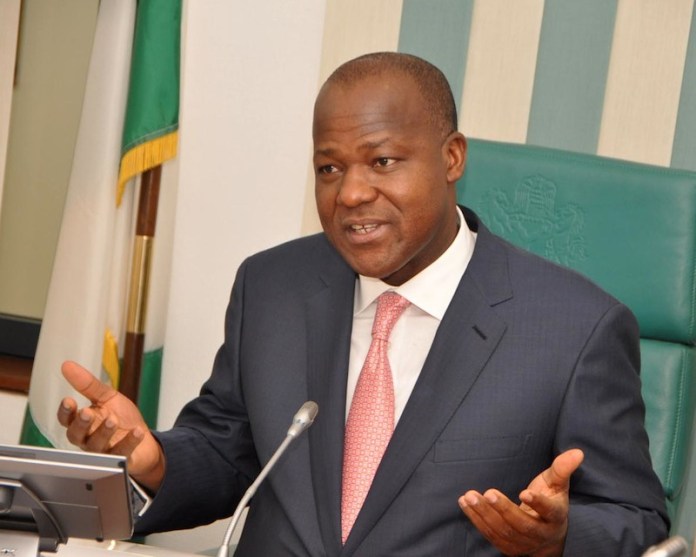 Bemoans deaths of Nigerians on Mediterranean sea
James Emejo in Abuja
Leading a delegation to Rome, Italy, the Speaker of the House of Representatives, Yakubu Dogara, tuesday challenged the international community to evolve drastic measures to combat the rising spate of human trafficking especially from Africa to Europe.
He said such measures must seek address the root cause of human trafficking which is mainly identified as extreme poverty and greed among others- adding that all hands must be on deck in tackling the menace.
Speaking at an international conference on women Empowerment and the Fight Against Trafficking in Persons: Partnership Between Nigeria and Italy", organised by the President of Italian Chamber of Deputies, Ms Laura Boldrini, in Rome, Italy yesterday, the speaker lamented that the Mediterranean sea had now become a cemetery that has left deep wounds on humanity's conscience following increasing rate of human trafficking.
However, he said while the Nigerian authorities at both state and federal levels are committed to combating the manace, there was the urgent need for the Italian government on its part to arrest and prosecute its citizens who are involved because it takes two to tango.
He said: "Anyone forced into deep retrospection over these multiple regrettable tragedies cannot but ask these questions: What makes a young boy or girl leave their families and subject themselves to this terrible ordeal? What are the possible solutions to this inhuman trafficking in persons? Have the relevant authorities in Nigeria and Italy done enough to stop this crime against humanity? The Mediterranean has today become the world's biggest cemetery leaving deep wounds on humanity's conscience that will over a period of time produce historical scars to serve as a testimony to the ineptitude of our generation in dealing with this problem.
"We are all involved in this crime either as perpetrators or those who are aiding and abetting human traffickers by standing aloof while they convince victims to embark on a supposed journey in search of a "better life" that has almost always ended in 'bitter life' if not death.
"How do we address the motivation for someone to want to be trafficked? The crisis most victims are faced with is that they are trapped in a kind of life that is worse than death where the potential victim has no flicker or glimmer of hope to cling to. Such desperate fellows can fall for anything especially if it offers them the slightest opportunity to break free from their hopelessness. The bad news is that in impoverished countries where human trafficking is rife, the population curve is far outpacing the hope and opportunity curve. That means more despondency. As long as this is the case, the motivation for individuals to want to be trafficked will always be there.
"The partnership between our two friendly nations must develop the needed tools to address the hopelessness that serve as motivation for the victims to want to risk to be trafficked and the greed of the traffickers. Any delay in dealing with these twin evils, is postponement of victory over this global scourge. I therefore comment the effort of the good people of Italy and the Government of Italy for the partnership with Nigeria especially their earlier work in Edo State entitled 'Preventing and combating trafficking of women from Edo state to Italy' that involved skill acquisition programmes, financial grants, enlightenment campaigns etc. I understand that this programme has ended. May I use this opportunity to kindly request the Italian government to restart and even expand this very useful and laudable initiative."
According to the speaker:"Given the complexity and nature of the scourge, it is extremely difficult to provide precise data on victims of human trafficking from Nigeria to Italy. Information on human trafficking from Nigeria to Europe are not accurate. Yet, it is a fact that Nigeria produces one of the largest number of victims trafficked annually to Europe and Asia for the purposes of sexual exploitation. According to existing data, over the past 15 years, Italy has been increasingly the preferred destination for Nigerians trafficked outside Nigeria. In 2016 alone, the International Organisation for Migration (IOM) states that 11,000 Nigerian women arrived in Italy with over 8,000 as potential trafficking victims."
He said: "Unquestionably, the menace of trafficking in Nigeria has been exacerbated by poverty and unemployment, unequal access to education that limits women's opportunities to increase their earnings in more skilled occupations, peer pressure, and lack of legitimate and fulfilling employment opportunities particularly in rural communities. Other contributory factors Include collapse of traditional African family values and social safety nets, ignorance about the reality of life in Europe; illiteracy and potentially lucrative nature of the crime to traffickers and victims. However, the scourge of trafficking is also increasingly being exacerbated by less access to information on migration/job opportunities and risks, weak enforcement of existing legal framework; porous border control at the Nigerian end and possible collusion with security officials (immigration, border control, job agents, etc.) and organised criminal groups within Nigeria and destination countries.
Source: www.thisdaylive.com
---