Interview on European Union Anti-Trafficking Day, 2016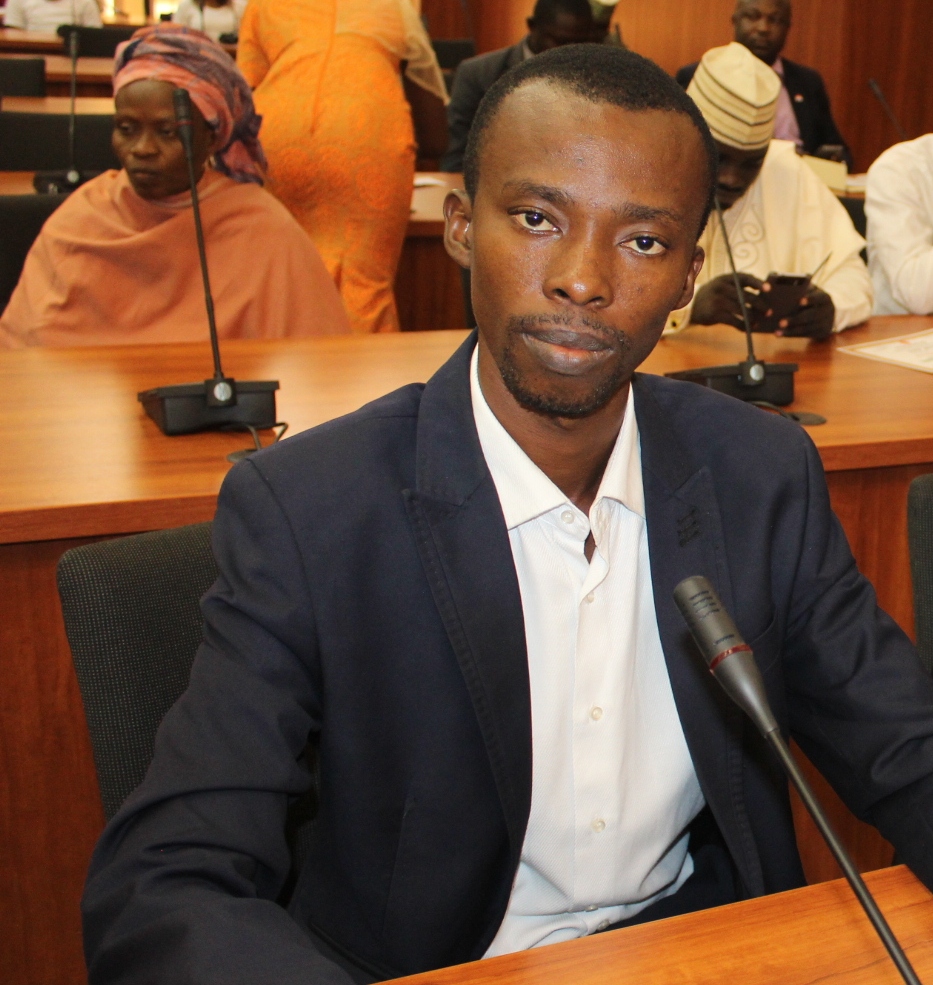 Interview on European Union Anti-Trafficking Day, 2016
With Joseph Osuigwe Chidiebere, an anti-human trafficking advocate
1)Can you introduce yourself?
I am Osuigwe Joseph Chidiebere, an anti-human trafficking advocate, educator and the executive director of Devatop Centre for Africa Development. I was born on 26th June 1985 to Mr, and Mrs Lugard Osuigwe in Aba, Abia state. I hail from Ehime Mbano, Imo state. I was brought up by 5 families and experienced different forms of child abuses in the hands of some of them. I had a tough childhood and was in a severe vulnerable situation.
After my senior secondary education at Umueleke Community Secondary School, I started working as a causal employee with Guinness Nigeria Brewery, and later as a teacher in a primary school. Three years later, I was offered an admission to study Education Mathematics at University of Nigeria Nsukka, in her sub-campus at Alvan Ikoku Federal College of Education, Owerri, Imo state.
During my one year mandatory National Youth Service in 2013 at Federal Capital Territory, I served at Society Against Prostitution and Child Labour in Nigeria (SAP-CLN) where I was responsible for teaching over 160 survivors of sex trafficking, repented commercial sex workers and vulnerable young women who are undergoing rehabilitation. Then, I was contemplating of doing a community development project on anti-human trafficking, but I wasn't sure if it will impact my host community. However, by interacting with some of the survivors of sexual exploitation, I was grieved by how young people are exploited, and this propelled me to initiate a project to educate young people on how to eradicate human trafficking. I approached United Nations Office on Drugs and Crime (UNODC), National Agency for Prohibition of Trafficking in Persons (NAPTIP) and other non-government organizations that joined me to train over 2000 teenagers, women and educators in 5 communities on how to eradicate human trafficking. I often use 80 percent of my monthly allowance for the community projects. Recognizing the role of education in preventing human trafficking, I provided educational supports to vulnerable children, especially at Internally Displaced Camps. This project led to the establishment of Devatop Centre for Africa Development, a nonprofit organization that is focused on combating human trafficking and providing educational supports to vulnerable children.
Also, I received an award from National Youth Service Corps for my community project on anti-human trafficking and education.
2) What is human trafficking and why do you think Nigerians engage in it?
Human trafficking is a trade in human being which often involve recruitment, transportation, habouring of persons through the use of force, coercion, abduction, deception, and fraud for the purpose of sexual exploitation, labour exploitation, organ removal, baby selling, rituals, and domestic servitude. Around the world, criminals are selling people for profit. Vulnerable women and girls form the majority of human trafficking victims.
An estimated 27 million people are victims of human trafficking globally. I noticed that this number is more than the population of Ghana, Senegal, Togo, Cameroun, Mozambique, North Korea, Australia, Netherlands, Zambia, and others. 32 billion dollars generated by traffickers yearly is more than the budget of Nigeria or Ghana. Young people are frequently the victims of human trafficking. 80 percent of the victims of human trafficking are between the age of 6 and 24. According to Max News, 30, 000 people die every year as a result of human trafficking.
It is obvious that community crises, insurgency, poverty, unemployment, demand for cheap labour, and porous border are major factors that contribute to human trafficking in Nigeria. Over 2 million displaced people, millions of unemployed young people, and children from poor family background are vulnerable to human trafficking. They often fall prey to traffickers. Most of these traffickers are Nigerians who are desperate to make quick money by taking advantage of the vulnerability of others.
3) What is the significance of marking the anti human trafficking day in Nigeria?
Anti-human trafficking day, 18th October is a period to raise awareness of modern slavery and to inspire government, religious group, business and individuals to play their roles in combating the crime. It is a call to end human trafficking and give hope to the victims who often live unrecognized among us. It is a period to promote the awareness and to remind companies, businesses, agencies, organizations, and individuals the necessity of supporting the fight against this monstrous crime.
4)How would you describe the state of trafficking in Nigeria?
Hmmmmm…..according to 2016 Global Slavery Index Report, there are 875,500 Nigerians who are victims of human trafficking. Nigeria is described as a source, transit, and destination country for women and children subjected to trafficking in persons including forced labor and forced prostitution. Trafficked Nigerian women and children are mostly recruited from rural areas within the country's borders − women and girls for involuntary domestic servitude and sexual exploitation, while boys for forced labor in street vending, domestic servitude, mining, and begging. Abduction is now a daily incidence in Nigeria, most of which go unreported. The abduction of Ese Oruru has opened the eyes of the public to how human trafficking can take place in different forms. On June this year, a parent came to my office and reported that his 17 year old daughter was abducted from Abuja to Kano for forced marriage. After preliminary investigation, I contacted National Agency for Prohibition of Trafficking in Persons (NAPTIP) and they helped to rescue the girl.
5)How would you compare this vice in Nigeria with other African countries and the world at large?
Well, human trafficking is a global crime. It takes place in virtually every country. It is just that human trafficking is more prevalent in some countries than others. Nigeria is among the countries with the highest number of victims of human trafficking. A lot of victims of human trafficking in other African countries are Nigerians. Also people from other countries are trafficked into Nigeria.
6)Does the Nigerian government have any role to play in this and is government playing that role adequately?
Of course, Nigerian government has a vital role to play in combating and preventing human trafficking, and that was why National Agency for Prohibition of Trafficking in Persons (NAPTIP) was established in 2003. The agency is doing well in curbing this heinous crime, but they are not adequately funded. Human trafficking is not a kind of crime that one agency can adequately handle, it requires collaborative efforts and supports from different sectors, and that is why some civil society organizations are helping to combat it. There is much work to do to eradicate modern slavery, but resources are not enough. I noticed that the executive arm of government is yet to take another bold step to boost the funding for fighting human trafficking. There is an urgent need for government to have different categories of funding for anti-human trafficking organizations. There is need to fund researches, prevention programmes, intervention programmes, and victims' rehabilitation.
Apart from government roles, private sectors and religious groups need to adopt anti-human trafficking as their corporate social responsibility (CSR). This crime should be a concern to businesses, faith-based organizations, and individuals.
7)Tell us about the upcoming "The Academy for Prevention of Human Trafficking and Other Related Matters (TAPHOM)"
Like I mentioned earlier, civil society organizations are helping to combat human trafficking in Nigeria, and my organization, Devatop Centre for Africa Development has been doing amazing things in building a nation without modern slavery. One of the innovative projects we have executed in 2015/2016 was a pilot project on The Academy for Prevention of Human Trafficking and other Related Matters (TAPHOM). During the pilot project, 120 young people (women, educators, community volunteers, survivors, legal practitioners, medical professionals and media personnel) were selected from 6 states and trained as anti-human trafficking advocates. They were expected to engage in advocacy and social action against human trafficking in their various communities. From our evaluation or assessment, the trained advocates have impacted the lives of 6000 people in their communities. The impact of the pilot project is our conviction that the academy will play vital roles in equipping young people to be in the forefront of combating human trafficking. The academy will focus on training, advocacy, research, media, and referral. Currently, we are sourcing for thirteen million five hundred thousand naira (N13, 500 000) to establish the anti-human trafficking academy.
8) How can human trafficking be tackled in Nigeria?
First and foremost, I want to say that it is possible to build a nation without human trafficking in this country. This requires strong collaborative effort among public and private sectors. Government needs to introduce innovative and sustainable preventive measures, strengthen policies and cooperation, ensure that perpetrators are caught and prosecuted, and protect survivors and vulnerable people.
The public need to take action by: donating to anti-human trafficking organizations, reporting incidences of human trafficking, supporting vulnerable people, organizing community awareness, integrating survivors into the society, and so many other things. Considering that young people are the targets of traffickers, there is need to train them to be in the forefront of combating human trafficking. Young people don't have to use physical weapons against this crime, but they need to use their intellectual powers and creativities to prevent human trafficking.
Interview by:
Godsmercy Maduka, a freelance journalist on human rights issues.
---