Call for Application: Project Lead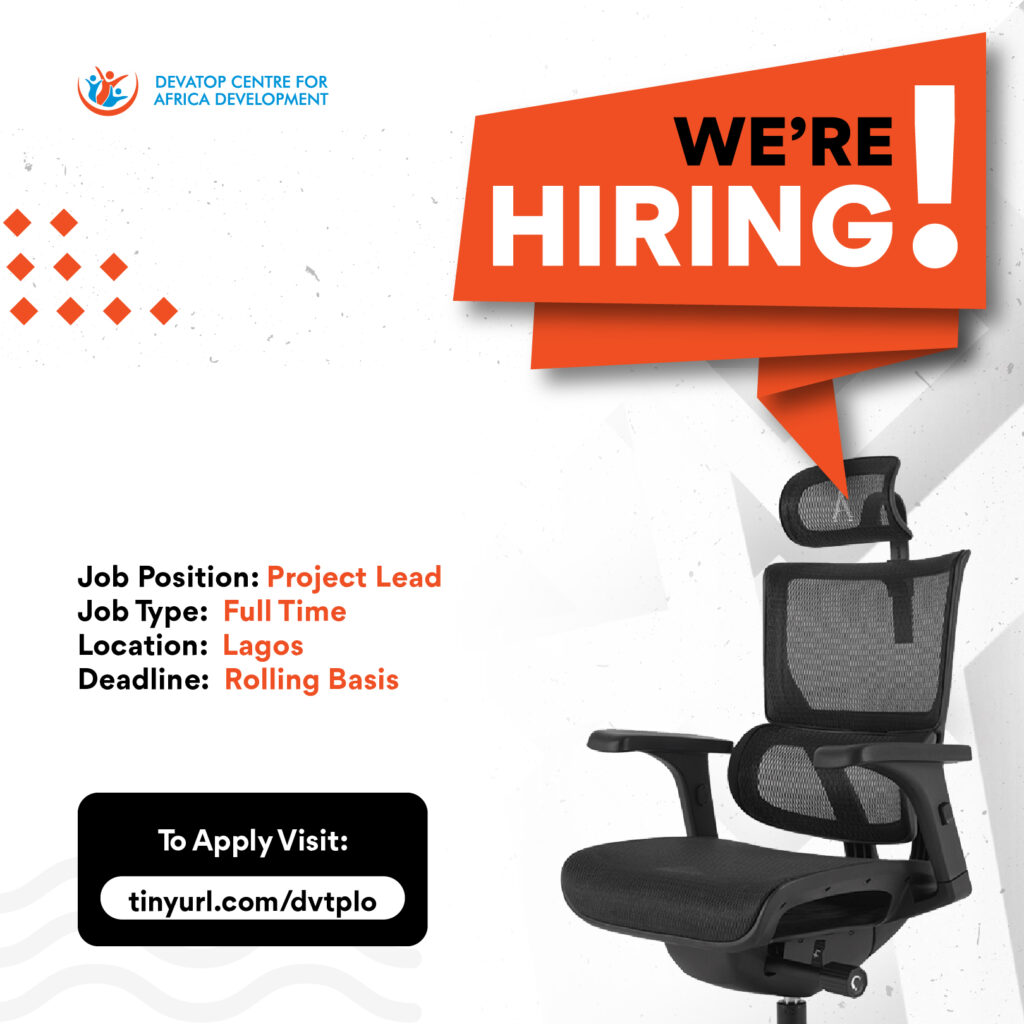 POSITION: Project Lead
LOCATION: Lagos State
GENERAL FUNCTIONS
The Project Lead's primary function is to oversee the implementation and monitoring of Devatop's activities in Lagos state, ensuring implementation schedules are met as per the detailed activity plan. That adherence to systems for quality project implementation is strengthened. This will include helping to shape and direct the organization's work in championing the rights of children as well as engaging with stakeholders to achieve set objectives.
Responsibilities: 
Serve as the primary point of contact for program procedures and undertakings within the state.

Act as the representative of DEVATOP for matters pertaining to programs within the state, with a particular emphasis on child rights and human rights.

Communicate with DEVATOP's management and headquarters personnel concerning the objectives and aims of programs and initiatives.

Develop and execute projects focused on safeguarding child rights.

Conduct assessments, oversee performance, and propose enhancements.

Regularly supervise and assess project activities to ensure quality, adherence to regulations, and punctual reporting.

Offer guidance, direction, and support to the project team.

Provide strategic foresight and effective leadership in steering our programs.

Undertake administrative duties as necessary to facilitate the efficient execution of on-site activities.

Engage in correspondence with both internal and external stakeholders, including consultants, service providers, vendors, and supervisors, regarding upcoming field activities.

Fulfill additional responsibilities as directed by superiors.

Create and distribute brief notes and activity reports from the field.

Community mobilization and stakeholder engagement
 Qualifications for Project Lead
Project initiation, design and management within an NGO sector (with a focus on human rights issues).

Team management.

Leadership.

Prior experience working as a project lead in a relevant field(child rights, human rights, child labour, etc.)

Proficient with computer technology and Microsoft Office applications.

Strong oral and written communication skills.

Excellent problem-solving skills.

Professional and pleasant demeanour to meet with stakeholders.

Exceptional time management and organizational skills.

Sharp attention to detail with an extraordinary ability to multitask.

A reliable and diligent worker.
Educational Qualification:
– HND and B.Sc in social sciences or related courses/fields of study.
– Minimum of 2 years post-NYSC experience and/or proof of volunteering experience in an NGO.
To Apply: Click here to submit your application: https://tinyurl.com/DCADJEN
Application Deadline: Ongoing until the position is filled up.
---