Pair guilty of human trafficking after drugs raid in UK legal first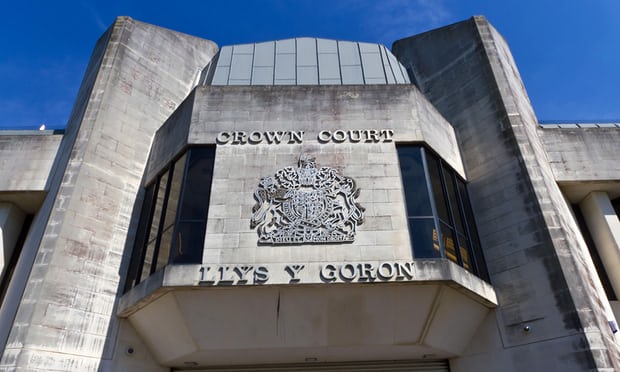 Two gang members who ran a so-called "county line" drug network have been convicted of human trafficking in the first case of its kind.
Mahad Yusuf, 20, and Fesal Mahamud, 19, pleaded guilty to trafficking a 19-year-old woman, who was forced to transport drugs from London to Swansea.
It is believed to be the first time police have successfully used powers under the Modern Slavery Act to target members of city gangs, who use a phone line to facilitate their supply of class A drugs into county or coastal towns.
Yusuf and Mahamud also pleaded guilty to conspiracy to supply class A drugs at Swansea crown court.
Police said their victim, from London, was contacted on social media before being lured into a car and driven to Swansea. She was met by Yusuf, who told her "she belonged to him", and her mobile phone was destroyed.
The woman, who was reported missing, was held for five days at an address where she was forced to store class A drugs before police raided the property on 25 May. Mahamud was said to be directing the actions of Yusuf.
The pair will be sentenced at Swansea crown court on 4 January.
DI Rick Sewart, of Scotland Yard's gang crime unit Trident, said: "The victim in this case suffered a horrendous ordeal at the hands of these two men, who trafficked her for their own criminal gain.
"Unfortunately this case is by no means unique. Drug dealers are exploiting vulnerable people across the country via county lines.
"This prosecution is a clear message to any drug dealer that if you exploit young people we will find you, bring you to justice and you will feel the full force of the law."
Det Supt Tim Champion, who is leading the Metropolitan police's county lines investigations, said: "Drug supply is not new, however the exploitation of vulnerable young people by criminal networks, to move and supply drugs across the country, takes this offending to a new level."
It estimated there are at least 720 lines used by gangs to deal hard drugs, such as heroin and crack cocaine, often involving the exploitation of vulnerable young people.
Home Office minister Victoria Atkins said: "County lines gang activity and the associated violence, drug dealing and exploitation has a devastating impact on young people, vulnerable adults and local communities.
"I am pleased to see police taking full advantage of the legislative powers available including the Modern Slavery Act to tackle this scourge."
---