DEVATOP Centre for Africa Development inaugurates Nollywood star, Kenneth Okonkwo, John Fashanu, Esther Ekanem, Rachel Bakam,  and Chido Onumah as Anti-Human Trafficking Ambassadors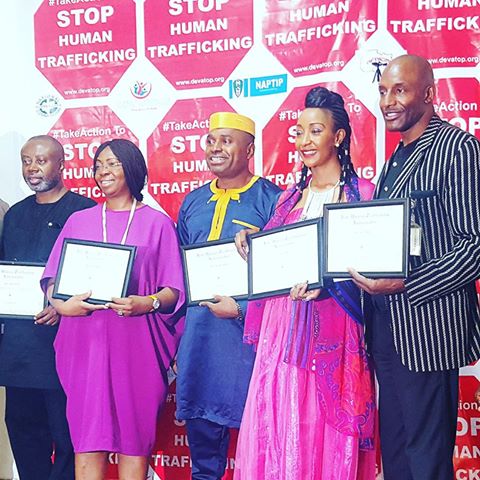 For years, human trafficking has been thriving because not many people and organizations are involved in the fight against trafficking in persons (TIP). Trafficking is happening everywhere around us. It is happening in every state, community, in our streets, and on our doorsteps. Millions of people are still tricked or forced from their communities to be exploited and abused.
To intensify action against human trafficking, Devatop Centre for Africa Development inaugurated her Anti-Human Trafficking Ambassadors and Board of Supporters Against Human Trafficking on 28th February 2017 at the National Human Rights Commission, Abuja. The anti-human trafficking ambassador was awarded to Amb. John Fashanu (football legend), Dr. Kenneth Okonkwo (veteran Nolllywood actor), Chido Onumah (journalist and author), Amb. Rachel Bakam (media personality) and Esther Ekanem (an anti-sex trafficking advocate)
Mrs. Eugenia Abu, who represented the Director-General of Nigerian Television Authority(NTA), advised the ambassadors to take strategic actions against human trafficking. She emphasized the relevance of media as a critical tool to the public enlightenment on human trafficking. She encouraged Devatop Centre for Africa Development and the National Agency for Prohibition of Trafficking in Persons to take advantage of many products of NTA to push the issues to the forefront.
Mr. Daniel Atokolo, representing the acting Director General of the National Agency for Prohibition of Trafficking in Persons(NAPTIP), assured more collaboration with Devatop Centre for Africa Development in curbing the evil scourge and reiterated the commitment of his agency in combating human trafficking in Nigeria.
Mr. Joseph Osuigwe, the Executive Director of Devatop Centre for Africa Development, who spoke on behalf of board chair, Bar. Carol Ndaguba, noted, "We have chosen these dynamic people as our anti-human trafficking ambassadors because they will utilize their networks and platforms to intensify actions against human trafficking. We expect them to adopt this laudable cause as their social responsibilities, mobilize and engage other individuals, celebrities, philanthropists, companies, organizations, etc., in combating human trafficking, and to attract support for our anti-human trafficking projects. We are planning on executing the second phase of the pilot project on The Academy for Prevention of Human Trafficking and Other Related Matters (TAPHOM), and we are hopeful that individuals, organizations and companies will support this project."
The newly inaugurated ambassadors pledged to show total commitment to the fight against human trafficking and to do everything within their abilities to promote and draw attention to anti-human trafficking activities.
In their goodwill messages; Ambassador John Fashanu urged everyone to look out for people and find ways to eradicate the problem of human trafficking.Chido Onumah remarked that ending human trafficking should be one of our national priorities. Dr. Kenneth Okonkwo promised to use his platform as a legal practitioner to ensure justice for victims and prosecution of perpetrators. Ambassador Rachel Bakam called on everyone to join them in eradicating human trafficking, a business that is destroying the world.
The inauguration was attended by representatives from the Ministry of Foreign Affairs, Ministry of Women Affairs, National Youth Service Corps, National Information Technology Development Agency, National Commission for Refugees, Migrants and Internally Displaced Persons, National Emergency Management Agency, Nigerian Immigration Services, National Human Rights Commission, and the private sector.
Some of the dignitaries that attended the event included, Apostle Jeswills Eleke, Payment Hub Nigeria Limited and Chief Nnamdi Nebi, Chief of Staff to the SA to the President on Prosecution.
Many of the participants, registered to be part of Devatop's Board of Supporters against Human Trafficking.
Watch the video here: https://www.youtube.com/watch?v=eXYlfjgxQEU
To contact Devatop, visit www.devatop.org or [email protected]
---