Human trafficking, our worst security challenge —Obaseki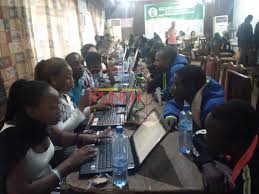 By Simon Ebegbulem
GOVERNOR Godwin Obaseki of Edo State has described human trafficking as the greatest security challenge facing his administration and vowed to fight the cartel perpetrating the illicit trade in the state.
The governor stated this when he received a delegation of the management and members of Edo Forum of Patriots, led by its Chairman, Aiyamenkhue Edokpolor, who paid a courtesy visit to the governor at Government House, Benin City.
Obaseki said: "Human trafficking has become a security threat in the state as over 10,000 young men and women were trafficked in a space of 12 months and more than 30 per cent of them lost their lives in the process.
"Human trafficking is one disaster that has befallen us as a people since the European invasion of 1897. Even before the invasion, Edo people were never sold into slavery because we had a very powerful army.
"For us to start selling ourselves into slavery means something fundamental has happened and much has gone wrong. We cannot fold our hands and keep mute as if nothing. As a government we took actions and some persons on social media are condemning our actions. I think those people should be arrested for aiding the crime."
Obaseki further said that the tales of the returnees are disheartening as "one cannot but weep for their harrowing experiences, they were deceived and moved from Nigeria by a cartel and syndicate who trade these people like common commodities."
Obaseki however assured that his administration will not relent in the fight and would mobilise the state's resources to make sure the scourge is brought under control.
Earlier in his address, Mr Edokpolo, said since the governor mounted the saddle of governance in the state, he has demonstrated extraordinary commitment towards the progress, and well-being of Edo people and the state at large.
"We have set up a security and economic summit central planning committee to consult and seek collaboration with the Edo State Government and relevant agencies of the federal government for realistic solutions to our socio-economic challenges," he stated.
---