U.S Embassy Nigeria Supports Joseph Osuigwe To International Human Trafficking Conference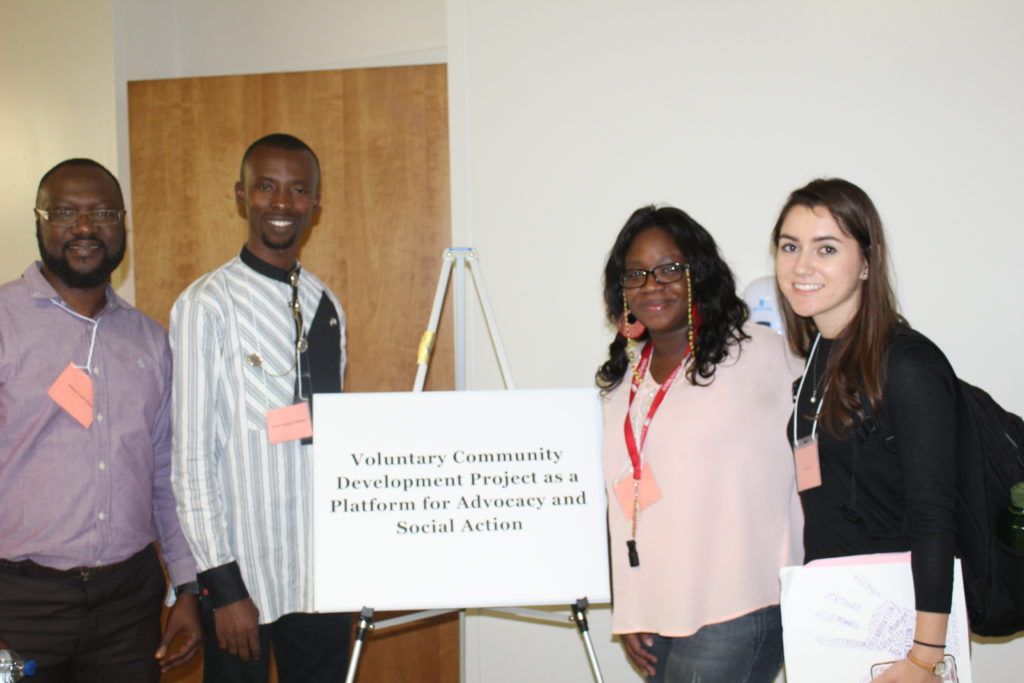 Human Trafficking remains the greatest threatening human rights issue in Nigeria. The government has used different approaches to combat human trafficking but it seemed that more young people are getting trapped to by traffickers. Human trafficking has continued to thrive in shadow and silence of so many in Nigeria.
To reinforce its effort to combating human trafficking, United States Embassy Nigeria supported Joseph Osuigwe, a Nigerian anti-human trafficking advocate and Executive Director of Devatop Centre for Africa Development to attend the International Human Trafficking Conference at University of Toledo, Ohio State, United States of America. The conference which is one of the largest gatherings of anti-human trafficking experts globally is a platform that brings over 2000 researchers, service providers, advocates, politicians, and students together to learn, connect, and collaborate.
 Joseph who was selected to by Lucas County Human Trafficking Coalition, spoke on his research paper titled, "Voluntary Community Development Project as Platform for Social Action and Advocacy".
 As his custom was, Joseph was initiating discussion about human trafficking while aboard the flight with passengers sitting close to him. On arrival at Airport Terminal in Paris, Atlanta and Cleveland, he used his anti-human trafficking sign to create make passers-by aware of human trafficking.

 On 22nd September, 2017, he presented his paper and emphasized on the need to encourage volunteers to carryout community projects on anti-human trafficking.  While making his presentation, he said, "Over 80% of victims of human trafficking are young people. Obviously, human Trafficking is a weapon against the future of young people. Hence, they need to be empowered to be at the forefront of combating this monstrous crime. Young people have vital roles to play and need to be empowered to carry out community projects to combat human trafficking.
The truth is, if young people don't do something to combat this heinous crime, more of them will fall victim, and there is high probability that their unborn children may also be vulnerable or victims to this. Young people need to voluntarily take strategic actions against trafficking in persons. Volunteers and community development projects are vital instruments to combating human trafficking".

He narrated how In 2017,  50 volunteers from Devatop carried out community development projects that impacted over 3000 vulnerable groups in four states of Nigeria. The result of this is a proof that if young people are engaged and empowered, they will go a long way to utilize their creativity, energy, and ideas to combating human trafficking.
He disclosed that with over 150 young people volunteering for Devatop, the organization is leading one of the greatest movements of young people against human trafficking in Nigeria. They always encourage volunteers/young people to carry out personal community development projects in their communities.

During the conference lunch party, he gave a brief speech on how he was inspired by Human Trafficking and Social Justice Conference team and the initiative of Governor of Ohio State. Thereafter, he presented Devatop's anti-human trafficking award/frame to  John Kasich(represented), the Governor of Ohio State for his bold initiative to combating human trafficking, to Lucas County Human Trafficking Coalition and Human Trafficking and Social Justice Institute- University of Toledo for their consistency and perseverance in organizing the conference since 2004. He reminded over 2000 participants at the event to continue to improve their actions against human trafficking.
 International Human Trafficking and Social Justice Conference has been instrumental in ending modern slavery. The conference presenters have historically provided the latest and most innovative research, practice, activism in the field of anti-trafficking work. It is an impetus for many research collaborations, and has spurred new programming across United States and other countries.

 United States has continued to lead in the fight against trafficking, and empowering many nations to strengthen their effort to combating human trafficking. Through her embassy in Nigeria, they supported Joseph Osuigwe to participate in the 14th International Human Trafficking and Social Justice Conference at University of Toledo, Ohio State, where he learnt United States anti-human trafficking approaches and strategies to ending modern day slavery.
 Not only that, part of the support from the embassy is for him to train 40 National Youth Service Corp as anti-human trafficking advocates, empower them with resources to educate 4000 girls, boys, youth and parents in the Federal Capital Territory.

---